Almost every factory visitor can benefit from seeing the factory firsthand. First, plant visits allow senior management to take a field trip to better understand a plant's performance potential or to evaluate competitors. Second, a plant visit can review supplier qualifications or share best practices with a partner. Again, shop floor operators can evaluate another plant's operations and apply what they learn to their own plants. Finally, organizing factory tours for consumers can go some way to building a good brand image and increasing awareness.
To achieve these results, factory visitors need to not only observe carefully with their eyes, but more importantly, they can easily hear what the demonstrator has to say. If your message is not clearly received by the visitor, then no matter how high quality and important what you say is, this factory tour will have no effect. Don't let this happen! All it takes is a wireless tour guide system for factory tours that can overcome noise and distance to solve this problem.
Retekess wireless audio tour guide system can provide an affordable solution for factory tours, we have several models of the best tour guide system for factory tours, I will introduce two of them below, you can choose the right one according to your needs.
Features of the best wireless tour guide audio system for plant tours:
Crystal clear sound, real-time transmission
Easy to set up, no experience needed for guide and guided person to use it
Long enough transmission range, not limited by the number of sites and visitors
Sufficient battery runtime for a full-day tour
Lightweight and pocket-sized, easy to carry and store
Rugged and durable for long life
Wireless device prevents tripping and accidents, easy to move
Supports two-way communication and interaction between presenters and visitors
Retekess TT124 2-way tour guide system for factory tours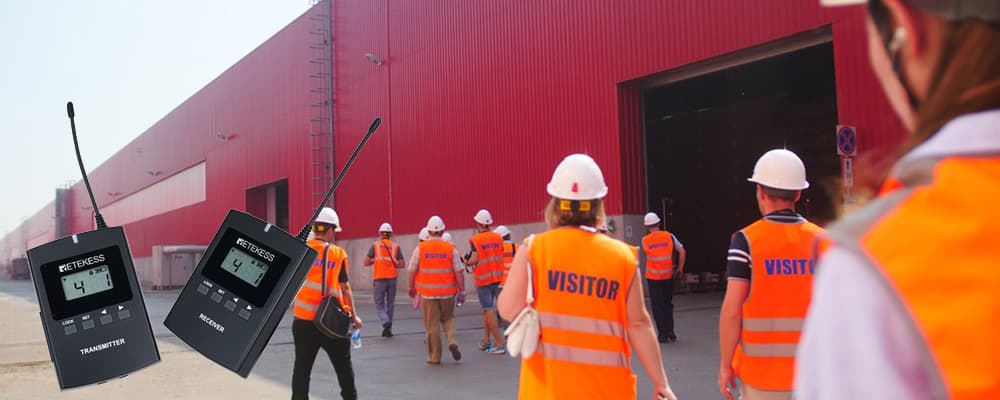 1. Two-way interactive mode and one-way mode can be switched
When the presenter wants the visitor to focus on what he or she is talking about, he or she can use the one-way explanation mode; when both parties need to interact, the presenter can switch to the two-way mode, and then the visitor can talk to the presenter (including all group members) by going down the SET button on the receiver or the talk button on the headset. The two communication modes can be switched at will to meet your diverse needs.
2. Easy to use
No experience or knowledge is required to use the TT124 wireless tour guide system. For presenters, simply plug in a microphone or headset for the transmitter and receiver, and pair them. The guide does not need to spend valuable time instructing the visitor how to use the equipment, the visitor just needs to adjust the volume according to their needs.
3. UHF Frequency Transmission
UHF has a more penetrating signal, strong anti-interference ability, and more stable signal, which can minimize the noise, so your team can hear every word of the presenter and enjoy the crystal clear sound even in noisy or long distances.
Click to learn more about the features of the TT124 2-way tour guide system.
Retekess TT106 wireless tour guide audio system for factory visit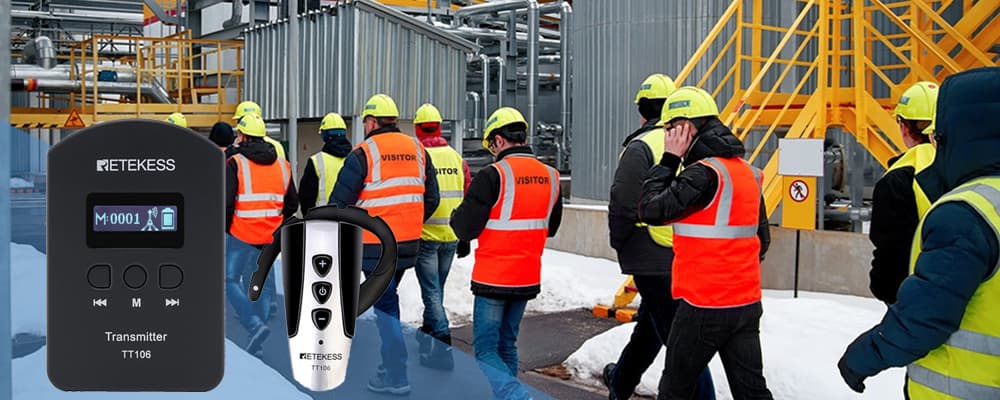 1. Two transmitters
TT106 factory visit device allows two guides to speak at the same time or take turns to speak. Suitable for factory tours with two guides, visitors can hear voice messages from both transmitters on the same channel.
2. Portable and Lightweight
With a transmitter weighing 0.15 pounds and a receiver weighing 0.04 pounds, the lightweight and pocket size of the TT106 wireless tour guide audio system means that one person can easily carry all the equipment a group needs. Plus, the Retekess tour guide system comes with a charging case and storage bag to put down your entire set of factory tour equipment and accessories for easy carrying.
3. Long range tour guide system
If you have a large number of visitors or a large range of activities, the transmission distance of the transmitter should be far enough not to miss the part of visitors who are far away from the transmitter. TT106 plant tour headsets have a communication range of up to 150 m / 492 ft, so visitors can hear clearly within 150 meters from the guide without crowding around the guide.
Click to learn more about the features of the TT106 Audio Guide System.
In fact, due to the different nature and size of factories and the number of visitors, different people have different needs for factory tour headsets. Some people are more concerned about standby time, while others require high sound clarity, so before you plan your next factory tour, contact us and tell us what you need, you'll get the most durable and suitable factory visit headphones at the lowest cost.