The small portable PA system is mainly applied in scenes where the sound needs to be amplified. When you go to some training institutions such as yoga, dance, martial arts, fitness, etc., without surprise you will see it. As you can imagine, Mini portable speaker systems have become increasingly popular in recent years. What is the main reason for this? Let's take a look at the Retekess new product TC102, you will have a clearer answer in your mind.
Functions of Retekess TC102 small portable PA system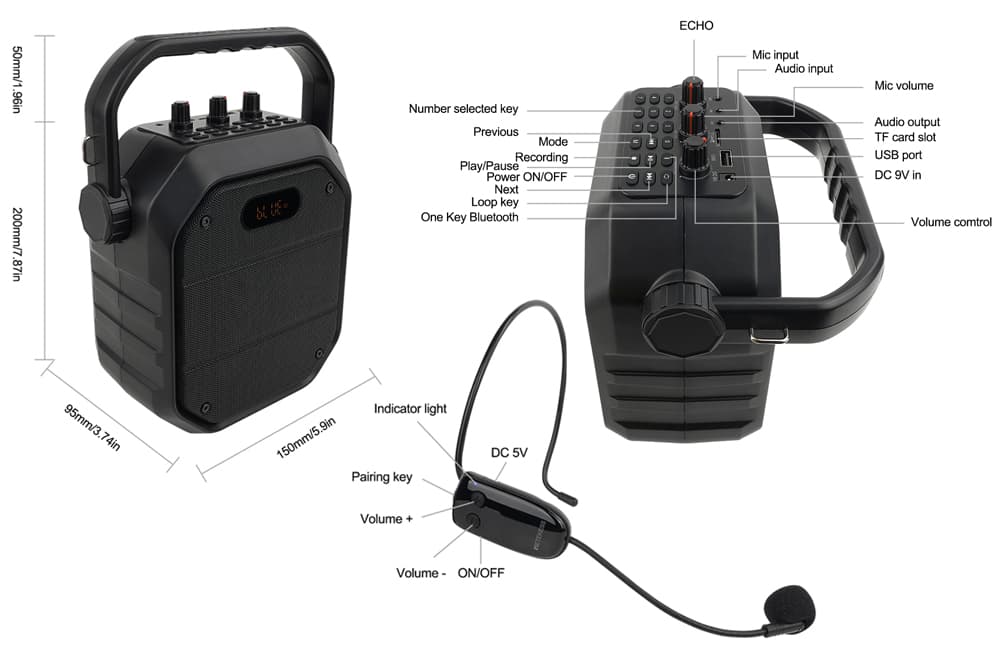 30W Power
The higher the powers, the louder the sound will be. Although the size is little, the amplified sound can occupy a space of 2000㎡. In a presentation or meeting of about 100 people, everyone can hear clearly with no fear of missing important information.
Multiple microphones
Two wireless microphones can be connected, plus a wired microphone can also work properly. This satisfies the situation where more than one person hosts together. One more presenter has more power, and the rhythm of the whole activity is better controlled to improve efficiency.
Support various input ways. Start playing relevant audio content after connecting Bluetooth, AUX channel, and USB. TF card has a recording function. Switch to FM mode and listen to the radio with your elders on a leisurely afternoon, how cozy!
Rechargeable batteries
The speaker has a built-in 2000mAh rechargeable battery, and the wireless headset microphone is 500mAh. The working time reaches about 5-6 hours, and it takes about 3 hours to be fully charged. In this condition, the trainer can lead the students to complete a fitness course or the company can finish a seminar.
UHF Technology
More stable signal, higher sensitivity, while reducing noise. If the distance between the wireless microphone and the amplifier is greater than 35 cm, there will be no uncomfortable sound. Also, the reverberation effect of the sound effects gives a rich listening experience.
Have you been surprised by these features? For more information, click Retekess TC102 Portable PA System to enter it!