If you are operating a noisy restaurant, hospital, or bank with overcrowded and long queues. And you are worrying about queuing and order issues. You need a solution for queuing. Retekess TD101 queuing calling system is a nice solution for long waiting lines.
Double Loudspeaker and Clearer Voice
TD101 queue calling system is equipped double loudspeaker soundbox, louder voices, good sound quality, and a wider range. Prompt duration can be set to 1-99 times calling. Prompt Cycling Time Setting no worry about missing the calling.
Easy to Set Volume and Connected with Audio
Easy to set the volume by sliding volume UP or DOWN knob, when the screen of the Server Pager shows standby mode. It is available to connect with Audio Audio. The interface on the side of the Wireless Paging System, supports any 3.5mm jack sound or device to plug, meeting your multiple needs.
8 Voice Types are Available
8 prompt types of the speaker can be used on various occasions and you can choose what you needed. Waterproof and dust-proof, and can be placed outdoors. A larger LCD Display easier to read even at a distance.
Many Ways of Placing
The screen display can stand on the table and be converted; 4 suspension groove design, can be fixed on the wall, which saves space.
High Working Frequency and Stable Signal
Transmitter button and speaker adopt higher working frequency; reduce signal interference effectively, more stable signal; lightweight; also has G-Sensor function function.
Wireless Speaker System Fit in Situations
Double loudspeaker TD101, helps the operator to manage the business in order. It is used to improve employee efficiency, optimize customer experience, speed up work progress, receive more guests, and increase revenue and profits.
To improve work efficiency greatly, the wireless calling system is widely used in restaurants, cafes, food courts, shopping malls, supermarkets, bars, banks, recreation centers, hospitals, clinics, nursing homes, test centers, service centers, 4S Auto Stores, etc.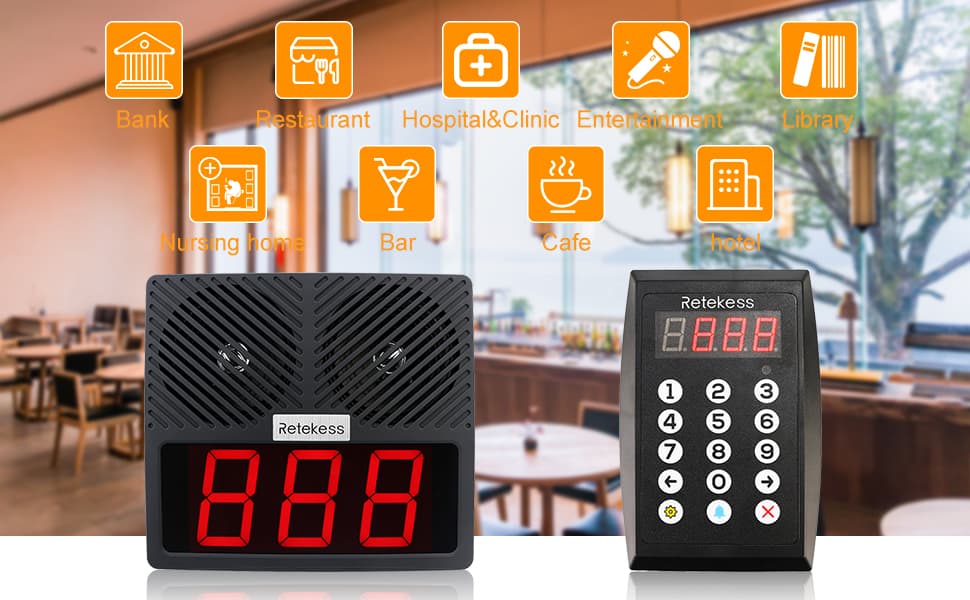 For more information about queue calling system TD101, please click here. If you have any other questions, feel free to email us at support@retekess.com