What is a calling display receiver?
The calling display receiver is generally used with the call button. It can receive signals and display the calling number. They combine the wireless calling system. This system is widely used in the catering industry.
Many calling display receivers on the market show 1 or 2 groups numbers. We have displays that can show 1 groups numbers, 4 groups numbers, 6 groups numbers, and customized numbers. In order to further meet the needs of more customers, we have developed a new calling display receiver TD136 that can display 3 groups of numbers. So customers have more choices.
Display Receiver Function
It can show3 groups of numbers, 1 group of large numbers, and 2 groups of small numbers. The big number is the latest call.

There are 9 music prompt sounds

Loop playback time setting 0-99s

Register button and delete button, you can choose to delete one call button once a time or delete all buttons with one click.

Define the key value, the button after pairing can change the key-value

Set the number of reminders (0-99 times)

Volume setting 0-15 volume levels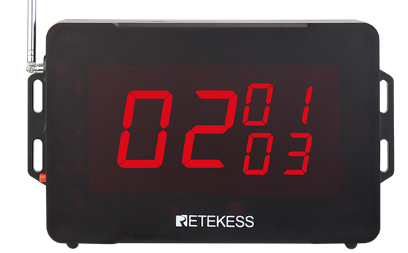 Set the number of display groups: 1 group of numbers, 2 groups of numbers, and 3 groups of numbers. This is a unique feature of this product, other display receivers can only have one display mode which can not be changed.
So you can set the number of groups you want to display according to your situation, which is very convenient. A product gives you a few choices.
With the display receiver, you don't have to use the watch receiver, you can just see the call which shows on the display receiver. That will help you save a lot of time and free your hands.
If you want to know more about this display receiver, feel free to email us at support@retekess.com.