Recently, the tour guide system is widely used in many scenes, such as tourism companies, museums, language classes, and plant tours, etc.. Different scenes need different support. So Retekess company develop two type battery support services. So you can choose the one which fits you.
Retekess has various models of tour guide systems. Retekess T130/T131, TT101/TT102, TT103, TT105, TT106, TT116,TT125. They have two types battery, normal battery or built-in rechargeable battery.
Among them, TT116 support 2 x AA 1.5V alkaline batteries and 2 X AA 1.2V rechargeable battery. The rest are all build-in battery. Please note that the 2 AA batteries are not included in the package.
For each type, they have their own advantages. If the products are heavily used daily, and you are afraid the battery is out of power, you can choose the normal battery type, so you can change it in time if the device out of power. But if you use it a few hours daily, the build-in may be a better choice.
How long do they last?
Model

Battery Capacity

Charge time(H)

Using Time Transmitter(H)


Using Time Receiver(H)

T130/T131

900mAh

600mAh

3-4

12

18

TT101/TT102

1300mAh

5-6

20

40

TT103

1300mAh

5-6

10

14

TT105

1500mAh

1000mAh

5-6

10

12

TT106

900MHA

380mAh

3

25

23

TT107

450MHA

300MHA

2-3

6

20
In addition, for the built-in battery, they all use the USB charging cable. In order to provide more convenient carrying. We have the TT001 charging case for these tour guide system. So you can take them easily and charge them easily as well.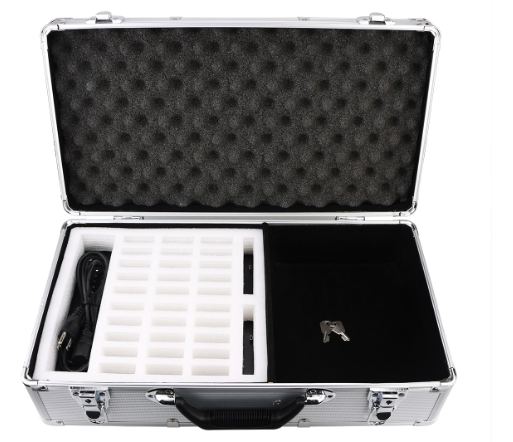 If you have any other questions, feel free to email us to support@retekess.com. Any comments are welcome as well, thank you.