Do you like the white or black restaurant paging system? Inform your answer on the boplg below, so that we can check whether we made a right decision.
We listed White TD161 Guest Paging system in 2022, and it is popular due to the good features, such as the build-in abttery keypad and mulit-charging way. But most people siad that the white one is easy to dirty, so they have to take more time to clean it or the guest will tought that the pager and service is poor.
In 2023, We listed the BLACK TD161 on our website, except the color, we also improve the features of the guest paging system
Add the holder on the new version
Are you still bothered by the stack all the time? You know for the round pagers, it can save the place, but also easy to landslide, so the waiter need to kate time to stack them. For the black version, we add one transparent holder to keep them stand all the time. This is a progress for using the guest paging system, due to that we add the holder for the system for the first time. So if you just need a holder, the BLACK TD161 will be the best choice.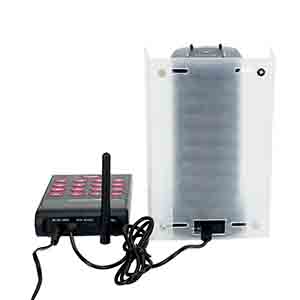 7 promot way
Usually, there are beep, virbation and light for the Retekess guest paging system, but for White TD161, we only sent 2 promot way, so that you will can not choose the prompt way based on the scene. So this time we uodate it to the 7 ways, you can combination the promot way by yourself freely.
999s prompt time
For White TD161 guest paging system, the longgest prompt time is 30S, so some customers complaindd that the pager stopped before the guest notice that. So we update it to the longest time, you can set it to the time even 999s. It is very nice for the restaurants where are noise.
Bseides, we change the modulation mode from FSK to OOK, so you can use them freely.
If you are distressed by the clearn of the white pager, the BLACK one will be the best choice. Email us to get the best offer.