Retekess focus on the wireless communication system in recent years, more and more people know retekess and used retekess.
Retekess spreads at an amazing speed due to the high quality and best price. We cooperate with the factory to make retekess wireless calling system to meet customers' requests. So there are dozens of types of wireless paging systems. Many customers are a little confused when they ready to buy it.
Now, I will recommend the top 3 wireless calling system. Hope that it will help you make a decision.
Top 1: Retekess T119 Guest Paging System
Good feature:
1, with red color and fashion design.
All the coaster pagers with red color with fashion outlook. You can use this pager system in your restaurant, cafe, food truck. Improve your business image and make customer satisfaction.
2, lightweight and compact size.
The net weight of the whole wireless calling system is about 1kg. Compact size to save your space and easy for customers to keep it.
3, USB charging slot.
There is one base charging in the original package, you can charge them with 10 coaster pagers one time. But there is a USB slot on each pager, so you can charge them freely. You can use the phone cable, too. It is very convenience.
4, support 999 pagers in one system.
You can add 999 pagers on each keyboard. Enough for your personal use.
5, Stable signal, long rang system.
Adopt wireless technology, stable signal. The range can reach 800m in an open area. It can reach 200-300m in walls buildings.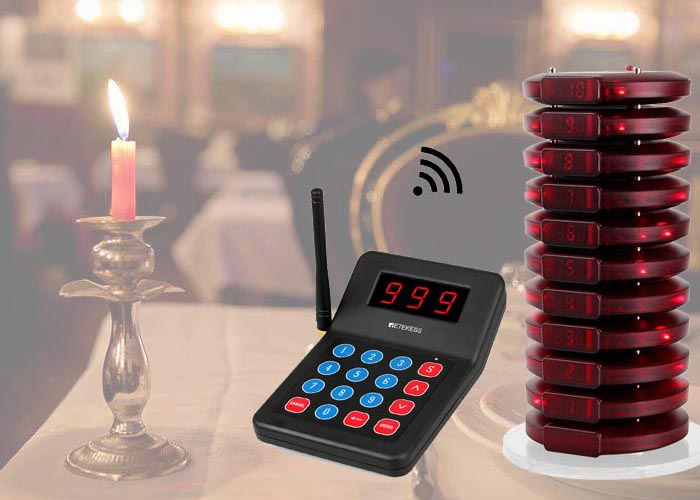 Top 2: Retekess T112 Paging System
1, Classic design
With the classic design. There are 3 keys on each slim pager. For elderly people, very easy to operate, most popular in some special place.
2, Each set comes with 20 slim pagers.
For some applications, enough to use, no need to add more pagers. You can charge 20 pagers on time.
3, Stable signal for mature technology.
The signal even far from T119. In the buildings, it can reach 5 floors to get the signal. I text it in our buildings. The thick of the wall is about 35mm. Each floor is about 4.5m. There are 10 rooms on each floor and all the length is 50m.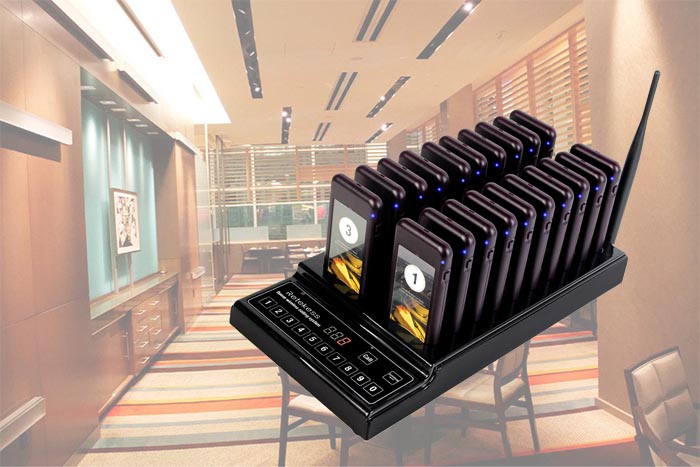 Top 3: Retekess TD156 Long Range Calling System
1, New model type.
Retekess makes on the new type, few users in the market due to the technology. We make it in 2019.7.
2, Adopts FM Frequency Technology
New technology, more stable signal. Frequency from 433.92MHz-464.638MHz.You can set channels in different frequencies. They will not interference with each other. Signal more stable and strong.
3, IP67 waterproof and dust-proof
IP67 high level waterproof, so it is better to use it in your restaurant. It will not damage after meet water, more safer.
4, Orange color
More fashion, suitably used in your restaurant.
5, Coaster pagers support change logo.
The unique type supports to change the paper in coaster pagers. Just need to unscrew the cover, then you can change.
6, The most important reason is that the long-range.
Up to 1000m in open area. You can use it in my applications, such as large-area restaurants, club.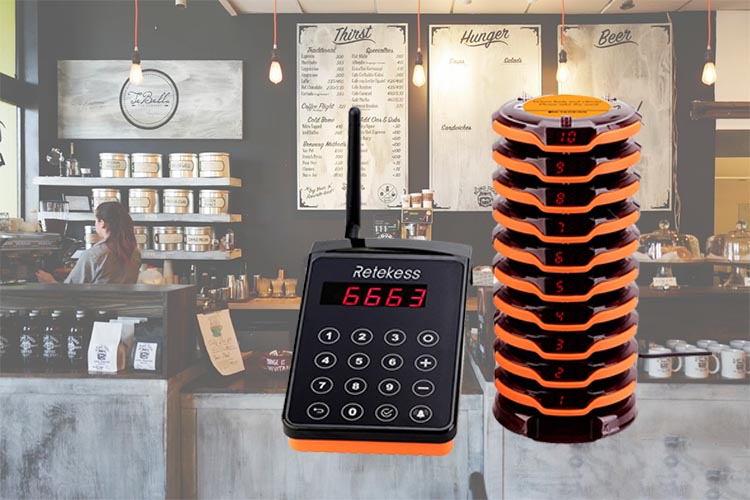 If you need more information, pls check Retekess Guest Paging System
Or send email to support@retekess.com