If you are struggling to choose a full functioning tour guide system. Retekess TT106 wireless guide system s undoubtedly the best choice. Ear-hook design for the receiver, light-weight, easy to wear. Widely used in multilingual conferences, group tourism, factory tour, church translation, education and training, museum explanation, etc. reject noise interference and not disturb other people around. it can help you solve the problems in different scenarios and leave customers with a beautiful and deep visit experience.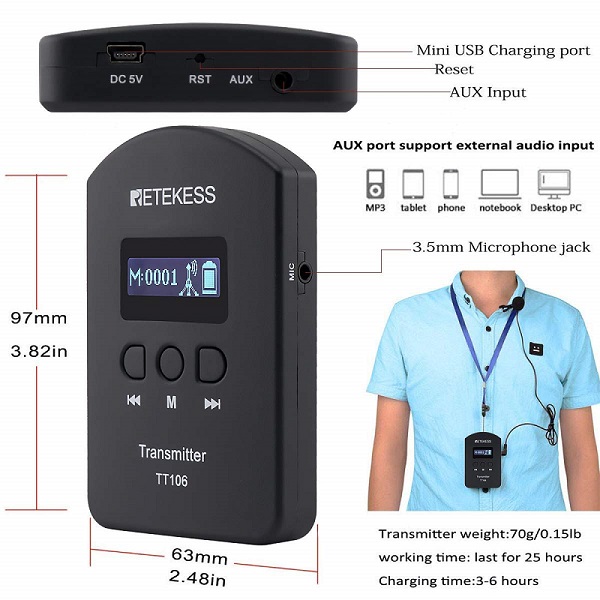 TT106 adopts 2.4G license-free worldwide, don't worry about signal stability and information security issues.
Supports 9999 channels, can connect countless receivers, and sets the same channel for all receivers at the same time, helping save time.
It supports two transmitters to work in one group at the same time, the audience can hear the voice of both of them. But there is only one transmitter in the package, if you need an additional number of receivers, you can contact us.
one-key mute function, press this button, you will not hear the speaker. The listener can also adjust the receiver volume to keep a comfortable listening level, turn off all receivers with one button, it is convenient to operate and save time.
rechargeable battery, the transmitter has a built-in1300mah rechargeable lithium battery, Works continuously for about 25 hours after full charge, the receiver has a built-in 380mah rechargeable lithium battery. Work continuously for about 23 hours after a full charge. The transmitter and receiver can be fully charged in about 2-3 hours, so you don't have to worry about insufficient power when you travel.
Ear-hook design, Small size light-weight, no need to plug into ears, comfortable and clean
There is an aux jack at the bottom, it can be connected to the computer, mobile phone,mp3, and other devices to play audio.
TT106 is a good product both in appearance design and practical application, if you would like to know more information about this product, please contact us at support@retekess.com