Why Choose TR510 FM Transmitter Broadcast System?
Since 2020.3, the FM transmitter broadcast becomes very popular due to the pandemic, they are widely used in the drive-in church, drive-in cinema, drive-in funeral, drive-in conference, and so on. Most of our models, such as TR501, TR502, TR505, and TR507 are out of stock. And at this time, most of the customers' needs come to us, we collect them and make a new model-TR510, which is the newest model that collects many features from the customers' feedback.
But the most important reason that makes it different from others is that this system adopts the QN8007 chip, which is is a high-performance, low-power, full-featured stereo FM transmitter chip, mainly suitable for portable audio and video players, car accessories, mobile phones, and GPS personal navigation equipment. QN8007 integrates complete FM transmission, empty station scanning, and antenna automatic tuning functions. The advanced digital architecture makes variable input gain programmable, optional pre-emphasis, accurate MPX stereo encoding, PLL-based low-noise modulation, and pure spectrum.
With its small size, a small number of external components, and support for multiple clock frequencies, QN8007 can be easily integrated into a variety of small, low-power portable applications. The QN8007 integrates a voltage regulator so that it can be directly connected to the battery, and provides a high power supply ripple rejection ratio to suppress noise more efficiently. It has a low-power standby mode, which can fully extend the battery life. All pins are protected against static electricity. QN8007 is manufactured using a high-reliability CMOS process.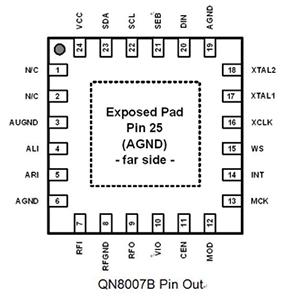 Due to this reason, it supports the mono and stereo, you can short press the "ok" key, and it will show the MON or STE on the screen. If you care about the sound quality, this is the best choice.
We also improve the technology, the working range for TR510 can be up to 1000M, if you have power limited in your state, you can put the power to the lowest position: 1. Sure that you can adjust the power based on the needs, the max power is 5W.
The reason makes it special, standing out from our other models. The 2 Mics jackets, the preset station, and changeable Pre-emphasis also can be the reason that you choose TR510. If you still have other questions, pls feel free to email us at support@retekess.com.We will supply the best solution for you.