Retekess TT105 Wireless Tour Guide System
TT105 tour guide system is the most popular tour guide system among the many types, what makes it different from others and so popular? Let's check the detail
1, Long working range
Most of our tour guide system works about 30-80M in the open area, but TT105 can reach about 80-120M in an open area. The long working range makes it possible for many applications, such as bike tours, motorcycle tours and so on.
2, Two transmitters work in one group
Most of the Retekess tour guide systems support one transmitter working in one group, except TT105 and TT106. TT105 tour guide system is the neck type, so you can hang it on your neck. It is easy to carry. It is very important for some training or guiding. So if you need 2 guides in one group, TT105 will be the best choice.
3, Support customize the frequency
For TT105, which is the 2.4G technology, is also very popular, due to that the 2.4G is the global free brand and no need the license. But for the EU country, the 863-865 frequency is also very important, we have the customized the frequency already, so if you need the frequency, you can choose TT105 or TT109
4, Support customize the color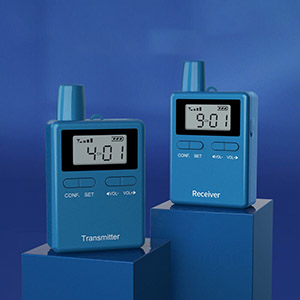 TT105 is the silver black color, but if you need black, red, blue or others. Just need to inform me, we will customize it for you, for the MOQ, we will check it based on the color that you need. If you want to know more, pls feel free to email us at support@retekess.com
TT105 wireless tour guide system is popular due to the good features, so if you need it for your business, pls contact us, we will supply the best offer.