To ensure that audiences can hear the movie's audio, drive-in movies use FM transmitters to broadcast the sound. Moviegoers tune their car radio to the same frequency as the FM transmitter provided by the drive-in movie, so they can listen to the film's soundtrack through the vehicle's audio system, which provides an immersive audio experience.
Drive-in movies have experienced a renaissance in recent years, attracting a new generation of moviegoers. Instead of sitting in a traditional theater, people park their cars in designated spaces facing the big screen, and attendees can enjoy movies from the comfort of their vehicles.
Drive-in movies offer a unique atmosphere that combines the magic of movies with the beauty of the great outdoors. Attendees can enjoy the night sky, stars, and fresh air while watching a movie. Many drive-in theaters encourage people to bring blankets, and lawn chairs, and even set up picnic spots near the vehicle to enhance the outdoor experience.
It should be emphasized that a successful movie night requires the cooperation of an excellent drive-in movie fm transmitter.
Best FM transmitter for drive in movies
1. Broadcast range: A good FM transmitter for drive in movies should have enough broadcast range to cover the entire vehicle parking area. Look for transmitters with a transmission range of at least a few hundred feet or more to ensure that all moviegoers can receive the audio signal without interference.
2. Frequency Stability: It is important to choose an FM radio transmitter that provides stable and consistent frequency transmission. This helps minimize signal loss or interference, ensuring a continuous and reliable audio experience for viewers.
3. Adjustable frequency option: Look for drive in movie fm transmitter that offers an adjustable frequency option. This allows you to select a frequency that is not occupied by other nearby FM stations, reducing the risk of signal interference and ensuring clear audio reception for all meeting participants.
4. Power output: Consider the power output of the drive in the movie FM transmitter. Higher power output can provide better signal strength and coverage, especially in larger drive-in theater environments. Look for a transmitter powerful enough to cover all vehicles in a given area.
5. Easy to install and operate: Choose an FM transmitter that is easy to install and operate. Look for user-friendly features like clear controls, an intuitive interface, and easy setup instructions. This ensures a hassle-free experience for event organizers and moviegoers alike.
6. Compatibility with audio sources: Consider the compatibility of FM radio transmitters with different audio sources. Make sure it can be connected to various devices such as audio players, media players, or audio mixing consoles. This allows you to easily connect the desired audio source to the transmitter to broadcast the movie's audio.
7. Durability and weather resistance: Drive-in theater movie events often take place outdoors, so it is important to choose a durable and weather-resistant FM transmitter. Look for transmitters that can withstand outdoor conditions, including temperature changes and potentially humid environments.
Retekess fm transmitter for drive in movie
We have 5 types of FM transmitters for drive-in theater, they are TR501, TR502, TR505, TR506, TR508.
Many customers will ask which type of drive-in movie theater is the best? But as far as I know, it's based on what you need.
If you want a long working distance, TR505 drive in movie speakers is the best choice;
If you pay more attention to sound quality, the TR501 FM radio transmitter and TR502 FM radio transmitter perform well;
If you value price/performance more, TR508 fm transmitter and TR509 fm transmitter for drive in movies are the most popular models.
Each model has its own characteristics, if you are troubled about which type of broadcast station to choose, please feel free to contact us, our professional team is happy to help you.
Feedback from St. Paul Missionary Baptist Church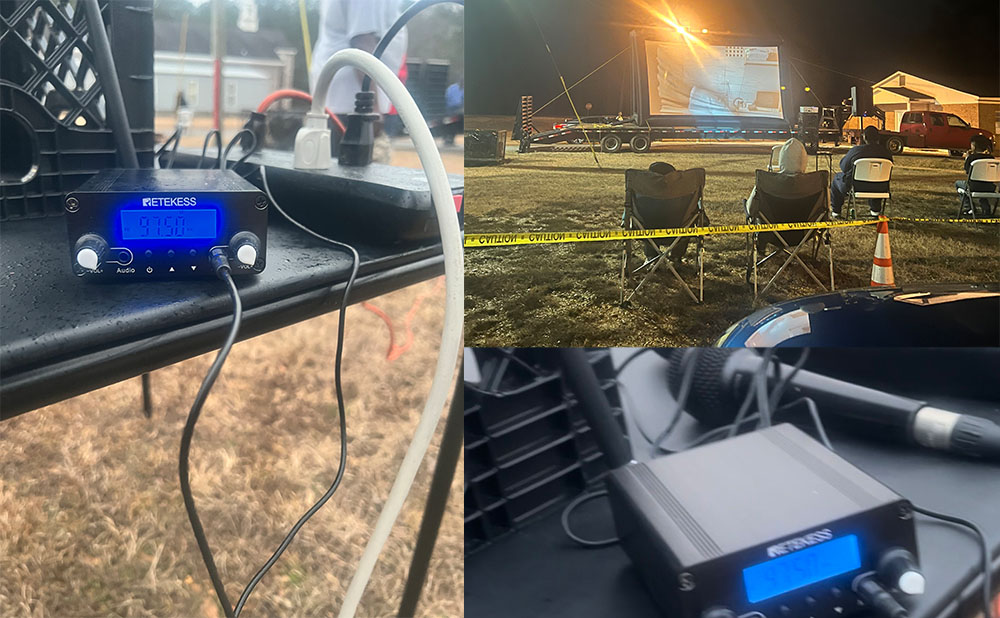 It is my pleasure to share our amazing experience with the Retekess TR508 FM radio transmitter at our church movie night. As a community-oriented church in the United States, we regularly organize movie nights that bring our congregation together for fun and memorable experiences. Retekess transmitters played an important role in ensuring seamless audio broadcasts, providing our attendees with crystal clear sound.
Also, the ease of use and setup of the TR508 transmitter is excellent. With simple instructions and intuitive controls, we were able to quickly install and operate the transmitter without any technical difficulties, which is of particular benefit to our volunteers.
Finally, we appreciate that this transmitter complies with local regulations and legal requirements regarding FM broadcasting. This gives us peace of mind.
All in all, our church had an excellent experience using the Retekess transmitter for movie nights, and the TR508 transmitter enhanced our movie nights and brought our community closer. We highly recommend the Retekess transmitter to other churches, organizations, or individuals looking for a reliable and high-quality audio transmission for their outdoor movie nights or similar events.