Are you looking to provide an audio translation of your worship services? Are you still not getting enough funds? Well, you come to the right place. Retekess focused on the wireless short-range communication system for 14 more years. We developed more than a dozen models system that can be used as a church translation system.
Retekess T130 transmitter and T131 receiver are the most popular type, here are the reasons why you should choose it:
High quality of sound, Built-in PLL Technology
A high S/N Ratio(≥90dB) ensures the cleanest voice transmission. Avoid the interference of other frequencies automatically. So when the transmitter sends the voice to the receiver, the receiver will hear the sound with high quality. One of our colleagues who come from France, before he made the order, he tests several models but choose the T130 and T131 finally.
No limitations on the receiver
One transmitter can work with as many receivers as you need. Just need to set them in the same channel, then they can work within the working range. So if there are many worships in the one church, you can use talk to send one time. Most churches have just one language that needs to be translated. However, there are times when you need to translate English into more than one alternative language. T130 and T131 system have 99 channels in all, and it supports max of 40 groups to work simultaneously without interference。
Cost-effective price
We list the model several years ago, it is the most popular not only because of the high quality of sound but with the best price. Each receiver is less than 35USD, if you buy many, the price is less than 25USD. So many of our customers buy one whole set, such as 30 receivers or 60 receivers.
With the complete accessories
There are microphones, earpieces, lanyards, charging cable, charging base, and charging case for the T130 and T131 church translation systems. So when you get it, you can use them directly. For the charging case, we have 32-ports and 64-ports. So you can buy the accessories based on your needs. Besides, the transmitter weighs 56g and the receiver weighs 46g, Small and light makes it convenient to carry or carriage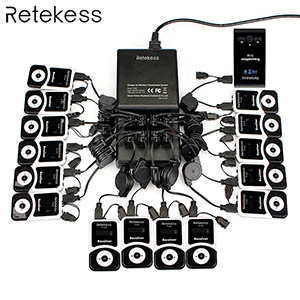 A translation system for the church is a great way to meet that need. Even if you have to hire a college student for a couple of hours a week to translate your services, those within your community that speak a different language will appreciate your effort to reach out to them. And if you need it, the Retekess T130 and T131 system is the best choice.