Retekess TD158 Guest Paging System New Arrival Type in COVID-19 Period

Retekess wireless guest paging system is more and more popular in the world. It is widely used in restaurants, cafes, clinics, veterinary clinics, salons, and so on. Especially in the hard time-COVID-19, the government advises people to stay at home and reduce contact to protect us. The guest paging system adopts wireless technology to prompt people to get their orders within the working range. The request for a wireless paging system is increasing. So we make the new type-TD158 guest paging system to meet the marketing.
Let's check the good features of TD158 :
Cost-effective
We have 2 types for TD158, one is the basic type without the digital screen, the other is the upgraded version. The basic vision with the best cost-effective price. If you have a limited budget, the basic vision is the best choice. Because the other device is the same as the upgraded version. You can customize the paper on the pagers to recognize the number. If you don't need the numbers just need to prompt the customers, the basic type is the best one.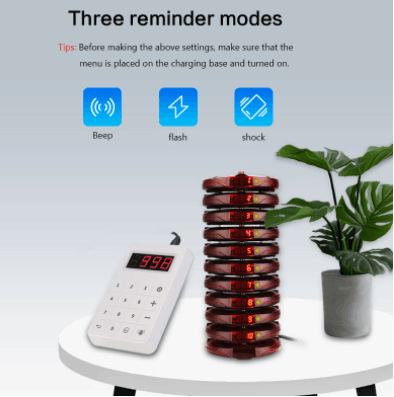 Charging indicator light
Many customers said that they have no idea about the charging station. So on this guest paging system, we add the function to prompt the station. When it is charging, the green light is flashing. It will not flash again once it is charging fully.
Shut down all the pagers one time
How to power off all the pagers, if you use many pagers one time? We care about customers' needs and develop the guest paging system with one key to power off all pagers. Put all the pagers on the charging base, press 0 + call, so all the pagers will be powered off. Then you can put the system in the box.
Touch keypad transmitter

The paging system is widely used in many scenes, so if you want to use it in the restaurant, the waterproof feature of the keypad transmitter is necessary.
AM modulation, stable signal, and long-range
The proven technology of AM modulation makes the system works well in many applications. The system can work up to 300M in the open area. If you use it in the building, the working range may be shortened. If you need a longer range, pls feel free to contact me at support@retekess.com. We will provide the best solution for you.
We support to customize, dropshipping, and wholesale. If you want to be our dealer, pls email the same address. We are here waiting for your decision and email message.