What is the good feature of the TT110 tour guide system?
Retekess TT110 is the new arrival travel guide system in 2021, the white and black color makes it more fashionable. We list it for about 2 mothes, let's check the good features of it.
IPS Screen
With IPS screen, display information is clearer and richer. This is the only model that we use the technology.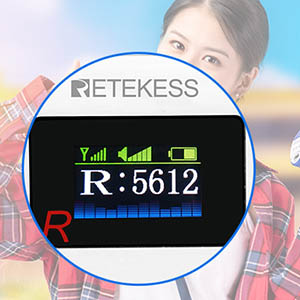 2.4G Technology
As we all know, the 2.4G technology is universal in the whole world, it is free so that no need for any certificate. You can use it for tourism, travel, train, teaching, and so on.
1-9999 channels
There are enough channels to your business. Many groups can work at a near distance. You can press and hold"down" and"up" at the same time unit the works"M" changed to "ID", you can press up and down to choose the channels. Press the "power" key to enter the pairing mode. You just need to put the receivers within 5 mins, then it will pair successfully with the transmitter.
One-key power off all the receivers
Press and hold the " power" key until the display flashes, all the paired receivers will be power off. It will save your time to power off the receivers one by one. It is necessary to be used for your business.
Mute set
Shot press the "down" key to activate the mute function, The mute icon flashes on the display. If the guide wants to talk with other people and don't travels to hear your voice, you can use this function.
With Mic and AUX audio input
The wireless transmitter designed with 2 input ports, one for a 3.5mm microphone and another for audio with a 3.5mm AUX line, you could use any one way of them or both of the inputs ways at the same time. Ideal for guides who need on-site explanations and audio playback to switch at any time.
Long Standby time
TT110 tour guide system could be continuously used for 15 hours (receiver), the transmitter could work for 10 hours. Save time to recharging the device. Also no extra cost for batteries. We also have the rechargeable/carrying/storage box for the TT110 audio guide system.
The last good feature for this model is that we make the special charging case-carry case for this model and the study it for 6 months and make a professional case for it. The price is also very cost-effective.
The tour guide system is not only used for travel, but factory tour, training, and so on. If you want to use it for your own business, pls email us at support@retekess.com, or visit our website to check other models.