With the application of guest paging system in many fields, it has become more and more popular. And there are more and more application scenarios. The commands of customers are becoming more and more clear.
In order to better meet the needs of more customers, we have developed a long-distance square guest pager system TD184. So what is special about this paging system?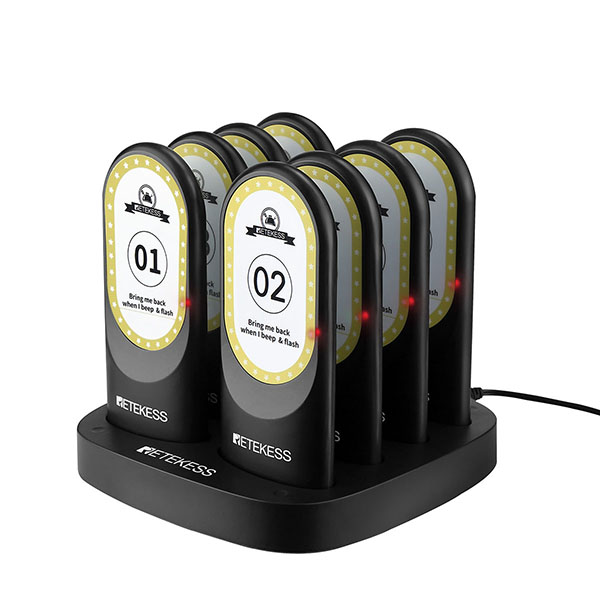 Why should you choose TD184 guest paging system?
Compared with other models of Retekess, this is the first square pager with long-distance. And the keyboard and charging base are separated, which is very convenient to use.
This restaurant pager system uses FM technology, and the distance can be as long as 800-1000 meters in an open place.
For the charging port, it uses a magnetic charging method. If it is placed upside down, it can't be put in, so it is very easy to avoid the situation that it will not charge when it is put in, and as long as it is placed correctly, the magnetic attraction can be very good to ensure the pager is charged. In addition, the red light is on when charging, and the green light is on when it is fully charged. So you will know when it is fully charged.
The function of over-distance reminders helps customers ensure that they are within the receiving range and will not miss a call. At the same time, it can prevent the loss of the pager.
What's more special is that there are 5 modes for the prompt of the square pager. Such as turning off the flashing light, slow flashing light, medium speed flashing light, fast flashing light, and gradual flashing light.
Where you can use this pager system?
TD184 guest paging systems are used in scenes. Such as churches, church nurseries, restaurants, dining trucks, hospitals, clinics, breweries, bars, etc.
If you want to know more detailed functions, please read this New TD184 paging system.
If you have any suggestions, please leave a message or write an email to support@retekess.com