Table Location system can help businesses improve efficiency. Because the positioning system can help the service personnel to quickly identify where the customer is and find the customer quickly. Deliver hot food to the customer's table quickly, allowing customers to enjoy fresh and delicious food. It not only improves customer satisfaction but also improves service efficiency, allowing enterprises to use fewer people.
What is included in the table location system?
The Retekess table locator system is very convenient to use, and even individual merchants can easily install it. The original package contains 8 locators, 8 locating plates, 1 8-hole charger, and a 50-meter long wire and the host plus remote control to connect to the display. You can adjust the line length according to the size of the dining table, which is very convenient.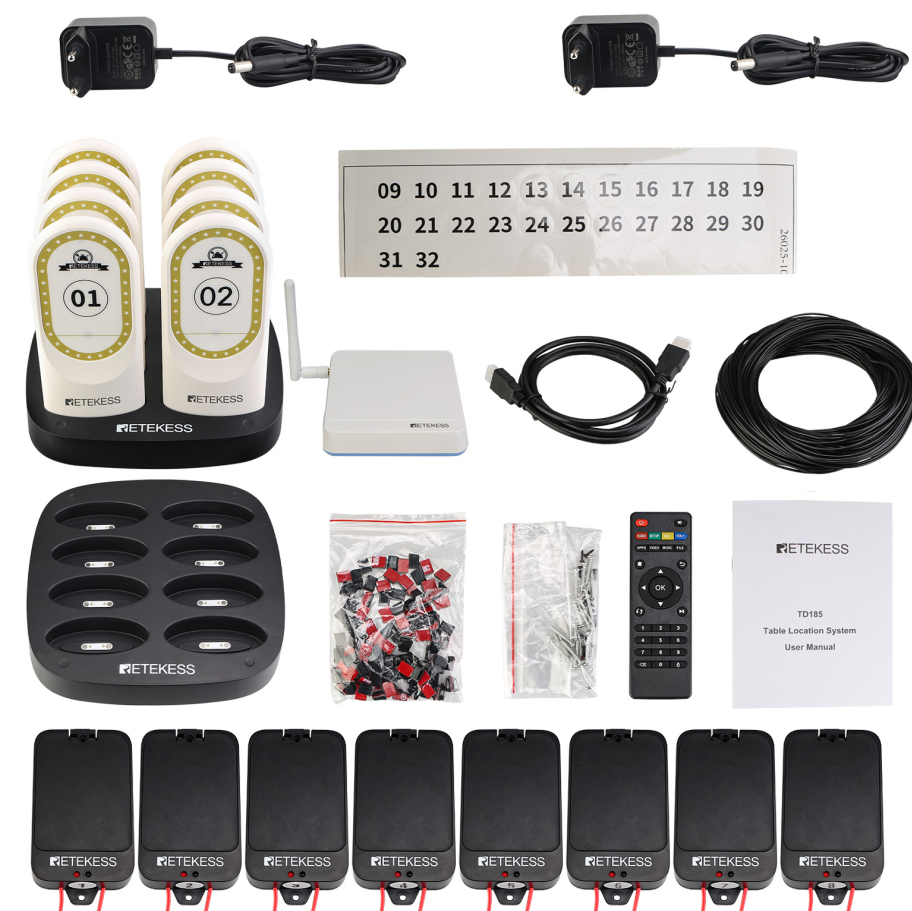 How to use the table tracker system?
When you connect the display with the locator, the host page will show on the display. After you install the wire on the table and put the pagers on the table. The display will show the table information and locator information directly. And you can set the time of the order, so you will know which table waiting for how many minutes via the color.
Why Retekess TD185 table location system?
The system is easy to install and can be operated by a single person
Pagers have a stable signal and can standby for 6 days after a full charge
The system can realize the whole table sensing, just putting the pager on the table to sense the location information. Low error rate
The Locator is powered by 3 x 5 alkaline batteries, allowing for a long standby time
Note: the desktop can be used wood, plastic, glass, and other materials, avoid using metal, or marble desktop.
Let TD185 table tracker help you get more customers and use less staff.
If any questions, feel free to email us at support@retekess.com.