In today's competitive restaurant markets, service is more and more important. Customers need the best service.
How can you improve the service, one of the most important is the kitchen to service and then service to the customer, or
kitchen to the customer directly.
Let us check the Retekess wireless kitchen calling system
First, we need to know what is the kitchen calling system?
The kitchen calling system adopts wireless technology, connecting waiters and chefs together. It is widely used in the kitchen for the chef to reach out to serving staff when their food is ready. The kitchen calling system is a paging device allows you to easily call the server to send food out, thus creating a more inviting service atmosphere. This system helps you to be more productive, by reducing miscommunication between the kitchen and serving staff as well as preventing cold food serving. No need to yell out to create a pleasant environment, enhance restaurant image and improve your business.

Using subject:
Counter/Kitchen Kitchen Waiter
Place a display to get Press keypad transmitter to Get information from
call record call waiter get food kitchen
Operation:
The kitchen calling system consists of a keyboard transmitter(kitchen) host display(kitchen/counter), wrist watch(waiter/waitress). Put the keyboard transmitter in the kitchen table or hang it on the wall, it all based on your choice. The keyboard transmitter max supports 999 channels. Once the food is ready, the chef can press the number to call the waiter, who wears the wrist watch pager will get the number, getting the food quickly and sending it to customers. Besides Restaurant owner can put a host receiver in the counter. When the chef presses the number to call, owner will see it and ask the corresponding waiter to get food.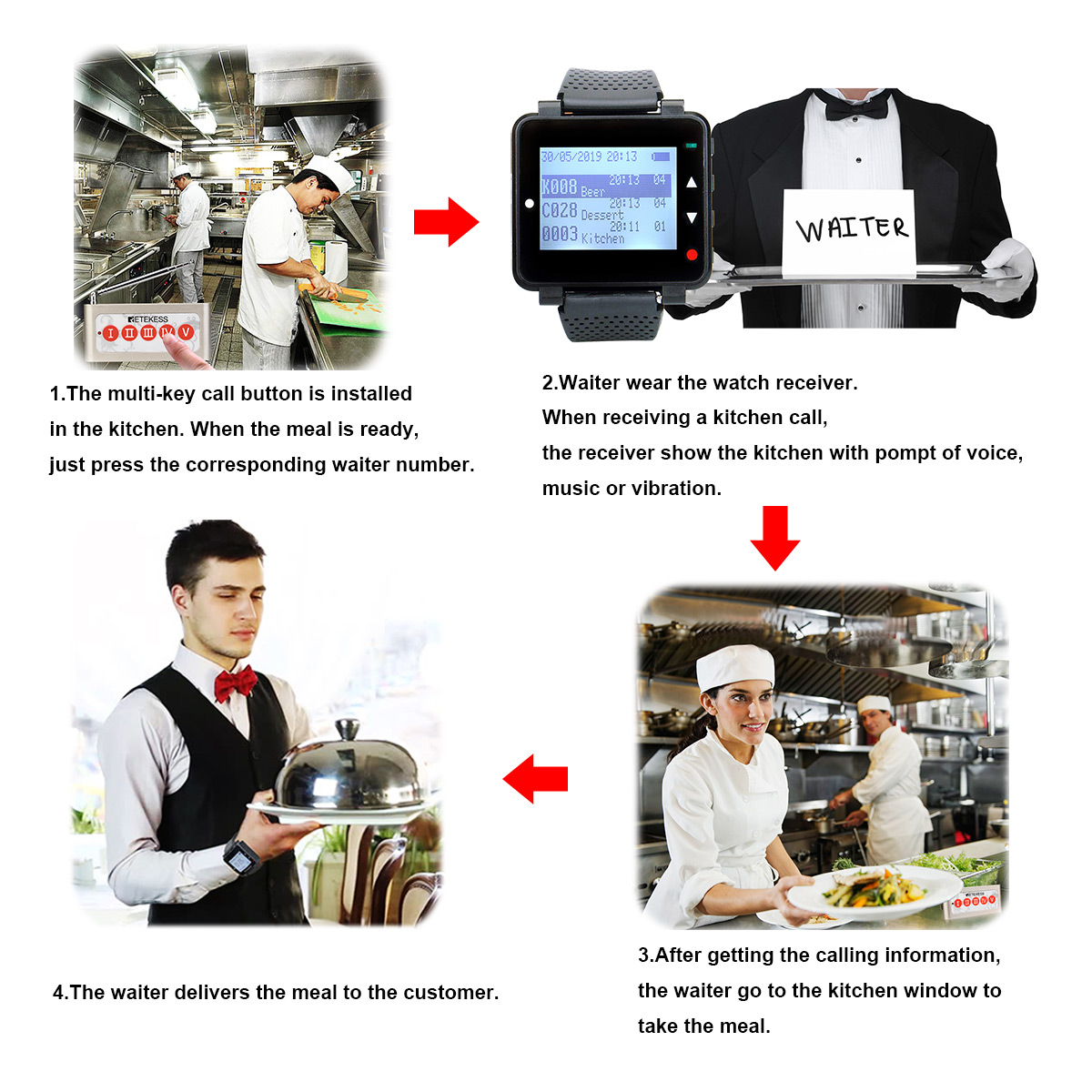 Solution Benefits:
Chef no need to yell out a waiter to get food for customers.
No need to worry about servers not able to serve their food in time. The server can be easily averted by the system through the wrist watch pager -vibrate, flash and beeping
Balance excessive wage and labor costs associated with food runners and waiters
The system helps to improve table serving by just in time. It also helps to bring in more customer as the atmosphere become more inviting. This helps to increase revenue and profit