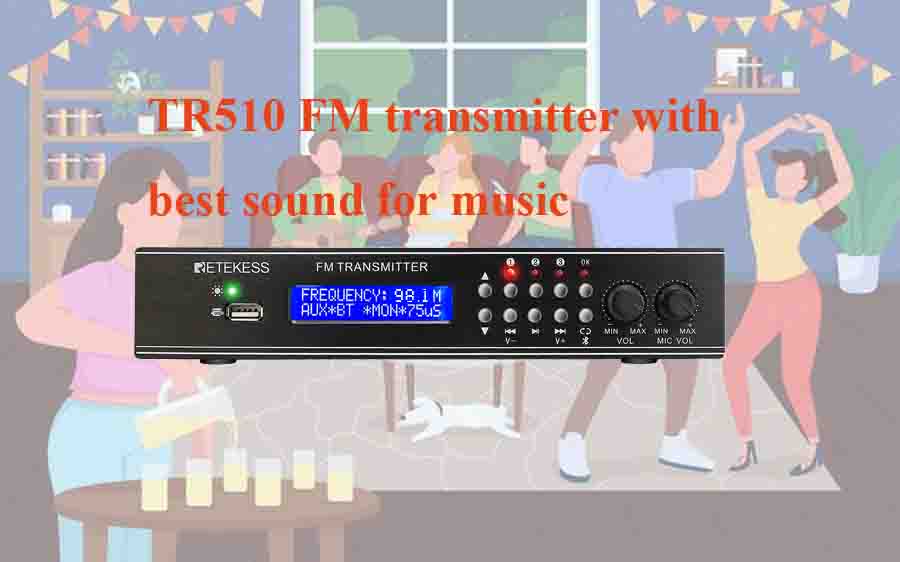 Retekess few models FM transmitters, handheld ones, and stationary ones. Recently, we have another model on the market, it is TR510 FM transmitter.
Reasons you should choose the TR510 FM transmitter
Look at the appearance, it is very different from TR508, TR509, TR501, TR502, and TR505 FM transmitter. Those models are silver, but the TR510 is black and it is very thin, so the hold feel is very good. And it looks much more beautiful than other models. It is very fashionable. You would love it.
For the fun, it is no noise when you use it. So if you want a quiet device, the TR510 FM broadcast transmitter will be the best choice. No noise, you will crazy with this device.

Sound quality, it used the latest chip, so the sound quality is fabulous. Especially you use it for playing music. The sound will amaze you.

3 preset stations, if you have few channels that you want to broadcast, you don't need to change every time, you can set 3 stations in advance, so it is very convenient for using.

Compare with the TR501 and TR502, it has a professional aux jack. So if you transmit audio from it, the sound will be better.

Compare with other FM transmitters, it supports 2 speaker mics to plug in at the same time. So if you want to have two people talk, this design will serve you better.

Bluetooth, so you can connect with your phone by Bluetooth, it is very convenient, so that you don't need too many lines to connect.

USB flash drive is supported as well.
After checking all the features of above, do you like it?
You can choose the one that fits you better. TR510 model almost includes all the functions combined with other FM broadcast transmitters.
You can use it in the church, drive-in movie, home music, home party, choir, etc.
If any other questions, feel free to email us at support@retekess.com.
---