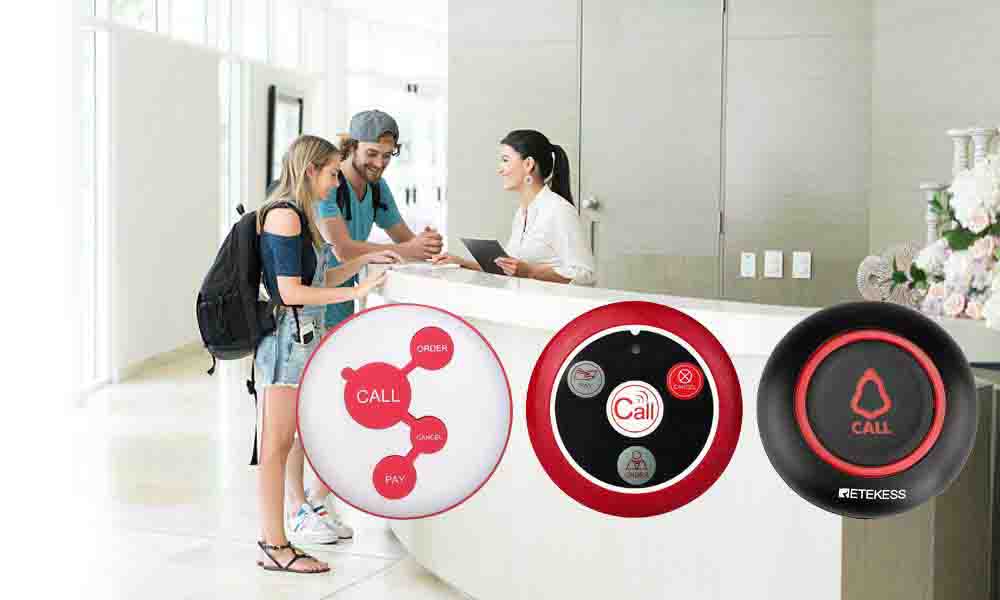 Due to the COVID-19 pandemic, hotels around the world have faced unprecedented challenges. Therefore, hoteliers must operate in a manner that complies with COVID-19 security. The Retekess wireless call button proved to be an innovative tool for providing quality customer service during the COVID-19 pandemic. It not only helps the hotel improve efficiency, but also optimizes the customer experience in a safer way.
Improve employee efficiency
Installing a wireless call button at the entrance of the hotel will be of great benefit. Before the guest arrives, the call button allows the receptionist to leave the reception area so that other tasks can be completed. If the customer arrives, they simply press the call button. Employees wearing watch receivers can receive the information and rush to the front hall to receive them in time. Guests do not have to wait, and employees can and can use their time more efficiently.
Improve customer experience
When the customers resting in the room need it, the wireless call button can easily signal them. This can be used to notify employees to take away dinner plates or trash from the room, and can also be used for other requests. These call buttons can also be installed on the restaurant table, and customers can quickly notify the staff of services such as ordering or adding water. No need to shout loudly or worry about disturbing others. Bring a more comfortable experience to customers.
Keep social distance
In order to stay safe during the COVID-19 period, all personnel needs to maintain social distancing. The wireless call button installed in the bar or kitchen can quickly notify the waiter to serve the food. This will reduce the risk of staff gathering while waiting for orders. Allow customers to enjoy delicious food while maintaining safety.
---