Do you know what will happens after we use one battery?
Do you know how many years will the battery will disappear?
Do you know what if the battery be in water or soil, what will happens next?
One battery rots in the soil, which can make one square meter of land to be useless.
A button battery can pollute 600,000 liters of water, which is equivalent to a person's drinking water in a lifetime.
More and more battery will make earth weeker and weeker.
Many of our customers had noticed that, ann they asked us where we have one wireless call button that don't use any battery。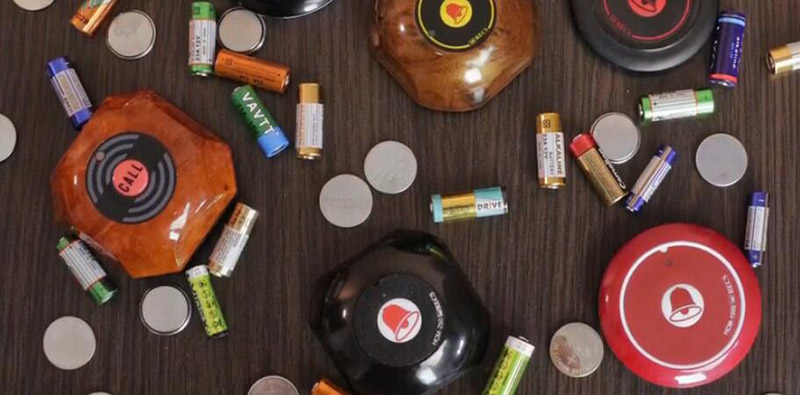 In the prevous answer, i said no, and asked them wait.
But know, we make it come true. We, Retekess make the wireless call button without battery success. It named TD014 wireless pager.
It need to be used with the TD023 wireless pager amplifier converter. One TD023 can used with max up to 999 wireless call button.
Pls check the details of the wirless call button.
1, It comes with simply design- white with black words. It is widely used in restaurant, cafe, berwery, and so on.

2, waterproof wireless call button, because it is not with battery, so you can even put it in the water.

3, Friendly use, no need to use the battery, so will not polluted environments. For our recently world's
rule, this wireless call button is most important.
4, The most important is that, this call button has the long working distance. Our enginner test in our working palce
The distance can up to 500M.
In this way, you can use the call button in many applications, such as restaurant, cafe, church nursey, bank, clinic,
dental clinic, factory, warehouse, and manufacturing.
I am sure that this wireless calling system will be more popular in the near future.
Kindly notes: This wilreless call button can not use only, you need to use one wireless repeater to work with it.
One repeater can work with 999 call button.
I strongly recommend this wireless call button, due to its good feature. I am also care of protecting the environment carefully.
If you want to save our environment and our mother earth, you can check this wireless pager- call button.
Any question, you can contact me, i am here waiting for you.