Retekess 5.8GHz Wireless Guitar System Rechargeable Audio Guitar System Wireless Digital Transmitter Receiver Set for Electric Guitar Bass
Why do we need to use the wireless guitar system?
The wireless guitar is more and more popular in recent years. After you use the wireless audio system
In this way, you will be freer on the stage and play just for fun.
So Retekess makes a new arrival of the wireless audio system, you can check the detail of it.
Pls check the detail of wireless guitar system:

Transmitter (black color)
1. 6.35mm gauge audio connector,
2. Indicator (orange) Transmitter).
3. Channel and power indicator
4. Power button
5. ID button
6. Micro USB power recharging jack
Receiver (white color)
Audio output connector, connecting to the amp or any other product
with the same gauge audio input jack. (all the other parts and functions are the same as the Transmitter
How to use it?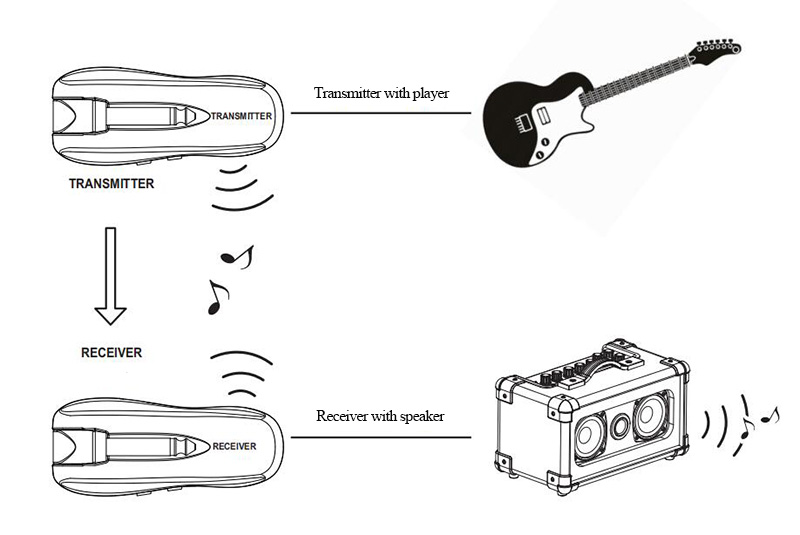 1. Press and hold POWER buttons on Transmitter and Receiver to turn On.
2.If both ID indicators show the same color and orange lights Off, which means that the Transmitter and
The receiver is paired successfully and ready to use.
3.If that the orange indicator flashes, press and hold both Transmitter and Receiver ID button for 5 - 7
seconds to turn the ID lights the same color and orange indicators Off.
4. Connect the Transmitter to your instrument, and Receiver to your amps or pedals. Play and enjoy the freedom!

Kindly Tips
1, Make sure that the wireless guitar system is in power-off condition if you don't use it for a long time.
2, Stay away from the wireless system to prevent the interference
3. Clean it using the dry clothes
4, Not waterproof, so far away from the liquid