PR11 AM FM pocket radio Battery operated radio Support TF card With flashlight
Only
996
left in stock - order soon.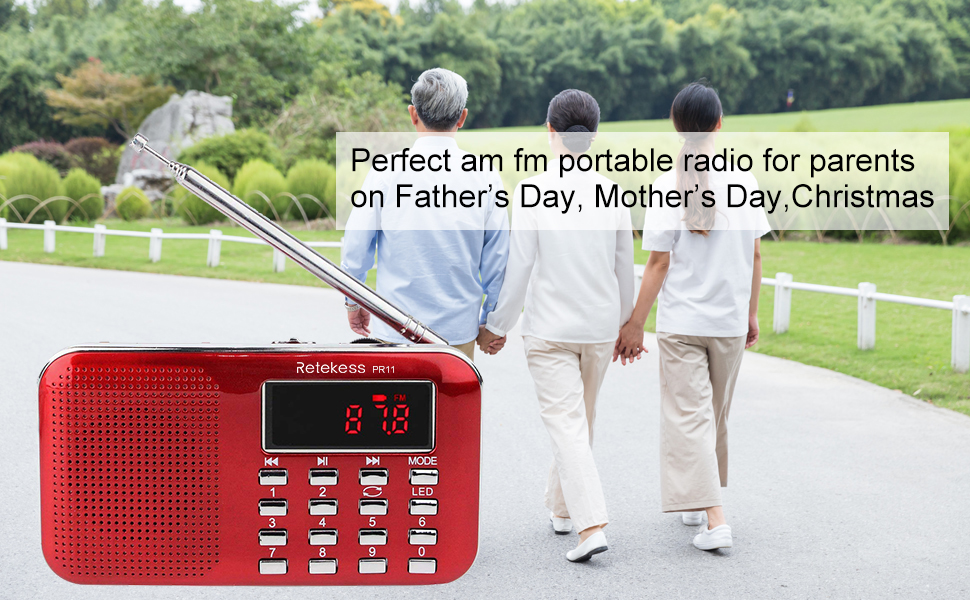 Flashlight
With UV surface, look very shinning and good touch feeling. The little radio is really pocket-sized with rounded sides so it slips into a pocket easily.
Key attached
If you like to listen radio without an earpiece, please chose this model. The sound, for such a small radio, is amazing! It's a good, full sound with plenty of volumes.
Support TF card
The little radio with 3.5mm earpiece jack, you can listen to the music via headphones.
Note: The headphone volume is very low compared to the speaker volume, if you prefer to listen to radio via earpiece more, we do not recommend this model(TF card, not included)

Earphone jack
With Micro SD card it works as an MP3 player, it supports 3 modes: One: repeating the current one MP3; Fold: repeating the MP3 of the current folder; All: repeating all the MP3.
With a high-end recorder IC and 45mm, high fidelity loudspeaker makes the sound perfect, high clear and loud.
Digital tuning
It scans, finds and saves both AM and FM stations or you can just press the numbers to select a station. FM: 70-108 MHz, MW(AM): 522-1710KHz. Easy to find the local station
Rechargeable battery
BL-5C 800mA lithium battery (included), you don't have to buy batteries, just plug it into recharge. The battery will run for about 4 hours at full volume or 8 hours at a lower volume.
Please fill in your procurement needs and contact information
Specifications:
Frequency: FM: 70-108 MHz, AM: 522-1710 KHz
Support memory: TF card / USB disk, Max 16GB
Supported formats: MP3
Frequency response: 150Hz-20KHz
SNR: ≥80dB
Speaker: Φ40mm 16 cores internal magnetic
Power supply: BL-5C 800mA lithium battery (included)
Charging voltage: DC 5V 500mA, Mini USB interface
Size: 117 x 64 x 22 mm / 4.6 x 2.5 x 0.8 in
Weight: 127g / 4.5oz
T-Flash card(not included)/ USB disk: Max 16GB
Supported Formats: MP3
Package Includes:
1 x AM/FM Radio Speaker
1 x lithium battery
1 x USB Charging Cable
1 x User Manual