Retekess T131 tour guide receiver can only be used with the T130 tour guide transmitter
Most popular, cost-effective, and durable
Adopt PLL technology to ensure a stable signal and clear sound
Wireless receiver can work continuously for 18 h
The communication range of the T130 transmitter and T131 receiver is up to 50 m/164 ft
Receivers are widely used in tours, factory visits, church interpretation, conferences, or teaching
Only
772
left in stock - order soon.
T131 tour guide receiver with 99 channels
Allows up to 99 groups of interpreters to work simultaneously in the same room or within the same area without interference or crosstalk between different groups.
Crystal clear sound
With the phase-locked loop frequency synthesis technology, the tour guide system can resist interference to the maximum extent and keep the audio clear, so your visitors can enjoy the sound transmission comfortably.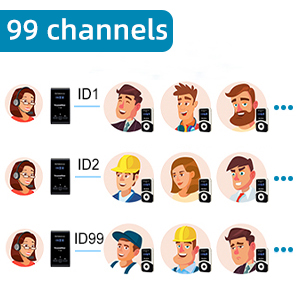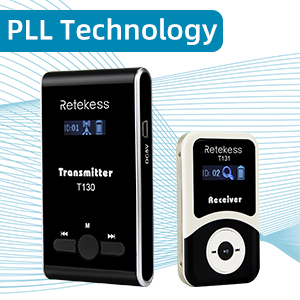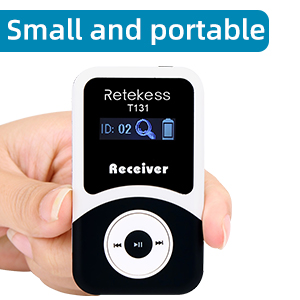 Portable and compact
The T131 tour guide receiver weighs a 45g net and measures 72 x 42 x 12mm, making it easy to carry.
Large-capacity rechargeable battery
Wireless receiver with built-in 600mAh lithium battery, fully charged for about 18 hours. You can use the included USB charging cable or choose to charge with the 16-port charging dock, 32-port charging case, or 64-port charging case.
Easy to operate
Whether it's auto-syncing channels or adjusting volume, any setup of the wireless receiver is so easy that users don't need any experience or advanced learning.
Universal 3.5mm headphone jack
Each receiver comes with a single-sided headphone, which you can also replace with another headphone with your own 3.5mm connector.
LED display
The LED display of the T131 tour guide receiver clearly shows the information of battery, signal, channel ID, and volume, which is easy for you to set up and operate.
Please fill in your procurement needs and contact information
Specification:
T131 Receiver

Frequency

195-230MHz

Channel

99 channels

Frequency response

50Hz-18000Hz

Power supply

Built-in 600mAh lithium battery

Working hours

18 hours

Method Charge

Mini 5V 1A DC USB connector

Size

72x42x12mm/2.8x1.6x0.5in

Weight

45g / 0.1lb
Package Includes:
1x Wireless receiver

1x Earpiece

1x USB charging cable

1x Lanyard
Q: I bought a dozen T131 receivers before, but I need 5 more, what should I do?
A: There is no limit to the number of T131 receivers, you can buy individual receivers on our website.
Q: What are the accessories for the receiver?
A: Each T131 wireless receiver comes with 1 lanyard, 1 single-sided headset, and 1 charging cable as accessories.
Q: The headset that comes with the receiver is a left-ear headset, can I change some of the receiver's headset to a right-ear one because I have visitors in my group who are hard of hearing in the left ear?
A: Of course, you can, you just need to make a note when placing your order or contact us in advance to specify the number of left-ear headphones and the number of right-ear headphones. If you do not specify, then by default all receivers will come with left-ear headphones.