TT109 digital tour guide system includes 2 transmitters, 38 receivers, and a 40-port charging case.
MIC jack can be used as an AUX jack to connect audio devices
Transmitter standby 8 hours; receiver standby 18 hours
Durable and drop-resistant trolley case with wheels
Supports adding as many receivers as you like
Automatic channel synchronization function
Transmission range up to 180 meters/590ft
Stable signal and crystal clear sound
Compact and light weight
50 channels
Only
799
left in stock - order soon.
Long range digital tour guide system
The transmitter transmission distance is up to 180m/590ft in the open air, and listeners can be dispersed to listen within 180m from the presenter. It is suitable for scenarios with a large number of listeners or for outdoor teaching activities, trekking, Hajj, Umrah, and other large range activities.
Automatic channel synchronization function
You can use this function to quickly synchronize the transmitter with the receiver's channels. When you have a large number of receivers, it is very tedious to adjust the channels of the receivers one by one to make them the same as the channels of the transmitters. Auto-pairing can save you a lot of time and improve your work efficiency. In addition, you don't need to pair it every time you use it. After successful pairing, the device will automatically remember and keep the ID, so you can use it directly when you turn it on next time.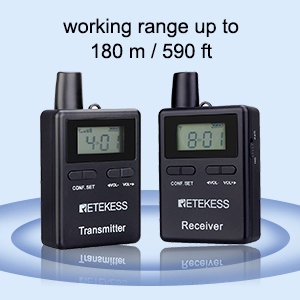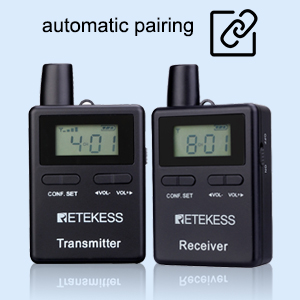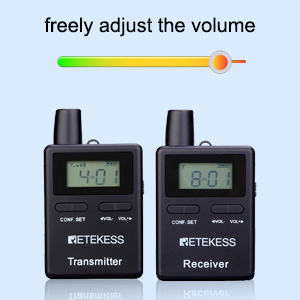 Volume adjustment
The transmitter has 5 levels of volume and the receiver has 10 levels of volume. The wireless tour guide audio system has a volume adjustment button, so visitors can freely adjust the volume according to their sensitivity to sound.
Compact tour guide system
The transmitter weighs 60 grams and the receiver weighs 51 grams, which is a lightweight and small size, which will make it more comfortable to wear and convenient to carry. The digital tour guide system is equipped with a lanyard, you can hang it around your neck so that it does not interfere with your hand movements and prevents the device from dropping.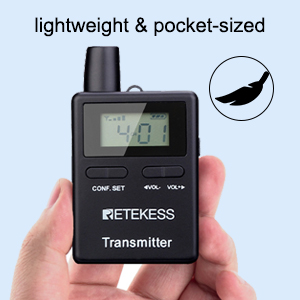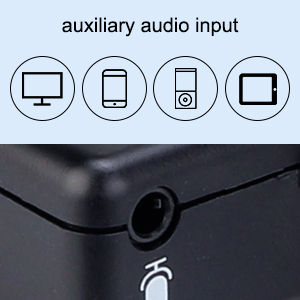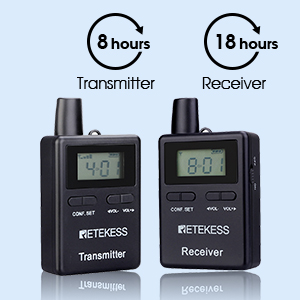 MIC input and AUX input
Transmitter's microphone jack can be used as an AUX jack. You can use a 3.5mm AUX cable to connect an external audio device to the transmitter so that the receiver can hear music or audio files from the audio device, which will make your work more convenient.
Rechargeable high-capacity battery
The tour guide headset system takes only 2-3h to fully charge, and after charging the transmitter can be used continuously for 8h and the receiver can be used for 18h. The charging time is short and the standby time is long, so you don't need to charge it frequently.
Portable charging storage case
The 40-port charging case can charge 2 transmitters and 38 receivers at the same time, and it can hold all the transmitters, receivers, headphones, and microphones, and it can also be used as a storage case. The charging case is made of aluminum alloy for durability, with wheels and a handle lever, similar to a suitcase design, making it very easy to carry.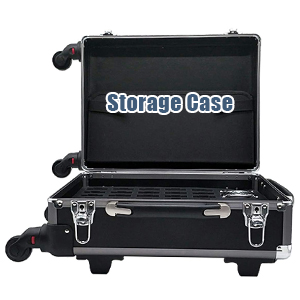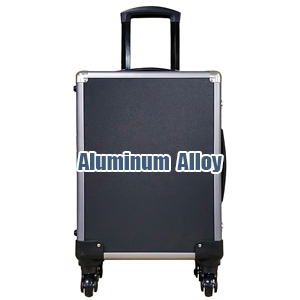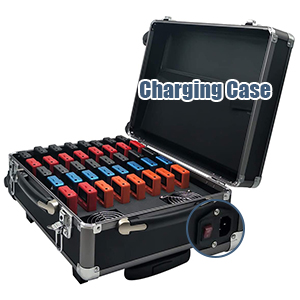 50 channels
TT109 digital group guide system allows running 50 groups in the same area at the same time. In a church, you can set up 50 groups in different languages; in a factory, you can set up 50 different groups for different departments such as warehouses and workshops. The groups communicate with each other confidentially and without crosstalk.
Adding receivers
TT109 transmitters can be paired with and used together with countless TT109 receivers, so there is no limit to the number of receivers, and you can add receivers as needed when the team expands.
Multiple applications

Please fill in your procurement needs and contact information
Specification:
Transmitter
Frequency range
2400-2480MHz
Channel
50 channels
Output power
10mW
Power supply
Built-in 1500mAh lithium battery
Working time
About 8 hours
Working distance
180 meters (open air)
Size
86 x 50 x 19mm
Weight
60g
Receiver
Frequency range
2400-2480MHz
Channel
50 channels
Power supply
Built-in 1000mAh lithium battery
Working time
About 18 hours
Size
86 x 50 x 19mm
Weight
51g
Package Includes:
2 x transmitter
38 x receiver
2 x Microphone
38 x earpiece
40 x Charging cable
40 x Lanyard
1 x 40 ports charging case