Retekess TT109 Tour Guide Communication System Long Range with Charging Case for Tour, Training, Translation
SKU:
F9485AX2-F9485BX30-F9468D
TT109 tour guide communication system includes 2 transmitters, 30 receivers, and 1 32-port charging case.
2.4GHz, free and universal worldwide
One key to auto pairing
50 channels to choose from
Pocket size and lightweight for easy carry
Communication distance up to 180 meters
Transmitter can work with unlimited receivers
Transmitter works for 8 h; receiver works for 18 h
MIC jack can serve as an AUX jack to connect audio devices
OverView
Long working distance
The transmission distance between the transmitter and receiver can reach 180m/590ft in the open air, within which the listener can clearly hear the speaker's voice, suitable for activities with a large range of activities such as Hajj, Umrah, outdoor travel, Segway travel, etc.
Lightweight tour guide system
Transmitter weighs 60 g and the Receiver weighs 51 g. You can barely feel the weight on your neck or in your pocket, and your visitors will love them. Plus, the pocket size also means that one person can easily carry the tour guide communication system a group needs to use.
AUX input
Transmitter's microphone jack supports AUX transmission. Using a 3.5mm AUX cable, you can connect an external device to the transmitter and transmit audio files or music from your computer, smartphone, or MP3 to your visitor via the transmitter.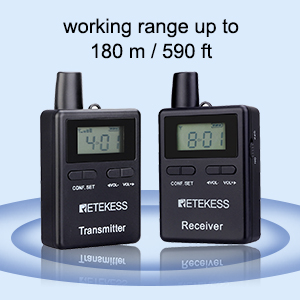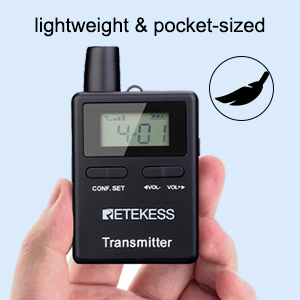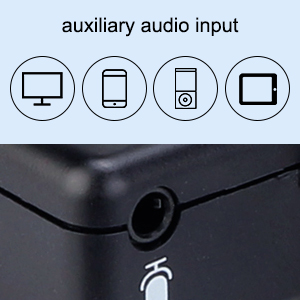 One-button automatic pairing
The channel ID of the wireless transmitter can be synchronized with all the receiver IDs within 10 seconds, you don't need to adjust the receiver channels one by one, which saves you a lot of time, especially if you have a large number of listeners.
Long standby time
Wireless tour guide audio system takes only 2-3h to fully charge, the transmitter has built-in 1500mAh rechargeable lithium battery, which can be used continuously for 8h, and the receiver has built-in 1000mAh rechargeable lithium battery, which can be used continuously for 18h after charging. Even if your activity lasts for a long time, you don't need to worry about running out of power.
Portable charging storage case
Charging case can charge 2 transmitters and 30 receivers at the same time, easy and fast operation. One case can hold all transmitters, receivers, headphones and microphones, which is a practical tool for storage and carrying. The charging case is made of aluminum alloy, durable and fireproof, with built-in heat sink to protect the guide equipment.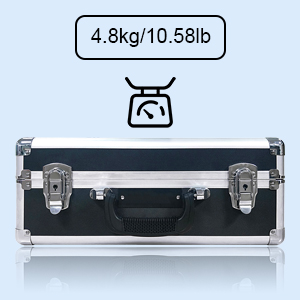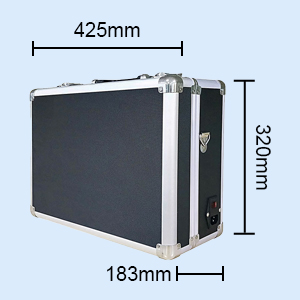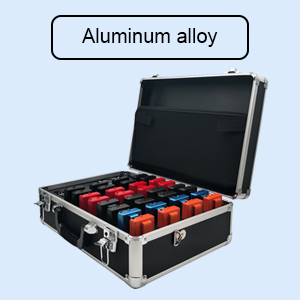 Free volume adjustment
Transmitter has 5 levels of volume and receiver has 10 levels of volume. With a dedicated volume adjustment button for free adjustment, you can adjust to the right volume according to the external environment and your own hearing condition; elderly people with hearing impairment can also listen to the speech comfortably.
2.4Ghz frequency transmission
2.4G is a global frequency, the signal is more stable, more confidential, and the sound is more crystal clear, listeners will not hear noise and static from the headphones.
Multiple usage scenarios and methods
There are 3 ways to use the TT109 tour guide communication system.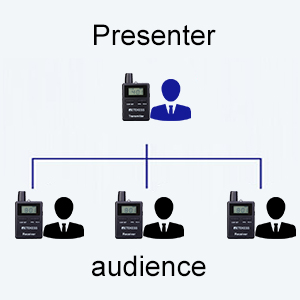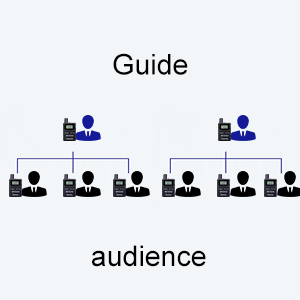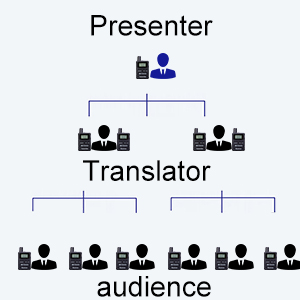 One to many: One speaker and multiple listeners keep the same channel, which can realize clear voice transmission
Multi-group simultaneous presentation:Different groups use different channel IDs, while speakers and listeners of the same group use the same channel. No crosstalk occurs between groups.
Simultaneous interpretation mode:Multiple groups are set up according to different languages, and the interpreter wears a receiver to receive the voice of the presenter, while wearing a transmitter to transmit the translated language to the listener on the same channel as the interpreter.
Applications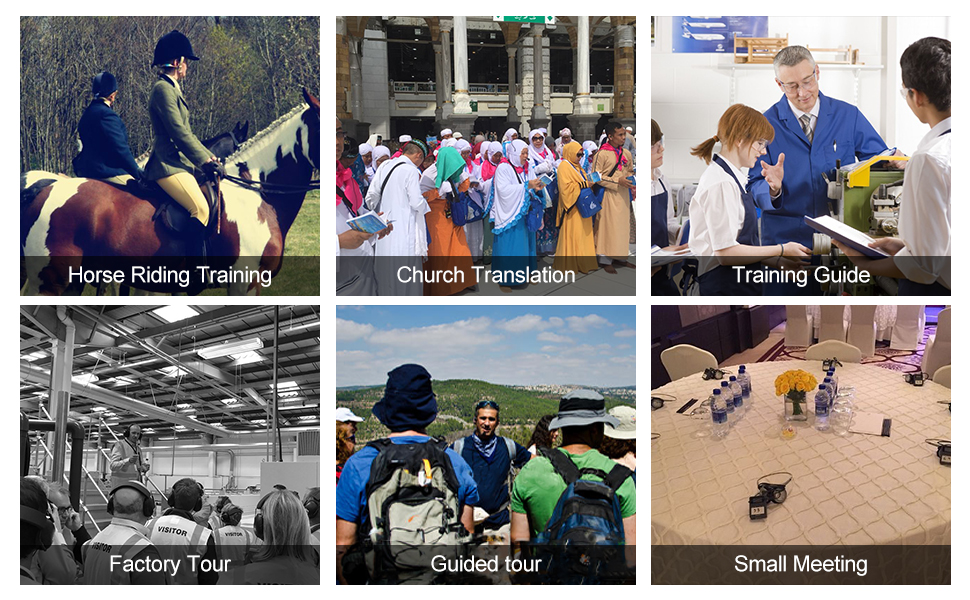 Spec
Specification of TT109 tour guide speaker systems:
Transmitter
Frequency range
2400-2480MHz
Channel
50 channels
Output power
10mW
Power supply
Built-in 1500mAh lithium battery
Working time
About 8 hours
Working distance
180 meters (open air)
Size
86 x 50 x 19mm
Weight
60g
Receiver
Frequency range
2400-2480MHz
Channel
50 channels
Power supply
Built-in 1000mAh lithium battery
Working time
About 18 hours
Size
86 x 50 x 19mm
Weight
51g
Package Includes:
2 x transmitter
30 x receiver
1 x Microphone
31 x earpiece
32 x Charging cable
32 x Lanyard
1 x 32 ports charging case
Inquiry
Please fill in your procurement needs and contact information
We found other products you might like!