Retekess TT122 Tour Guide Interpretation System for Church Interpreting Court Interpreter Conference Translation with Charging Case
SKU:
F9488CX2-F9488DX30-F9488E
TT122 audio tour guide system includes 2 TT122 transmitters, 30 TT122 receivers and 1 32-port charging case
One button to turn off all receivers without having to turn them off one by one
36 channels allow multiple groups to occupy the same area
Microphone jack can serve as an AUX jack to link audio devices
Aluminum charging case is durable and fire resistant
Transmitter can work 12 h, receiver can work 18 h
Automatic pairing and manual pairing
Easy to use, lightweight and portable
Operating range up to 492ft/150m
One-touch to mute transmitter
OverView
Long battery life
TT122 translation headset system has a built-in 1500mAh rechargeable battery, the transmitter can work continuously for 12 hours and the receiver can work continuously for 18 hours, you don't need to charge it often and don't have to worry about power failure in the middle of the event.
Transmitter mute function
When the mute button is pressed, the listener will not hear the interpreter's speech. The one-touch mute function helps the interpreter to temporarily stop the voice commentary when they need to go out during the translation, when they take a break, or when the interpreter does not want the listener to hear some of their own voice.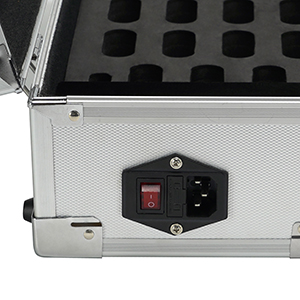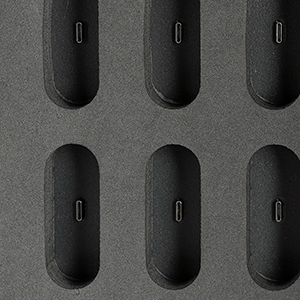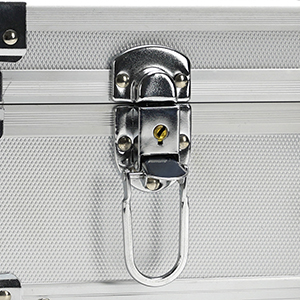 Easy charging
The 32-port charging case can charge 2 transmitters and 30 receivers at the same time, and only one power jack needs to be connected, saving time and avoiding the danger of tangling or electrocution caused by too many wires. The charging case can also be used as a storage case, it can put down 32 devices and all accessories, which is a good helper to carry on the go.
Volume Adjustment
Wireless receiver with adjustable volume from 1 to 10 levels, visitors can freely adjust according to their hearing condition and external environment. Even the hearing impaired can easily listen in a noisy environment.
Auxiliary audio input
The transmitter's microphone jack can be used as an aux jack, supporting the connection of a variety of external devices (such as church PA system sound board). Note: AUX and MIC are the same jack, and background music cannot be added while speaking.
Automatic pairing
TT122 church translation device with one-touch channel synchronization function allows you to quickly complete the preparation work before the presentation, without adjusting the receiver's channel one by one to make it synchronized with the transmitter.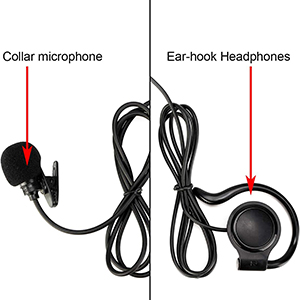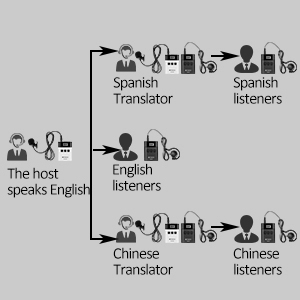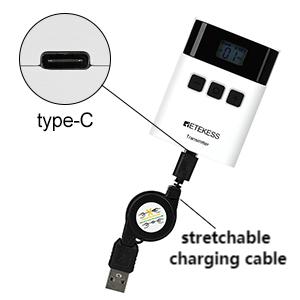 Lavalier microphone and single-sided headset
The microphone cable and headphone cable of the tour guide sound system are wrapped with tough material, which is not easy to break. The lavalier microphone is firmly attached to your clothing, so you won't feel any pain even if you wear it for more than a dozen hours. Single-ear earphones are shipped by default as left earphones. If you need right earphones, please contact us when placing an order to specify the number of left earphones and right earphones you need.
Application of language translator system
TT122 simultaneous interpretation system is suitable for church sermons, multilingual conferences, classroom teaching, and courtrooms. In fact, in all situations where participants come from all over the world, it is possible to communicate without barriers with its help.
Spec
Transmitter

Frequency range

2400-2480MHz
Channel
36 channels
Output power
10mW
Power supply
Built-in 1500mAh lithium battery
Working time
About 12 hours
Charging time
3 hours
Charging voltage
5V
Working distance
150 meters (open air)
Size
53.5x 19.2 x 74.2mm
Weight
70g
Receiver

Frequency range
2400-2480MHz
Channel
36 channels
Power supply
Built-in 1500mAh lithium battery
Working time
About 18 hours
Charging time
3 hours
Charging voltage
5V
Size
53.5 x 19.2 x 74.2mm
Weight
70g
Charging case
Input
voltage range
100V~230VAC
Frequency range
47-63Hz
AC current

1.64A/115VAC

0.93A/230VAC

Output (per slot)
DC voltage
5V
Rated current
500mA
Rated power
2.5W
Number of Charges
32
Working temperature
-20~60℃
Weight
≈3.4kg
Size
484*305*133mm
Inquiry
Please fill in your procurement needs and contact information
We found other products you might like!