Retekess T118 restaurant pager system support 998 pagers in total One-button to shut down all the coaster pager system Notice mode: vibration with flash and buzzer; flash and vibration Range up to 500m in the open area cancel the call by press mute on pager 10 records function
Only
2991
left in stock - order soon.
---
Frequently Bought Together
T118 Coaster paging system for Restaurant Clinic

Description:
Retekess T118 wireless calling system support 998 pagers in total. It is made with ABS material which is more durable and fall resistant. It is also waterproof but you can't put it in the water.
This calling can be canceled by pressing the mute key on the pager. It can reach 500 meters in an open area.
Function:
Support 998 pagers.

Two notice modes: buzzer with vibration and flash; vibration with flash.

Cancel the calling by pager mute key

One button to turn off all the pagers

10 call records checking

Once charge base charge 10 pagers

Notice time 30s

Keypad transmitter mute function (Mute: mute+998+call, Normal: mute+997+call)
Details:
Easy to Switch Modes
Normal mode: vibration+buzzing+flash
Mute mode: vibration+flash only
During charging state, press "MUTE+000+CALL" switch to Normal mode, and "MUTE+999+CALL" switch to Mute mode
Easy to Turn On/Off
999+call turn off all charging pagers
Automatic turn on after place pager in charging dock
T118 Guest Paging System Application:
Widely used in fast-casual restaurant, clinic, hospital, food truck, food court, church nursery, cafe, factory, warehouse.
Improve working efficiency, reduce stuff, balance revenue.
Best choice for your business.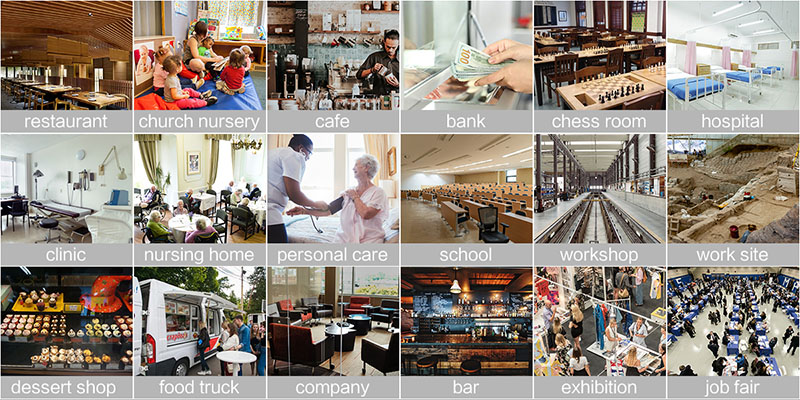 Please fill in your procurement needs and contact information
T118 Coaster Paging System Specification:
Transmitter host:
Modulation mode: AM
Power input: DC5V 1A
Transmitting frequency: 433.92MHz
Transmit power: 13dBm
Standby power: 150mW
Max number of pagers: 998
Dimensions: 110 x165 x50mm

Guest Pagers:
Operating voltage: 3.7V
Stand-by current: 30mA
Standby time:10h
Receiving sensitivity: -115dBm
Transmission distance: 500m-800m
Number of charging pagers :10 Pcs
Reminder last time: 30s
Charger power: DC 5V, 3A
Dimensions: 70 x70 x13 mm
Battery: built-in 300mAh lithium battery
Net weight: 1095g

Package List:
1 x Keypad Transmitter Host
10 x Pager
1 x Charger Base
1 x Antenna
1 x Power Adaptor (with two USB ports) (US standard, EU plug, AU Plug)
2 x USB Cable
1 x English Manual
Q: How many pieces pagers does it support?
A: It supports 998 pagers.
Q: How many promotions way does it have?
A: There are ways in all. Vibration, beep, light and vibratIon, light.
Q: How can i change the prompt?
A: Mute + 999 + call is silent way, Mute + 000 + call is the beep way.
Q: Can i add 2 charger base and 20 extra buzzers to set it up as one system with 30 buzzers total?
Y: Yes, you can add 2 charge bases to charge 20 extra buzzers and pair 30 buzzers. It can support 998 pagers in total.