T119 wireless calling system Free Shipping to the United States (Shipping from US warehouse)
Other countries orders shipping from China directly
Retekess T119 coaster paging system comes with 1 keyboard transmitter and 10 coaster pagers. Max 999.
3 reminder modes: Buzzer+Flash, Vibration+Flash, Buzzer+Vibration+Flash
Each coaster pager has one micro charging port and can be charged individually.
3 buttons on the pagers: power on and set and mode key. Easy to change prompt mode and power on and off the pager.
Note: Please use the keypad transmitter on the table which be made of wood, plastic, glass and other materials, and avoid the table top of metal and marble.
20433 people are looking for this product
OverView
Retekess T119 Wireless Calling System & Restaurant Pager System
Retekess T119 restaurant pager system set consists of one 999-channel call button keypad and 10pcs wireless pagers. It adopts RF wireless technology with millions of different learning codes, can easily pair up to 999 channels of pagers. While the customer places an order, he(she) will be dispatched a receiver with a number, when the order is ready, press the keypad to call the number, the customer will get it through the buzzer/vibration/LED indications. The queue system greatly improves work efficiency and avoids the client waiting in a long queue. So it is widely used in fast food restaurant, food court, clinic, church, and auto shop or other queue occasions.
3 Prompt modes
Buzzer+Flash, Vibration+Flash, Buzzer+Vibration+Flash. Easy to set the code of the pager from 1-999.
Turn Off All Pagers at Once
Remove all the pagers from the charging base, press number 9 until you hear a beep, then press the ENTER button to turn off the pagers.
3 Digit Display,999-channel can call 999 pagers, easy to check 10 calling records by the UP/DOWN buttons on the transmitter.
Long Service Time
Recharge at any time, Built-in 3.7V rechargeable battery, the pager has 36 hours of continuous using, It can work about one week in daily use after full charge.
Details usage:
Pagers for Hospital, Clinic
Long signal range device gets patients out of the trouble of defending their place in a long line
Patients could walk around or find a comfortable place to have a rest without having to worry about missing their turn
Pagers for Restaurants, Food Truck
Adopts advanced radio frequency wireless technology, penetrates walls, ceilings and floors more effectively
More suitable for large restaurants or food court
Pagers for Cafe, Shop
Retekess wireless paging system has enough range to be sure that your staff will be notified, with strong vibrations, beeps, light
No more confusing with customer orders
Pagers for Office, business
Designed to make calling easier—whether it's from staff-to-staff or staff-to-guest
Stable Signal
Easy To Use
Great for Business
Note: Please use the keypad transmitter on the table which be made of wood, plastic, glass and other materials, and avoid the table top of metal and marble.
Where you can use Retekess T119 Pager System?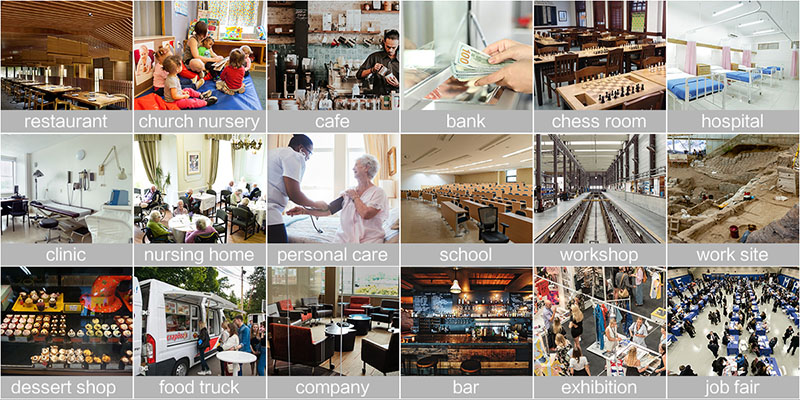 Why you choose wireless paging system in your restaurant ,bank, clinic ,office or your business ?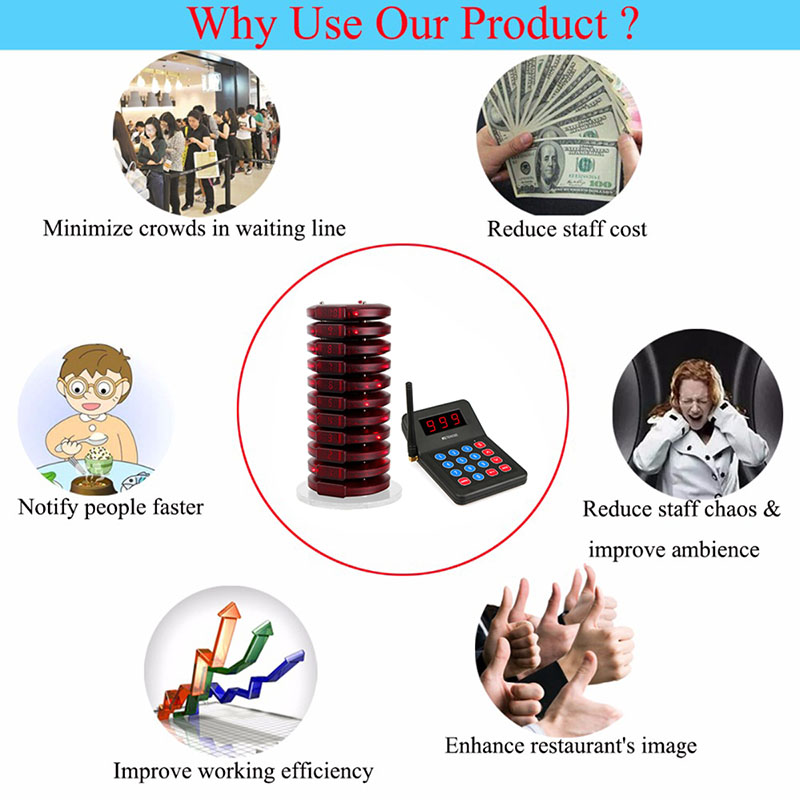 Retekess solution when using wireless calling system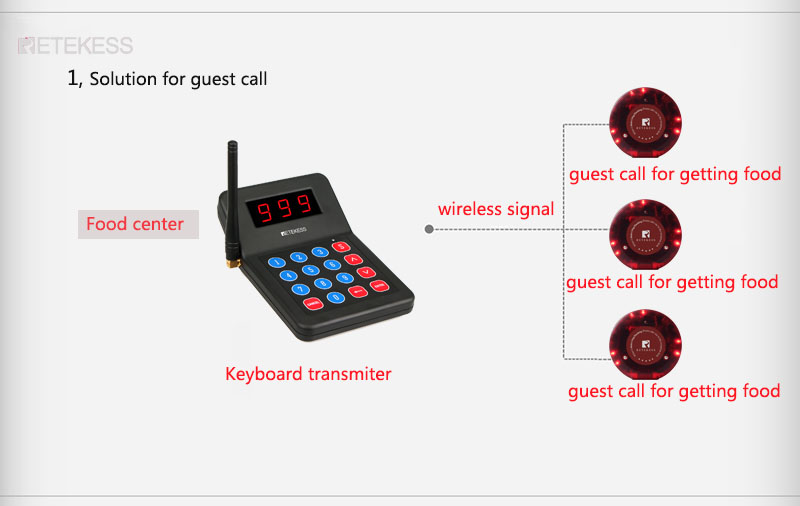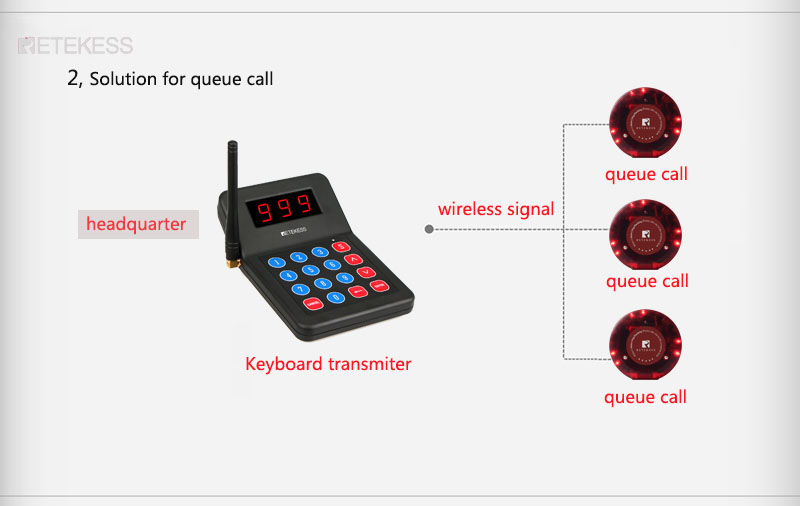 Retekess wireless supplier factory steps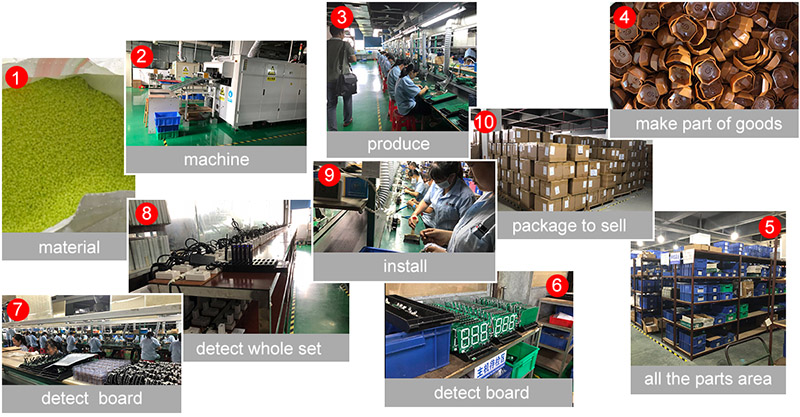 Spec
T119 Restaurant Pager System Specifications:
Coaster Pager

Size

71*68*13mm / 2.8*2.7*0.5 in

Net weight

42g

Material

high quality PC

Frequency

433MHz

Screen display number

001-999

Power supply

Built-in 400mAh lithium battery

Charging period

3 hours

3 Prompt mode

Vibration / Buzzer / Vibration+Buzzer

Keypad Transmitter

Size

153*113*53mm / 6*4.5*2.1 in

Weight

166g

Key life

Million and above

Working current

<200mA

Standby current

<40mA

Frequency

433MHz

Power supply

DC 5V 1A
Package Includes:
10 x Guest Pagers
1 x Keypad Transmitter
1 x Charger Base
2 x Power Adapter
1 x User Manual
FAQ
Q: How many pagers can I use for the T119 wireless paging system?
A: This system support 999 pagers in total. So you can feel free to buy it without worry the growing business. You can click T119 pagers to check.
Q: How long does the paging system last?
A: Normally it works 36 hours with continued use, with normal use, you can use for one week.
Q: What range is this calling system?
A: It can reach 984-1640 ft (300-500 meters) in the open area. If you want to increase the range, you can choose the signal amplifier.
Q: Will this T119 transmitter work with

T115 Pagers

?
A: Sorry, the different models don't work together, because they have different settings when produce.
Q: Can I link 2 transmitters to one-pager?
A: Yes, you can link 2 transmitters to one-pager, you can add 4 transmitters most.
Q: What's the size of the middle circle on the pager?
A: The diameter of the middle circle on the T119 pager is about 1.5 inches.
Inquiry
Please fill in your procurement needs and contact information
Product Reviews
James

Purchased for our family restaurant, Great range and results!

We are surprised by the quality for the price. The buzzers are very small which is nice and they seem to charge quickly. The customers also like the new addition to waiting on queue. Thank you

Michael

A product to last long.

I haven't had time to use it as much. But so far It's a product made to last.

It really helps, our customers are very happy using them knowing that when they get paged their food is ready.

These work great, they are durable and have a really good range. They work from our 2nd floor to the 1st floor.

the range with this is awesome! so easy to set up. only teeny complaint is how easily they fall over and go everywhere, but they work wonderfully!!

Worked perfectly as described, battery don't Last for more than 2 days. But it is not a problem for me.
We found other products you might like!