Retekess T128 black watch receiver with 5 brown call buttons;Support maximum 999 channels call at the same time; restaurant paging system adopts RF wireless technology; support more pagers call simultaneously; It can show 3 call information at each interface; you can search more call history turn up or down
Only
998
left in stock - order soon.
Retekess T128 Restaurant Paging System with 5 call button for Service Calling System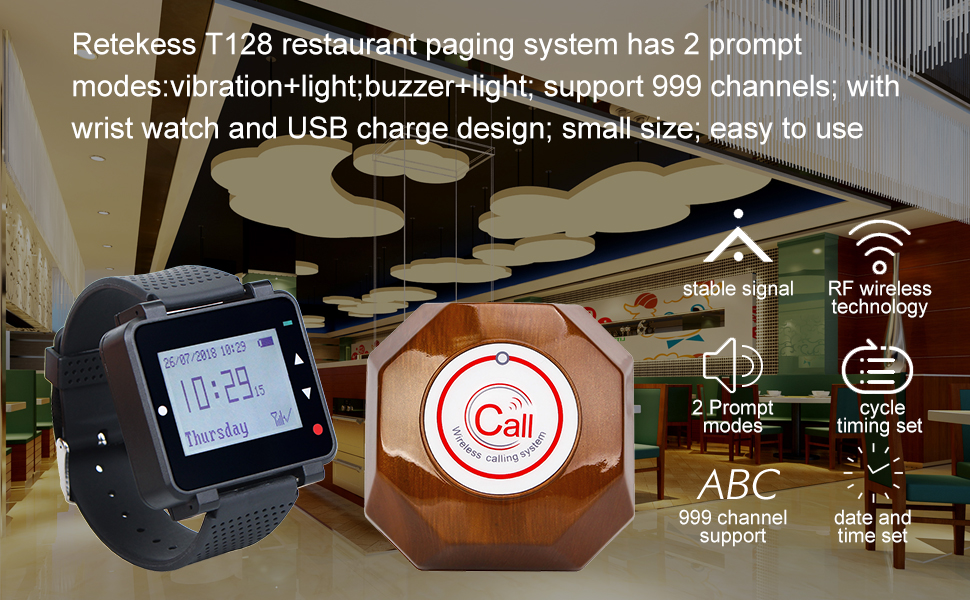 Wireless pager system adopts wrist watch style; compact size; easy to use; long range;
Suitable for restaurant; bars; coffee shop;hotels

Advanced Chip
The wrist watch receive use MicRf chip to maintain less signal interface; -108dbm receiving sensitivity

Rechargeable battery
400mAh built in battery for the watch receiver; long battery working hours; the transmitter pager use 12V/23A battery included in the package; easy to charge;long standby time and safe charging circuit

Vibration or Buzzer prompt
The varied modes can be a good choice for different conditions; vibrations is fit for silent requirement; Buzzer works great for loudly noisy restaurant

Compact Size
42g weight for the transmitter; easy to be placed on the table without taking much space

Easy to use
Each transmitter is with a base and double sided adhesive; so it can be fixed on the table well
Product Features
LCD Display
Watch pager adopts RF wireless technology with dot matrix LCD screen

You can see battery level and signal strength information

It also support date and time setting for accurate display

NOTE:

1 Watch Add Max. 500pcs of Transmitters(call buttons)

1 Button can call multiply watch receivers

Watch pager is only about 43.8g net weigh

9.1 in, long wristband

Convenient for server use at restaurant; light weight; fashion design
USB charging cable included
Watch pager system use learning code metho

Add max 500 call buttons

Charging slots on back of the watch pager, easy to charge

USB charging cable included in our package

Built in rechargeable 400mAh battery for the watch receiver

Comes with adhesive tape sticker in the package

Can paste the call button on the food table; no need to worry about pager lost problem

No taking much space

Call button pager is powered by 1 Pc 12V/23A battery; and you can replace the battery when they run out
Caller Add and Delete
You can hear a di sound and "done" words show in screen when adding a calle

Delete all and delete single to delete caller

Prompt Time Adjustable From 0-15s

Remove Calling Records Time Setting From 0-99s

Cycle Time Can Be Choose From 0-99s

Restaurant paging system adopts MicRf chipset with learning code decoding

-108dBm receiving sensitivity; more stable signal

50m working range in open area

Built in rechargeable 400mAh battery for the watch receiver;
More Details
Gift for kids
When they need your assist, just need to press the call button, the watch receiver will by vibration or buzzer, then you can come to them. Also you can safely do your own thing rather than stay with them all the time.
SOS calling from disabled/elderly/patient at home
Compact size, patient/elderly can Put It in Pocket, suitable for different groups, such as priest, patient, the elderly, children, nursing staff, catering staff,etc.

About 50m transmission distance in the open area, easy to transmit from kitchen to your yard;one button call, more suitable for emergency situation.
Smart caregiver pager in Hospital/Nursing Home/Clinic
Wrist watch design, easy to wear; light weight only 44g for the receiver, convenient for caregiver to use; support multiple receivers at the same time, high receiving sensitivity, always at the first time to offer help.
Solutions: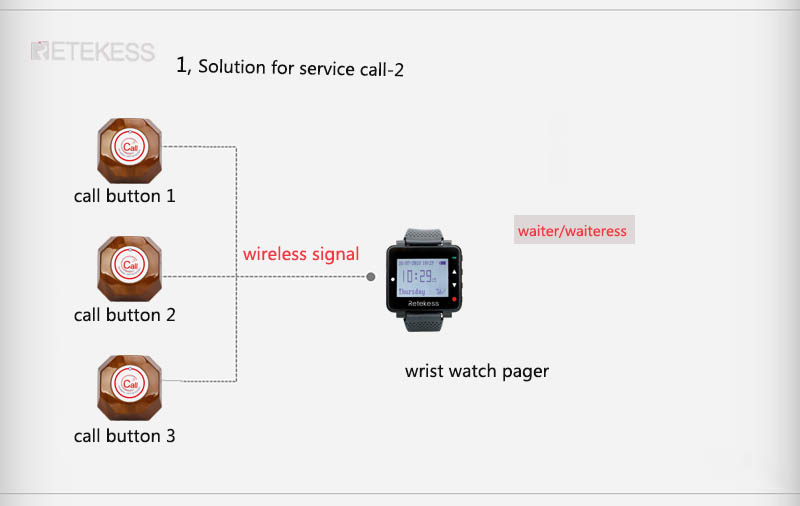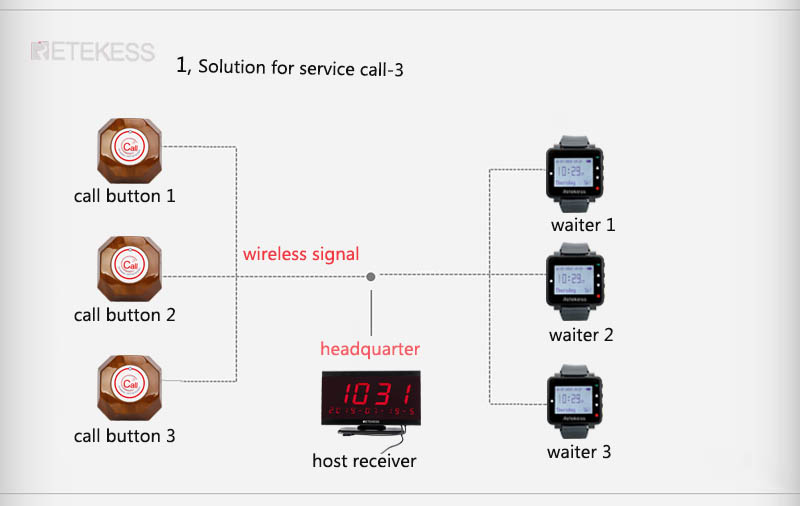 Please fill in your procurement needs and contact information
Specification:
Operating Voltage:DC3.7V
Battery capacity: 400mAh
Receiving sensitivity: -108dbm
Display method: LCD
Prompt mode:vibration or buzzer
Adapter: 5V 1A
Watch net weight:44g

Package List:
1x Watch receiver
1x Power adapter
1x USB cable
1x English User manual
5x Button Transmitter
5x Double-sided adhesive
Q: Can I set 3 T128 watches with pager?

A: Yes, you can pair one call button with more than 3 pagers as you want.

Q: How well does this work through windows and doors?

A: It can reach 50m in the open area. So if with the windows and doors, it will influence, if you worry about the range later, you can choose the TD021 signal amplifier.

Q: Can I use 3 watch with 15 call in same time ? if someone push CALL, all 3 watch show calling ?

A: Yes, you just pair the call button with the 3 watches, so when you call, all the watches you pair with the call button will show calling.

Q: Can I Get separate watches?

A: Sure, you can check this T128, here is the link: https://www.retekess.com/T128-Wrist-Watch-Pager