Retekess T130 Church Translation Equipment for Simultaneous Interpretation PLL with 64-port Charging Case
SKU:
F9423AX4-F9424AX60-F9423D@1
T130 church translation equipment includes 4 transmitters, 60 receivers and a 64-port portable charging storage case
T130 church translation system is easy to set up and carry
Transmitter has a communication range of 50 meters/196 feet
1 transmitter can be used with any number of receivers
Transmitter built-in 900mAh Li-ion battery works for 12 hours
Receiver with built-in 600mAh Li-ion battery works for 18 hours
Microphone jack can also be connected to audio devices
PLL technology to avoid interference and ensure clear sound
99 channels
OverView
Long battery life
DC 5V 1A USB charging cradle, when fully charged, the transmitter can be used continuously for 12h and the receiver can be used continuously for 18 hours, which is enough for most translation activities.

PLL technology to stabilize the signal
The T130 simultaneous interpretation system uses phase-locked loop frequency synthesis technology, which automatically avoids interference to ensure signal stability and clear sound, and it is impossible for interpreters and listeners to hear background noise or static from the headphones.
Transmission distance
The transmitter has an operating range of 50 meters, which means listeners can spread out without having to crowd near the transmitter. In addition, the interpreter can sit approximately 50 meters away from the listener and the listener will not be disturbed by the interpreter's voice because they are too close to them.

Support for auxiliary audio input
The interpreter can either speak into the microphone or use a 3.5mm AUX cable (not included) to connect the transmitter to an audio device such as an mp3 player, computer, smartphone, radio, etc. Churches can use it to play music or other voice files.
3.5 mm headphone jack
The headphones for the receiver are replaceable, you can also use your own headphones with 3.5mm jack. Our TT003 3.5mm universal headset is a good choice if you want your listeners to wear more comfortable double-sided headphones.
Portable Charging Case
The aluminum charging case is durable, and fire, moisture, and dust resistant. You can lock the clasp and close it with the 2 included keys. You can easily charge 4 transmitters and 60 receivers using only the included charging cable. It can also be used as a storage case, which is great for taking on the go.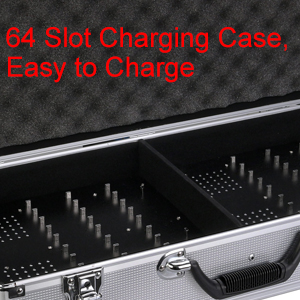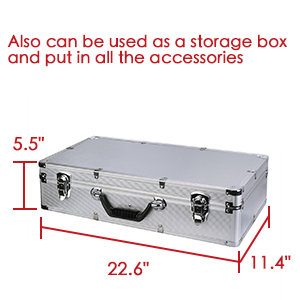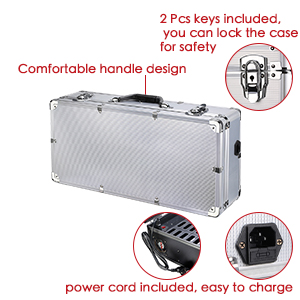 99 channels
99 channels mean that you can set up 99 groups in the same area. If your listeners are from many different countries, you will need to set up several groups in different languages. The 99 channels of the translation device do not interfere with each other and will not crosstalk.
Multiple applications
Wherever there is a multilingual audience, be it in a courtroom, church, school, or factory, the T130 portable translation equipment is suitable and works well.

Spec
T130 Wireless Transmitter

Frequency range
195-230MHz
Channel
99 channels
Frequency response
50Hz-18000Hz
Power
10mW
Power
10mW
Frequency stability
+/-0.005%
Modulation deviation
+/-75KHz
Power supply
Built-in 900mAh lithium battery
Working hours
12 hours
Charge
DC 5V 1A, mini USB jack
Working distance
60m (196ft)
Size
99 x 56 x 14mm / 3.9 x 2.2 x 0.5 in
Weight
58g / 0.13lb

T131 Wireless Receiver

Frequency range
195-230MHz
Channel
99 channels
Frequency response
50Hz-18000Hz
Power supply
Built-in 600mAh lithium battery
Working hours
18 hours
Charge
DC 5V 1A, mini USB jack
Size
72 x 42 x 12mm / 2.8 x 1.6 x 0.5 in
Weight
45g / 0.1lb
64-slot charging box

Input

AC110-220V, 50/60Hz
Output
DC 5V, 7A
Size
575 x290 x 140mm
Weight
4220g
Package Includes:
4 x transmitter
60 x receiver
4 x Microphone
60 x earpiece
64 x Charging cable
64 x Lanyard
1 x 64-port charging case
FAQ
Question: can the device translate creole to English?
Answer: Hello friend, the device is in need of human translation, the system can't translate. Click to see how the T130 simultaneous interpretation equipment works.
Question: Can the equipment support human interpretation into 4 languages at the same time? Thank you!
Answer: Hello friend, yes, you need to use 4 different frequencies for 4 languages.
Question: I purchased the transmitter at 100t with two hooks over the ear earphones. the earphones are broken. how can I get two replacement earphones?
Answer: Hello friend, so sorry for this issue, if you need two replacement earphones, you can contact us.
Question: Can I connect from pc speaker out to the transmitter mic by 3.5mm male to the male connector?
Answer: Hello friend, the tour guide system support AUX cable to connect pc. Any issue, pls email us freely.
Inquiry
Please fill in your procurement needs and contact information
We found other products you might like!