Crystal clear sound and easy setup
The working range of the transmitter is up to 100 m/328 ft
Translation device can run continuously for 20 hours
Receiver volume level from 0 to 9, freely adjustable
49 channels allow to set up groups in 49 different languages
One-key to mute transmitter allows translators to temporarily cut off the sound transmission
The T130S interpretation device is designed to help interpreters transmit clear translations. The system can be used in a variety of translation situations such as schools, parent-teacher conferences, churches, business meetings, and other multilingual events.
Only
2996
left in stock - order soon.

— Working time
The T130S portable translation system provides 20 hours of reliable continuous operation. This means that both the transmitter and receiver can be used throughout the day without frequent battery changes or recharging. This is especially useful in scenarios where services or events, such as church translations, may last several hours.
— Communication range
T130S interpretation equipment has a wireless communication range of up to 100 m/328 ft. In a multilingual conference or school interpreting environment, where personnel may be spread out over a large room or auditorium, this wide working range allows for seamless communication.
— Mute function
The mute function can be activated by simply pressing the ">" button on the T130S transmitter. This feature allows the translator to temporarily mute the audio while still maintaining communication with the receiver. For example, in a church translation environment, the translator may need to pause the audio transmission during a prayer or other moment. The mute feature ensures that the listener does not hear any unwanted or unintentional sounds.
— One-touch shutdown of all receivers
The T130S interpretation system provides a quick and efficient way to manage the system. Simply press and hold the "-" button on the transmitter for about 5 seconds and you can deactivate all receivers without having to turn off each one individually.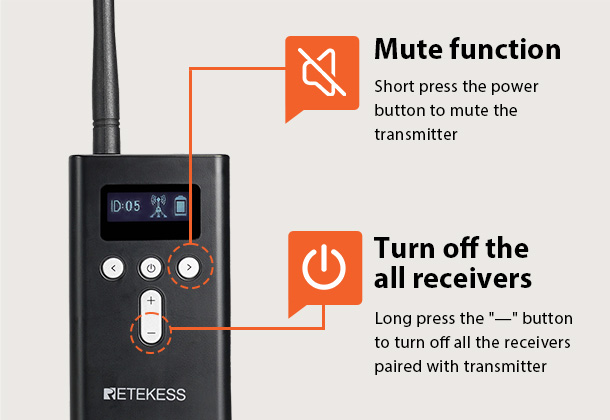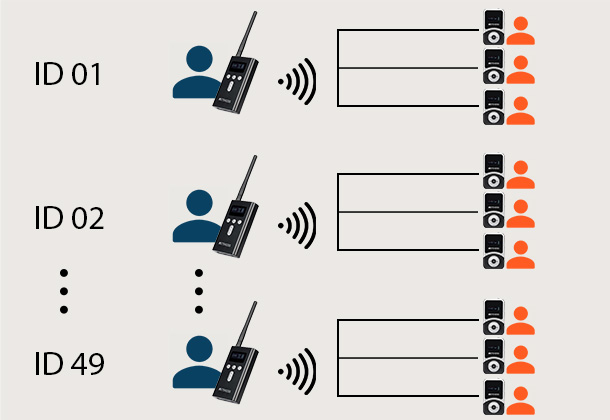 — 49 channels
The simultaneous interpretation equipment supports 49 channels, which means you can operate multiple groups in the same area in different languages or on different topics. Multiple channels allow for simultaneous interpretation in multiple languages or the division of different sessions or topics in a conference. This feature ensures that each language or session can be run independently, eliminating distractions and ensuring clear and accurate translations for all participants.
— User-friendly
The T130S portable translation system features an intuitive design and simple operating steps, allowing users to quickly set up even if they have no prior experience. The transmitter and receiver come with a lanyard that allows users to hang them around their necks, freeing up their hands. In addition, the transmitter is equipped with a clip that can be clipped to a belt or clothing, providing a comfortable and hands-free wearing experience during translation.
— Loud and adjustable volume
Listeners can adjust the volume of what they hear with the T131S receiver's "+" and "-" buttons, which ensures that everyone can easily hear the interpreter, regardless of their seating position or ambient noise level. In addition, the T130 system is the best of all models when it comes to loudness, and if you have an elderly congregation in your church, the extra loud volume ensures the best possible listening experience for them.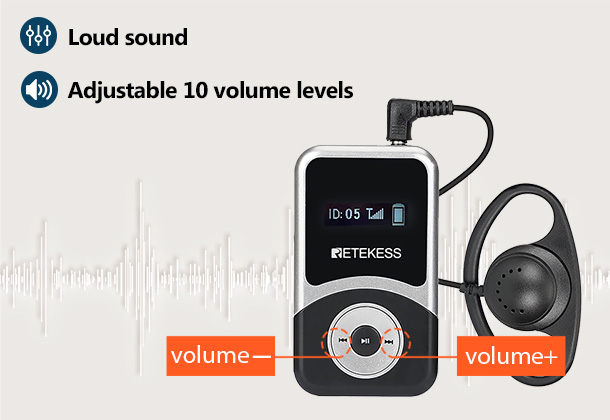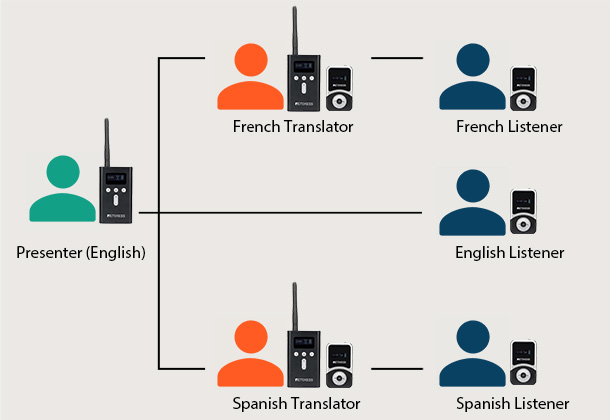 — Expandability
The transmitter allows an unlimited number of receivers to be connected. This is particularly useful in scenarios where there may be a large audience, such as church interpreters, multilingual conferences, or school interpreters. Regardless of the number of attendees, the interpretation device can accommodate all listeners, ensuring adaptability to various event sizes and audience capacities.
— Automatic pairing and channel memory
The transmitter and receiver support automatic pairing, making the setup process quick and hassle-free. The translation system also has a channel memory function, which means that once the pairing is completed, the system remembers the selected channel, saving time and effort during subsequent use.
— AUX and MIC support
The T130S transmitter features an AUX jack and a MIC jack for simultaneous input of an auxiliary audio source and a microphone. This is particularly useful in scenarios such as conference interpreting, where it may be necessary to play additional audio sources such as multimedia content or pre-recorded presentations alongside the interpreter's voice.
— D-Type headphones
The T130S receiver comes with a D-type headphone accessory and fits both left and right ears. In addition, users can replace the D-type headphones with their own 3.5 mm universal headphones, providing flexibility and personalization. We also offer binaural headphones, disposable headphones, and single ear-hook headphones for you to choose from.
— Multiple charging options
You can charge your T130S simultaneous interpretation equipment with the included USB charging cable. In addition, we offer specialized charging accessory options, such as the 32-slot charging case, 64-slot charging case, or 16-slot charging base, which allow for bulk charging of a large number of devices.
— Customize combinations
The T130S interpretation device supports customization of the number of transmitters and receivers, a flexibility that ensures your specific interpretation needs are met. If the combination you need is not available on the website, contact us to get it.
Please fill in your procurement needs and contact information
T130S Transmitter

T131S Receiver

Frequency Range

195-216MHz

Frequency Range

195-216MHz

Channels
49CH
Channels
49CH
Working Voltage
DC 3.7V
Working Voltage
DC 3.7V
Mic /Aux input
3.5mm

Earphone Jack

3.5mm
Frequency Response

50-18000Hz

Frequency Response
50-18000Hz
SNR
80dB(Typical)
SNR
80dB(Typical)
RF spurious rejection
≥90dB
RF spurious rejection
≥90dB

T.H.D

<0.3%

T.H.D

<0.3%
Operating Range
100m(line of sight)
Operating Range
100m(line of sight)
Battery Capacity
4200mAh
Battery Capacity

900mAh

Battery Run Time
About 20 hours typical
Battery Run Time
About 20 hours typical
Weight
120g(without accessories)
Weight
30g(without accessories)
Size
103*61*25.8mm(without antenna)
Size
73*42*12mm
Package Includes:
Option
Package Includes
2TX+25RX

2 x transmitter

25 x receiver
2 x Microphone
25 x earpiece
27 x Charging cable
27 x Lanyard
2TX+30RX

2 x transmitter

30 x receiver
2 x Microphone
30 x earpiece
32 x Charging cable
32 x Lanyard
2TX+40RX

2 x transmitter

40 x receiver
2 x Microphone
40 x earpiece
42 x Charging cable
42 x Lanyard
Q: Can I use two t130s transmitters in my group?
A: No, this wireless tour guide system does not support running two transmitters in the same group at the same time, if you need a tour guide system that supports two transmitters, take a look at the TT106 tour guide system or the TT105 tour guide system.
Q: Can this receiver and dual ear headsets be used together? If so, does the company offer a compatible option?
A: Yes, it can be used with dual-ear headsets, we offer a compatibility option, click here to check it out.
Q: How does it translate from English to Spanish?
A: First you need an interpreter who has a good command of Spanish and English. The speaker speaks into the transmitter and the interpreter receives the presenter's voice through the receiver and then transmits the translated Spanish to the audience through the transmitter.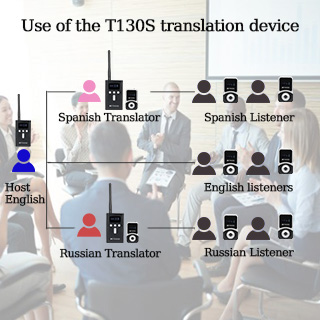 This is my second set. We use them at our church for interpreting the service in multiple languages. I am very pleased with them. Love them Clear reception, durable material, lightweight, easy to store and to charge. Will buy more as our congregation becomes more diverse.
We have been looking for a reliable and efficient translation system for our church and this translation device has really exceeded our expectations. The customer service team was very helpful and patient , helping us choose the right model for our church.
T130S translation system has truly transformed our church services. Our congregation is now more inclusive than ever before, and everyone can engage in worship without any language barriers. Our church has received numerous compliments on the system, and we're thrilled to offer this incredible resource to our congregation, and highly recommend it to any church looking to improve their accessibility and inclusivity.
These translation devices are used in churches for Spanish translation. They are great value for money and very reasonably priced! I've bought and used equipment costing three times as much and, Retekess is just as good!