Retekess T130S T131S Tour Audio System for Tourism with Charging Case
SKU:
F9632AX2-F9632BX25-F9443D
This tour audio system includes 2 transmitters, 25 receivers, and a 32-port portable charging case
The aluminum charging case is portable and durable
Transmitter operating range up to 100m/328ft
Fully charged for up to 20 hours of continuous use
Supports MIC input and AUX input
One touch to turn off all receivers
One-touch silent transmitter
Automatic channel ID synchronization
OverView

Lightweight and pocket-sized
The transmitter is smaller than the palm of your hand, and the receiver is even only 30 grams. Considering the portability of the wireless tour guide system, we kept the size and weight of the device as small as possible while maintaining the durability and high quality, so that one person can easily carry the kit needed for an entire group.
High battery capacity
The transmitter has a built-in 4200mAh lithium battery and the receiver has a built-in 900mAh lithium battery, which can work continuously for 20 hours when fully charged, eliminating the need for frequent charging. The current device power is displayed on the screens of each unit, allowing you to easily understand the device power status.
Long-range tour audio system
T130S transmitters can clearly transmit sound to receivers within 100 m of you, giving visitors more space to move around while listening to the guide's commentary, even if you have a large number of visitors or a large tour site.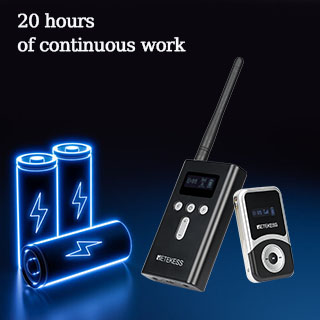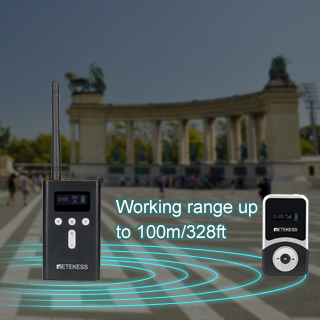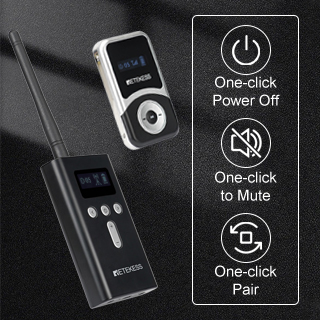 Easy to set up and use
Tour audio system features automatic channel synchronization and one clicks to turn off all receivers. If you have many receivers, this can increase your productivity because you don't need to adjust the channels of your device one by one or turn off the receivers one by one after the event.
One-touch mute transmitter
This feature allows the guide to temporarily mute the microphone without unplugging it. The guide simply clicks the "+" button on the transmitter and the mute icon will appear on the transmitter screen and the visitor will not hear anything from him. Click the "+" button again to exit the mute mode.
Support auxiliary audio input
In addition to supporting MIC input, the wireless transmitter also supports connecting external audio devices to play pre-recorded attraction commentary for visitors, so that the guide doesn't have to repeat the same narration to different visitors over and over again.
Satisfying listening experience
The tour audio system receiver is equipped with a volume adjustment button, which can be adjusted from 0 to 9 levels. The included D-shaped headphones fit both the left and right ears, which allows you to wear them alternately in both ears to avoid discomfort and fatigue caused by listening in one ear for long periods of time.
32-port charging case carry case
By charging in bulk, the charging case can make the job of charging easier and more convenient. Moreover, the aluminum charging case can also be used as a carrying case, which can hold 32 units and all accessories, making it easy for guides to carry on the go.
Spec
Transmitter

Receiver

Frequency Range

195-216MHz

Frequency Range

195-216MHz

Channels
49CH
Channels
49CH
Working Voltage
DC 3.7V
Working Voltage
DC 3.7V
Mic /Aux input
3.5mm

Earphone Jack

3.5mm
Frequency Response

50-18000Hz

Frequency Response
50-18000Hz
SNR
80dB(Typical)
SNR
80dB(Typical)
RF spurious rejection
≥90dB
RF spurious rejection
≥90dB

T.H.D

<0.3%

T.H.D

<0.3%
Operating Range
100m(line of sight)
Operating Range
100m(line of sight)
Battery Capacity
4200mAh
Battery Capacity

900mAh

Battery Run Time
About 20 hours typical
Battery Run Time
About 20 hours typical
Weight
120g(without accessories)
Weight
30g(without accessories)
Size
103*61*25.8mm(without antenna)
Size
73*42*12mm
TT001 32-port Charge Case
Color
Silver
Material
Aluminum alloy
Input
AC110-220V, 50/60Hz
Output
DC 5V, 7A
Size
500 x 265 x 140mm / 19.7 x 10.4 x 5.5 in
Weight
3200g / 7lbs
Package Includes:
2x transmitter
2x lavalier mic
25 x receiver
25x earpiece
27 x lanyard
27 x charging cable
1 x charging case
FAQ
Q: Does this work for different rooms? Or can it only be used for open-air transmission?
A: It is possible to use this T130S-T131S tour guide system in different rooms, but the transmission distance will be affected, about 40m. If used for open-air transmission, the distance can be up to 100m.
Q: Do these devices have to sync every time they are used or will they stay in sync?
A: After you synchronize the transmitter and receiver, they will stay in sync and there is no need to adjust the channel every time you turn them on and use them.
Q: Can I add additional receivers if my needs increase in the future? How many receivers can be added to one transmitter?
A: Yes, feel free to add additional receivers. A transmitter can work with an infinite number of receivers as long as they are on the same channel.
Inquiry
Please fill in your procurement needs and contact information
Product Reviews
Dana Zieglerova, CORVINUS TRAVEL

Aujdioguides Retekess Satisfaction

We were very safisfied with the audioguides Retekess: easy to work with, good signal, nice sound. Sightseeing with the audioguides was just much much better. Sure, worth the price. Dana Zieglerva CORVINUS TRAVEL

Joseph

Product was exactly as described

Much less expensive than our previous equipment and has just as good a sound. We've only had it a few days, but already like it a lot! We are a loud manufacturing facility, and all devices were tested on a recent tour. All worked great, and everyone that used the receivers stated they hear the guide very well.
We found other products you might like!