Support coaxial, fiber, 3.5 audio, RCA method connection
Transmitter can be used as a charging and storage dock for headphones
One transmitter can connect multiple headphones
Earphones can adjust the volume freely
Transmitter and headset automatically connect
High-fidelity sound quality, stereo playback
The screen of the transmitter displays the charging capacity and the connection interface
Only
1999
left in stock - order soon.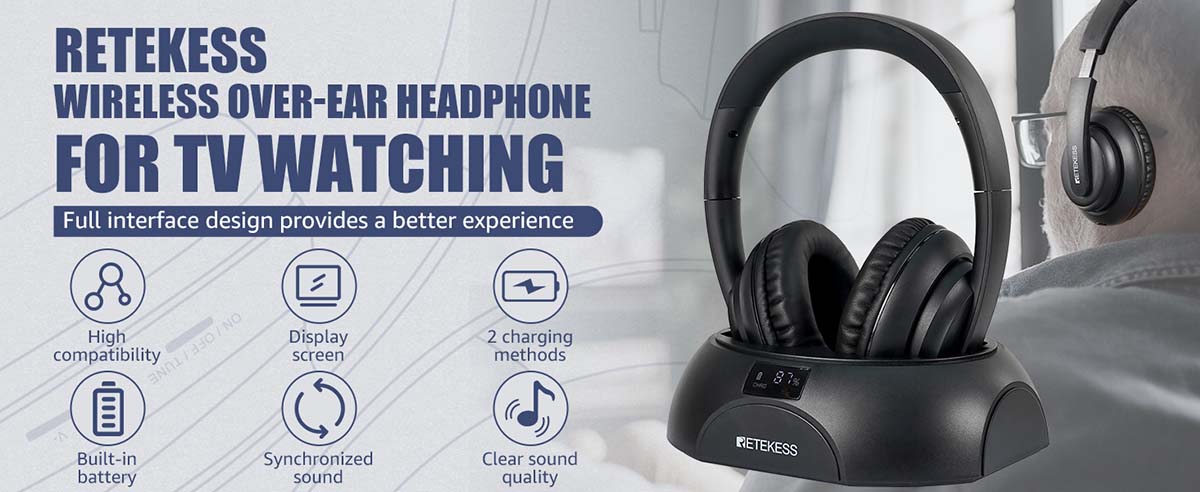 Quiet listening
With this TV headset, you'll be able to listen to your favorite TV shows and movies at your own volume, without disturbing those around you.
Easy setup
Just power up the transmitter base and then connect the transmitter to your TV. The transmitter can be connected to your TV in 4 different ways (supports coaxial, optical, 3.5 audio, and RCA connections), making it compatible with almost all TVs on the market.
When the transmitter is on, remove the headset from the transmitter base, and the wireless headset will start and connect to the transmitter automatically within 5 seconds.
Long playback time
Up to 8 hours of battery life allows you to watch and listen for long periods of time without frequent recharging. When the battery does need to be recharged, you simply place the headphones on the transmitter, which doubles as a charging dock, it is convenient.
Listen from a distance
This wireless TV headset has a stable and reliable connection of up to 100 feet/30 meters (unless there are tall obstacles in the way or wireless interference). You can roam the room at will without audio interruption.
Use as a wired headset
Connect the included 3.5mm audio cable to the AUX jack on the headset, and plug the other end into your smartphone, tablet, laptop, MP3 player, and other mobile devices, suitable for outdoor use.
Comfortable headset
The headset has soft, roomy ear pads and an adjustable headband length for hours of comfortable wear.
Please fill in your procurement needs and contact information
Specifications of Transmitter
Specifications of Headphone
Voltage
DC5V
Voltage
3.7V(450mAhbuilt-in rechargeable battery)
WorkCurrent
80mA
WorkCurrent
55mA
Modulate
50Khz
Worktime
around 8hours
Mode
Stereo
Charge time
4hours
WorkRange
100ft(30meters)
S/Nratio
≥60dB
Distortion
≤1%
Frequency response
60-15,000Hz
Question: Can 1 transmitter connect two or more earphones?
Answer: Yes, the product includes a transmitter and a headset, but you can pair additional Bluetooth headsets with the transmitter, and the audio is transmitted to all headsets connected to the transmitter.