— Dynamic Hi-Fi Speakers
— The microphone only picks up sound sources directly in front of the microphone to filter out noise
— Wireless microphone and receiver pair automatically when turned on
— Allow connection of microphone, Bluetooth V5.0, USB
— Automatically searches for frequencies and selects the best frequency
— The metal shell is drop-resistant and anti-collision
— Transmission range 295ft/90m
Only
10000
left in stock - order soon.

— Dynamic Hi-Fi speakers
The wireless microphone system provides excellent sound quality and powerful sound penetration, which ensures that your voice is clearly communicated and reaches every corner of the venue.
— Noise filtering
Wireless microphone systems are equipped with a microphone with noise-filtering capabilities. The microphone only picks up sound sources directly in front of it, while ignoring background noise. This feature is particularly useful in busy environments such as churches or conferences, ensuring that the desired audio is captured clearly and without any interference.
— Automatic frequency search
Our wireless microphone systems have an automatic frequency search function, that helps you find the desired frequency easily and efficiently. At the click of a button, the system automatically scans and selects the best frequency that is stable and free of interference. This eliminates the need to manually adjust frequencies, thus saving time and effort during setup.
— Automatic pairing
We understand the importance of convenience and efficiency, especially during time-sensitive events. Simply turn on the wireless microphone and host device and they automatically pair with each other, eliminating the need for manual pairing. This seamless connection saves you time and ensures a hassle-free setup process.
— Locking function
To prevent accidental interference or misuse, our church microphone has a lockout feature. This allows you to lock the appropriate channel, ensuring that the settings remain intact throughout the church service. This safety measure gives you peace of mind knowing that your microphone settings will remain consistent and undisturbed.
— Full range of interfaces
Our wireless microphone system offers a full range of connectivity options. It features 2 XLR connectors, the professional-grade audio connectors commonly used in the industry. These connectors allow users to connect the microphone system to a variety of audio devices, such as mixing consoles or amplifiers. In addition, the system includes a 6.35 mm audio mixer output port for direct connection to an audio mixer for further sound processing or integration with existing audio setups. These versatile interfaces ensure compatibility with a wide range of audio systems commonly found in churches or conferences.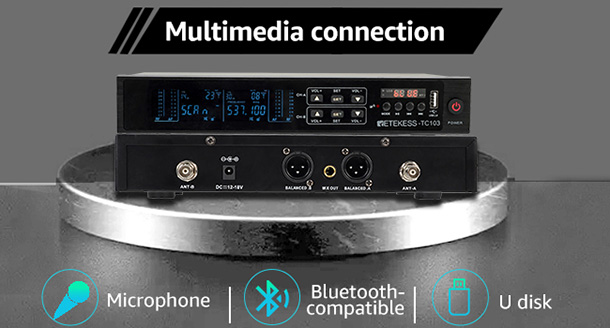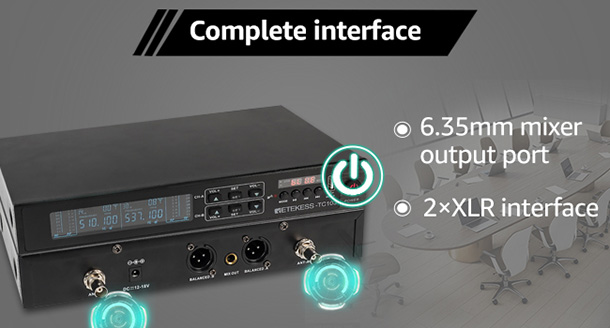 — Multimedia connectivity
TC103 wireless microphone system supports a variety of multimedia connections. It can be connected to an external microphone to accommodate multiple supporters or presenters. It also has compatibility with Bluetooth, allowing users to wirelessly connect their devices and play audio from sources such as smartphones, tablets, or laptops. It also supports USB flash drive connectivity for direct playback of audio files from USB storage devices. This flexibility allows you to seamlessly integrate multimedia elements into your presentations or performances to enhance the overall audience experience.
— Transmission range
The wireless microphone provides a reliable transmission distance of up to 295 ft/90 m. This ensures a seamless connection and eliminates worries about disconnection or signal loss, even in large conference halls or church venues. The system's long transmission range allows users to move freely within a designated area without interrupting the audio signal.
— Drop-proof metal casing
The multimedia microphone features a durable metal casing that is highly resistant to accidental drops or impacts. The rugged construction ensures that the system remains intact even in demanding environments, such as busy conference venues or crowded church venues.
— Multi-functional display
The microphone system includes a clear and informative on-screen display. The display provides real-time information on signal strength, audio dynamics, volume level, and microphone operating frequency. This allows you to monitor the performance of the system at a glance, to ensure that you understand the audio situation and can be adjusted as needed.
— User-friendly operation
The cordless dynamic mic is easy to operate, even if you're a beginner. The intuitive interface and user-friendly controls ensure a smooth and hassle-free experience that doesn't require complicated setup or technical knowledge.
— Multi-channel
Our handheld wireless microphone system offers 2x100 channels to choose from. The abundance of channels ensures that each microphone can operate on its own dedicated frequency, avoiding interference from other wireless devices and enabling optimal audio performance in churches or conferences.
— Automatic mute
At some point during an event, it may be necessary to temporarily mute the church microphone. You can set the microphone to mute when not in use to avoid unwanted sound or noise transmission. It enhances the overall audio experience by ensuring that the audience only hears the intended audio.
Please fill in your procurement needs and contact information
Product Technical specifications

Rated Voltage

DC V

Sampling Ratio

48KHz

Transmission Rate

204.8Kbps

Signal-to-Noise Ratio(SNR)

>96 dB

Dynamic Range

>90dB

Delay Time of Audio Transmission

<3ms

Total Harmonice Distortion

< 0.1%

RX Sensitivity

< -94dBm

Unique ID Address

YES

Maximum Distortion Level

≤20%

The received host power

12w

Wireless microphone transmission power

30mW

Adapter technical specifications

INPUT

100-240VAC,50/60Hz

OUTPUT

12V/ 1000mA
Package List
1x TC103 Receiver
2x TC103 Wireless Microphones
1x Adapter (12V 1A)
1x 6.35mm Audio Mixer Output Port
1x English User Manual
Q: How is the microphone powered?

A: The wireless microphone is powered by two AA batteries, you can replace the batteries after the battery runs out and continue to use them.