Music and flashing dual prompting method
Caregiver wrist pager system has 32 music tunes to choose from
Support pairing 20 pagers
Multiple wearing styles: Wearable and lanyard
Only
9999
left in stock - order soon.
TD020 caregiver pager system is invented mainly for the elderly with limited movement, small nursing homes, and children in need. One-button call is very convenient to operate and saves as much time as possible in emergencies.
Use scene:
Suitable for families who need to take care of the elderly and children, elderly care units, small nursing homes, assisted living and health centers, and other scenarios. There are three ways to wear the call button, one is hanging on the neck, one is a wearable strap, and it can also be hung on a keychain in a pocket so that patients can call at any time to ensure that family members or caregivers can detect the situation in time. The multiple wearing styles ensure that the call button is not easily lost.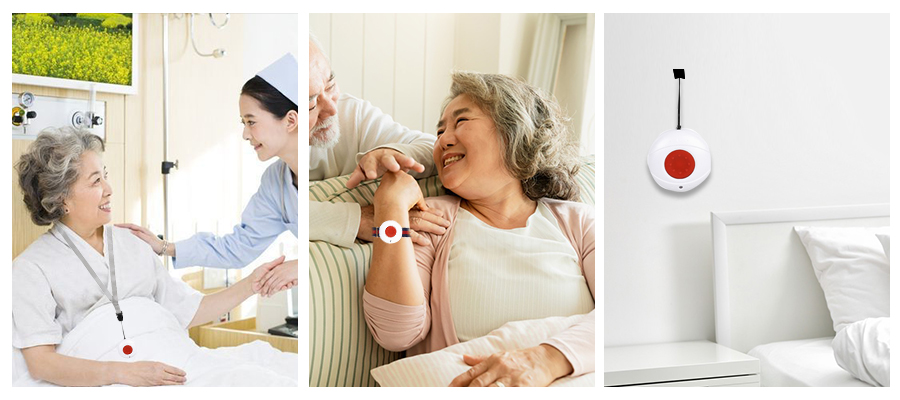 Problem solved:
Middle-aged and elderly people can easily seek help in case of emergency.
Makes caregiving easy by not having to be around caregivers all the time, providing caregivers with the freedom they need.
Method of use:
Plug the receiver into an electrical outlet and it works. The receiver can be placed in any home place with an AC outlet. Paired with the call button before using. When the pager is pressed, the receiver makes a bell tone with seven-color light flashing to indicate the need to seek help, the caregiver receives then assists the patient.
Advantages:
A variety of ways to wear: support lanyard, strap, hanging on the keychain, callers can choose their own according to actual needs, very convenient.
32 music tunes to choose from, volume adjustable on 4 levels.
Different callers can choose different music: so the caregiver can identify who is calling, or where the call is coming from.
Memory function: each time the power is off and on the alert tone is set before the shutdown, no need to set it again.
Support up to 20 pager pairing: In a family where both the elderly and children need to be cared for, one of them can wear a button that calls to the receiver.
There are double prompts of bell tone and flashing light to ensure the timely response of the receiver, which gives more precious time for assistance.
Please fill in your procurement needs and contact information
Caregiver Receiver
Input voltage: 100~240V
AC power: 50~60Hz
Operating current: <15mA
Standby current: <1mA
Frequency: AM 433.92MHZ
Power: <0.5W
Tones: 32
Maximum sound decibels: 100dBM (4 levels adjustable)
Can be connected to the number of extensions: 20
Working temperature: -20 ~ 55 ºC
Working humidity: 20~95%
Material: ABS
Size: 64 * 64 * 54.5MM
Caregiver Call Button
Frequency: AM 433.92MHZ
Battery: 12V27A (alkaline battery)
Material of press button: silicone
Calling distance: 30-50m
Waterproof rating: Life waterproof (IP52)
Package Includes
1 x Receiver
1 x Call Button
1 x Lanyard
1 x Wristband
1 x User Manual
Q: Can I replace the battery?
A: Yes you can. The receiver is electric, you plug it in. The call button has a removable back so the battery can be replaced.

Q: Can you pair the call button with multiple receivers?
A: Yes, the call button can pair with multiple receivers.
Q: Does the receiver have to be plugged into the wall outlet to get feedback (a ring) from the receiver?
A: Yes, you need to plug the receiver into the wall outlet then the receiver can work well.If you want to use a receiver that can be moved, then I recommend a watch receiver, such as the TD108 and T128.
Q: Does the indicator light flash when the call button is pressed?
A:Yes, the indicator light will flash when you press the call button.