Simple and easy to use, the sound is clearer, the dual speakers have their own sound boards, and support any 3.5mm jack headphones or devices to be plugged in
A variety of optional voices can be set to call 1-99 times
Quick cycle time setting - no worries about missed calls
TD101 Dual Speaker Wireless Queue Call System
It can be placed on a table or hung on the wall
Numbers on the screen can flip according to gravity
Transmission distance: about 100m/328ft in open area; 30-50m/100-165ft obstacle course
Only
987
left in stock - order soon.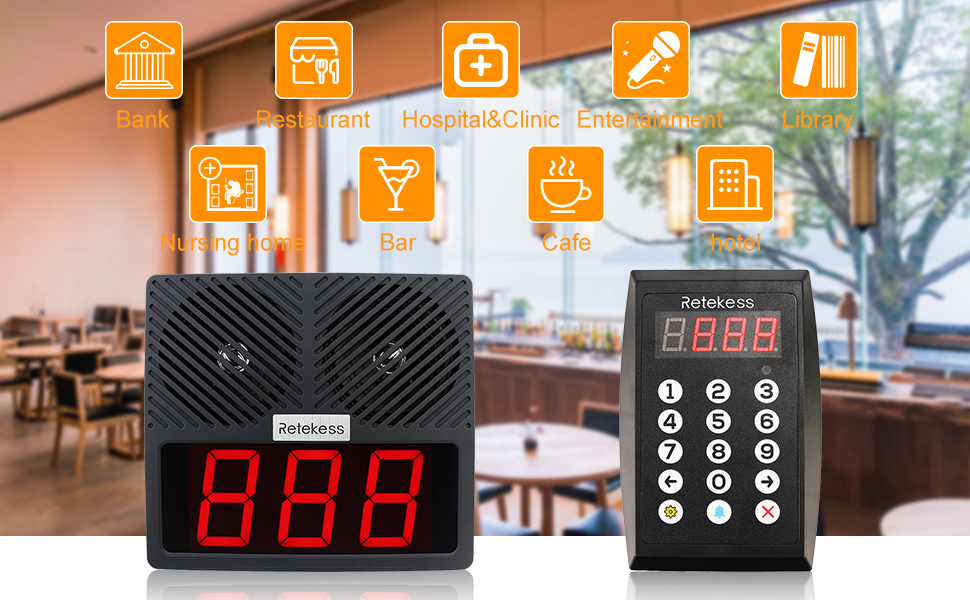 Wireless Transmitter and Receiver
Long Range Between Button Transmitter and Number Display Speakers
Receiver Caller with Double Loudspeaker

Connected with Audio Available
Audio interface on the side of Wireless Paging System, support any 3.5mm jack sound or device to plug, meeting your multiple needs
Volume Adjustment
Easy to set volume by sliding volume UP or DOWN knob, when the screen of Server Pager shows standby mode
Double Loudspeaker, Clearer Voice
Structure upgrade, equipped double loudspeaker soundbox, louder voices, good sound quality, and a wider range

Less Signal Interference
Transmitter button and speaker adopt higher working frequency; reduce signal interference effectively, more stable signal; lightweight; also has G-Sensor function function
More Durable Transmitter Button
The one-piece keyboard is waterproof and oil-resistant than traditional keyboard which has no button gap and avoids be corroded; 15 keys with set and clearance keys, easy to operate, faster setting
Various Place Methods
Can stand on the table, can be inverted; 4 suspension groove design, can be fixed on the wall with steel wire, save space
Double Loudspeaker Design, more clear voice

Larger LCD Display easier to read even at a distance

High Working Frequency more stable signal

Multiple Voice Optional can set 1-99 Times Calling

Prompt Cycling Time Setting no worry about miss the calling

Support Any 3.5mm Jack audio or device suitable for various occasions

IP34 IP Rating and Volume Adjustment, 3 Digits Display

Light Weight Only 91g net weight for keypad pager

Compact Design 130x87x23mm, will not take much space at a restaurant or clinic front desk
8 Voice Types Available
1. XXX Please take the meal
2. XXX Please having a meal
3. XXX Please transact business
4. XXX Please go to the doctor
5. XXX Please come to the counter
6. XXX please come in
7. XXX Please prepare
8. XXX Please
Can Be Used in Various Occasions
The wireless calling transmitter can send 999 different signals by combination from digit 0 ~9. It adopts the latest RF technology and digital identification technology, which makes the products stable and high performance, as well as make the system very easy to know which one is in need of service. The wireless calling system is widely Used in 4S Auto Store, Bank, Factory, Warehouse, Shopping Mall, Recreation Center, Restaurant, Cafes, Food Court, Clinic, Church, Test Center, Hospital, Fast Food, Shop, Shopping Mall, Kitchen Call, Super Markets, Bars, KTV, Banks, Factories, Service Centers, Nursing Home, etc. to heighten the work efficiency greatly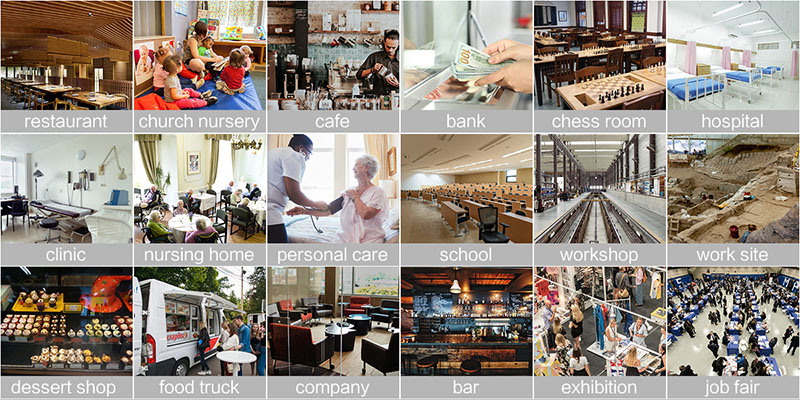 Please fill in your procurement needs and contact information
Specification:
Keypad Transmitter

Model

TD101

Nixie Tube

0.56 inch*4

IP Rating

IP34

RF Power

360mw

Net Weight

91.58g

Power Supply

DC 9V/1A

Modulating

433MHz(amplitude modulation)

Dimensions of product

130*87*23mm

Material of Product

ABS Quality Environmentally friendly ABS

Voice Pager

Model

TD101

Main Power

AC220V/DC12V 2A

Speaker

8Ω 20W

Modulating

433MHz(amplitude modulation)

Color of Product

Matte black

Dimensions of Product

265*235*65mm

Material of Product

ABS/ Quality Environmentally friendly ABS
Package Includes:
1 x Keypad Transmitter
1 x Voice Speaker
2 x Power Adapter
1 x User Manual
Q: Can I use 2 keypads with one speaker?
A: Yes, you can use several keypads in this system.
Q: What's the working range of TD101 wireless queue calling system?
A: Transmission distance: about 100m/328ft in open area; 30-50m/100-165ft in obstacle field.