English/ Portuguese / Russian language available
Dot matrix LCD screen
Low power remind
Prompt mode: Beep, Vibration, Light
Support 999 wireless transmitter buttons, name of the transmitter can be edited, Preventing malicious calls
Only
8609
left in stock - order soon.
Retekess TD108 Smart Wireless Watch Receiver Black
TD108 is widely known for its high quality, fashion design and cost-effectiveness

TPU Strap
The strap is made of TPU, wear-resistant, and oil-resistant, and easy to clean. In addition, the strap can be replaced as needed
The three prompt modes of Beep, Vibration, and Lights can be freely combined as needed
Wide range of application
Retekess TD108 watch receiver call system ideal for restaurant, cafe, SPA, salon, churches, nurseries, bar, game halls, etc
Increase business profits
Using TD108 wireless call system is faster service, increased table rotation, greater customer satisfaction, easier to publicize dishes or some special promotion, and increased overall revenue
Help the hearing impaired
Calling a hearing-impaired person, such as a deaf-mute person, he may not hear you calling him, but the vibration of TD108 can help him respond to your call in time
Features:
1.Supporting English/ Portuguese / Russian language
2.Dot-matrix LCD screen
3.Low power remind
4.Prompt mode: Beep, Vibration, Light
5.Support 999 wireless transmitter buttons, the name of the transmitter can be edited, preventing malicious calls
6.Display the latest 3 call records on the screen, Store 300 call records
7.Long standby time; Never lose date and time when turned off
8.Built-in high capacity rechargeable lithium battery(380mAh)
9.Latest 99 groups calling records can be checked
10.20 kinds of keys define to choose for different occasions(order, call, pay, SOS, needle, etc.)
11.The countdown function can remind the waiter to provide services to the guests regularly
Solutions: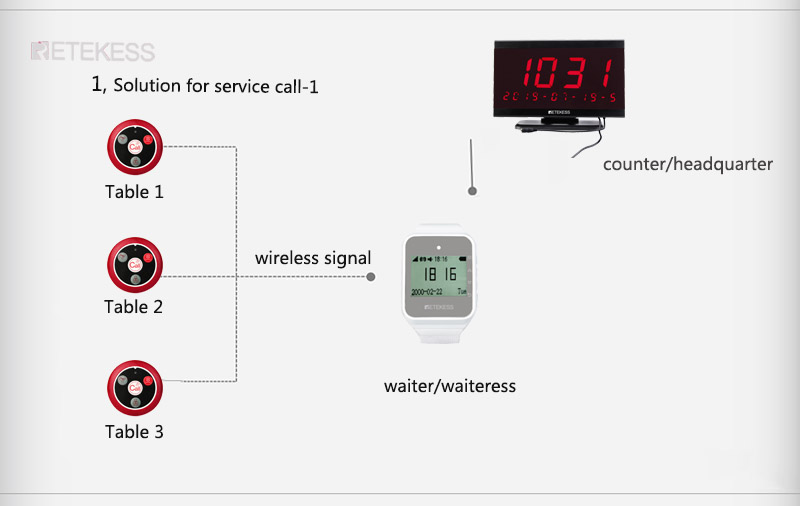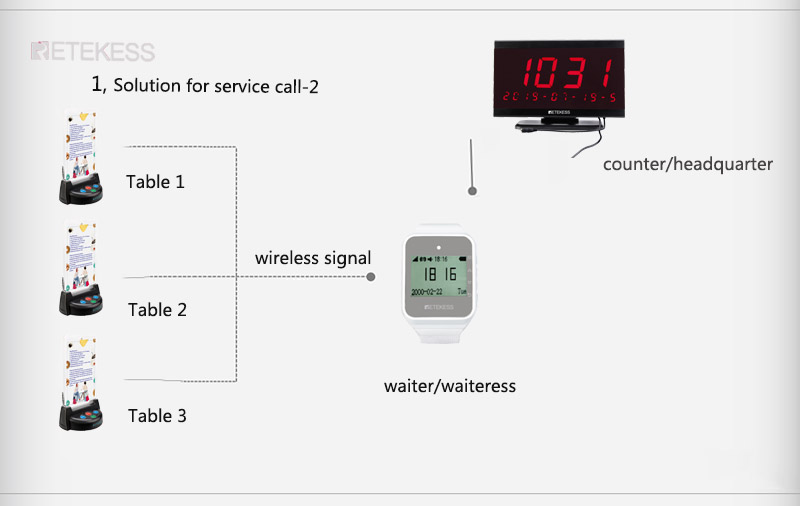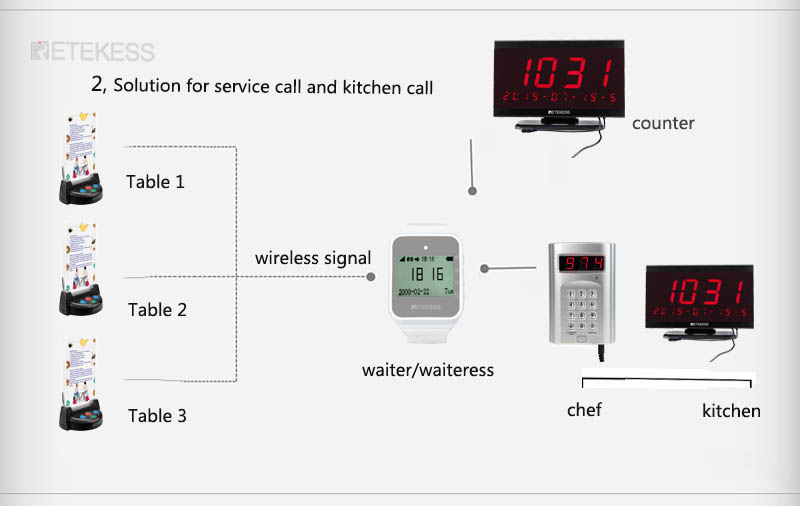 Please fill in your procurement needs and contact information
Retekess TD108 Watch Pager Description:
1. Operating voltage: 3.7V
2. Input power:5V
3. Operating current:3mA
4. Standby current:<50µA
5. Wireless frequency: 433MHz
6. Receiving distance: 150 meters (open area)
7.Working temperature:-20℃ - 55℃
8. Material: ABS ; Watchband: TPU
9. Size: 61×41×14mm (Not include watchband)
10. Net Weight: 45g
11. Color:Black
12. Standby time:3 Day
13. Waterproof Grade: IP55
Q: How many pieces of call buttons can I program on one TD108 watch receiver?
A: There are 999 channels, you can pair any call buttons as you need.
Q: How long can I use it?
A: Once you charged it fully, you can use it for about 6 hours.
Q: What are the specific functions of the TD108 black box?
A: The black box can store 300 call messages and cannot be deleted manually, which will help the boss to evaluate the performance of the employees.