Retekess TD108 Wireless Watch Receiver Pager supports multi-language
Low battery indicator
Built-in rechargeable 3.7V 380mAh
Easy to charge watch pager by the attached magnetic charging cable
Fashion design
The belt can be chosen
20 kinds of keys define to choose for different occasions
Only
9888
left in stock - order soon.
TD108 watch pager has a bright plastic case and a more fashionable appearance. The lens is treated with electroplating to make the color more vivid and have a metallic texture. TD108 can be used with any Retekess call button. You can use it in restaurants, cafes, churches, nurseries, and other places where you need to call.
Support multi-language
There are three combinations to choose from English/ Portuguese/ Russian language
TPU Strap
The strap is made of TPU, wear-resistant, and oil-resistant, and easy to clean. In addition, the strap can be replaced as needed
The three prompt modes of Beep, Vibration, and Lights can be freely combined as needed
Wide range of application
Retekess TD108 watch receiver call system ideal for restaurant, cafe, SPA, salon, bar, game halls, etc
Increase business profits
Using TD108 wireless call system is faster service, increased table rotation, greater customer satisfaction, easier to publicize dishes or some special promotion, and increased overall revenue
Help the hearing impaired
Calling a hearing-impaired person, such as a deaf-mute person, he may not hear you calling him, but the vibration of TD108 can help him respond to your call in time
Features:
1.There are three combinations to choose from English/Spanish/Italian language, English/French /German language, English/ Portuguese / Russian language
2.Dot-matrix LCD screen
3.Low power remind
4.Prompt mode: Beep, Vibration, Light
5.Support 999 wireless transmitter buttons, the name of the transmitter can be edited, preventing malicious calls
6.Display the latest 3 call records on the screen, Store 300 call records
7.Long standby time; Never lose date and time when turned off
8.Built-in high capacity rechargeable lithium battery(380mAh)
9.Latest 99 groups calling records can be checked
10.20 kinds of keys define to choose for different occasions(order, call, pay, SOS, needle, etc.)
11.The countdown function can remind the waiter to provide services to the guests regularly
Solutions: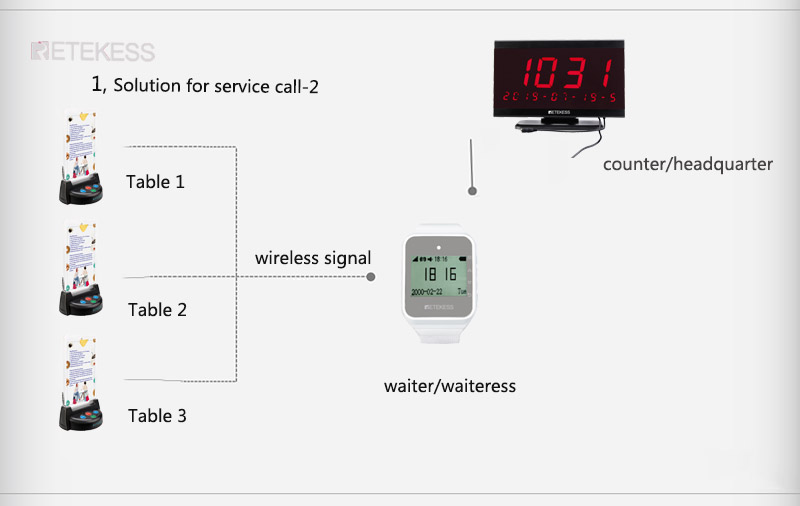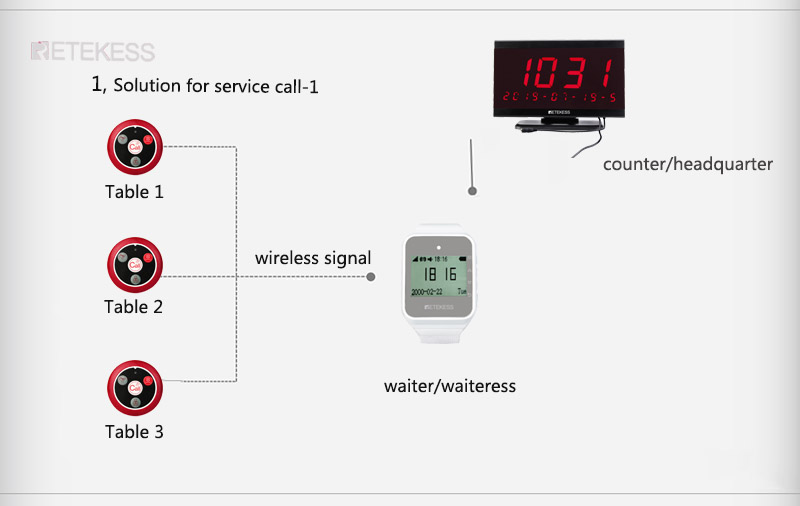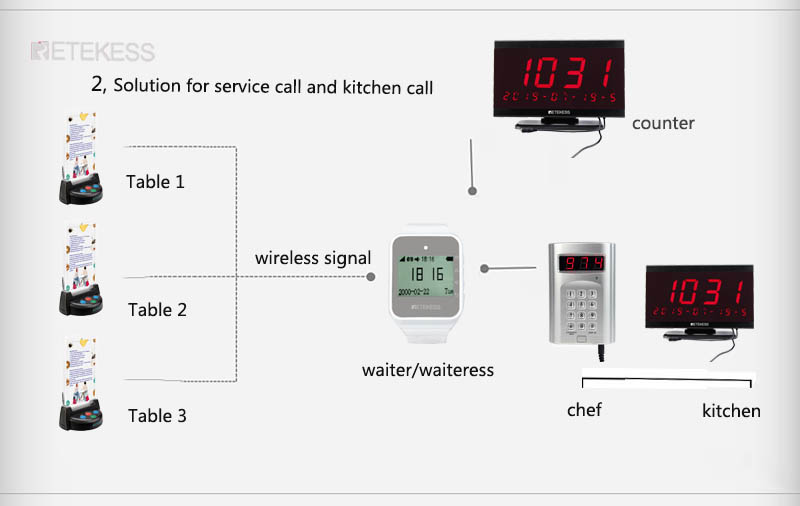 Application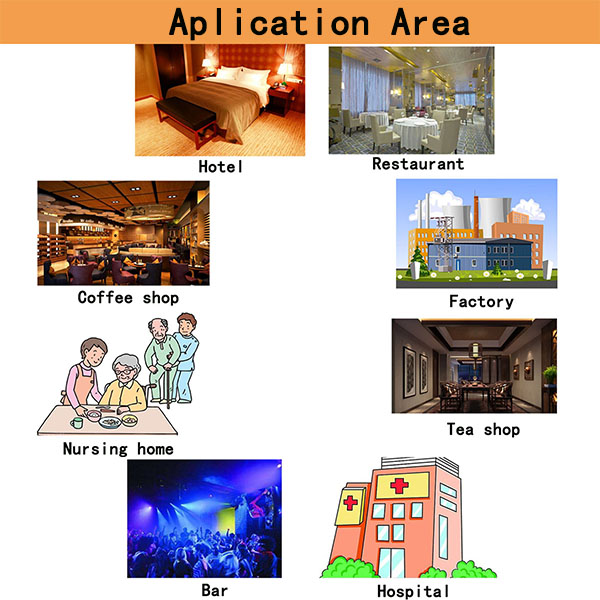 Please fill in your procurement needs and contact information
TD108 pager Specification:
Operating voltage: 3.7V
Input power:5V
Operating current:3mA
Standby current:<50µA
Wireless frequency: 433MHz
Receiving distance: 150 meters (open area)
Working temperature:-20℃ - 55℃
Material: ABS ; Watchband: TPU
Size: 61×41×14mm (Not include watchband)
Net Weight: 45g
A TD108 Wrist Watch Receiver Pager System will be equipped with a wireless watch receiver, a magnetic charging cable, and a user manual.
Q: How many pieces of call buttons can I program on one TD108 watch receiver?
A: There are 999 channels, you can pair any call buttons as you need.
Q: Is the watch included in td108 the same watch as the t128 watch?
A: TD108 and T128 watches have some differences:
TD108 supports up to 999 pcs call buttons, T128 supports max 500 pcs call buttons;
There are three groups of languages supported by TD108, namely English/Spanish/Italian language, English/French /German language, English/ Portuguese / Russian language. T128 supports English/Chinese/French language.
TD108 has a Black box, which can automatically record 300 call information and cannot be manually deleted. T128 has 40 kinds of keys define to choose from for different occasions. T128 has 40 optional key names + user-defined, you also can program the original Key "pay, order, call, cancel" etc. to other key names, even can be people's name, such as Christopher, Alexander, etc. and the maximum length of custom words is 12 Letter.
Q: Does the caregiver wear the watch?
A: Yes, the caregiver wears the watch, the elderly or patient wears a call button. When the patient needs help, just press the call button to send a call signal to the caregiver. The watch screen shows the call time and service type. Caregivers can easily know which patient needs help, and can be used in hospital, clinic, home, and other places that need help; the working range can reach 80m in an open area. (The specific distance is related to the signal of the transmitter. For example, a transmitter with an external antenna can be used to reach a long distance.).
Q: Can you transmit from the wrist pager transmitter back to the person who you are caring for?
A: No you cannot. Because TD108 is a one-way signal receiver, it is mainly used to receive the transmitted signal. What you can do is to confirm the person who sent the signal after the TD108 receives the information, and when the service is completed, you can delete the processed call information.