Build-in 300mAh battery, work max up to 10h Charging indicator light, flash when charging and light green when full Work with long-range, max up to 300M in the open area
Only
2998
left in stock - order soon.
---
Frequently Bought Together
Reduce contact using wireless guest paging system in restaurant salon veterinary clinic
TD158 is our new arrival, it is the guest paging system. This type adopts AM technology, work with long-range distance in the open area.
There are charging indicator light for this system, so it is very easy to know the charging station. There is no screen on the pagers, so the pager's
quantity is unlimited. You can customize the papers based on your needs.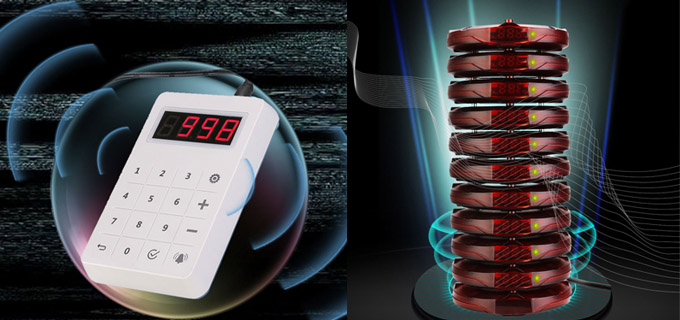 Features:
Durable
Built with high-quality materials for maximum durability and environmentally friendly
AM technology
Adopts AM Modulation-mature technology 433MHz
Touch keypad
White touch keypad transmitter, IP33 waterproof level

Rechargeable battery
Built-in 3.7V 300mAh rechargeable lithium battery, charging full time only need 4h
Changeable prompt way
Buzzing /vibrating /flashing lights can be chosen freely
One key power off
0 + call, shut down all the pagers one time
Multiple keyboards work with the same pagers
One pager can work with several keypad transmitters, you can all the same pagers in the different places
Indicator light
Flash when charging, but light when charging full, it is easy to know the charging condition
Cost-effective
There is no digital tube, so the price is more cost-effective
Support customize
Each pagers support customize your own pager/brand to publicize your own business
Reminder time can be setted
Time from 0-200S, on F3 station, press the number and then pick up one-pager from the charging case in the charging condition.
Confirm it within 3S. If success, the pager will be Buzzer + flashing. The default setting is the 30S. "O" means reminds all the time
Easy to program the number
Press set key choose F2 and press the confirm key to enter the number that you want and press the confirm key within 3s and pick up the pagers that you need to change the numbers. If success, the pagers will be Beep + flashing for 3 times
Note: the number can be any from 1-999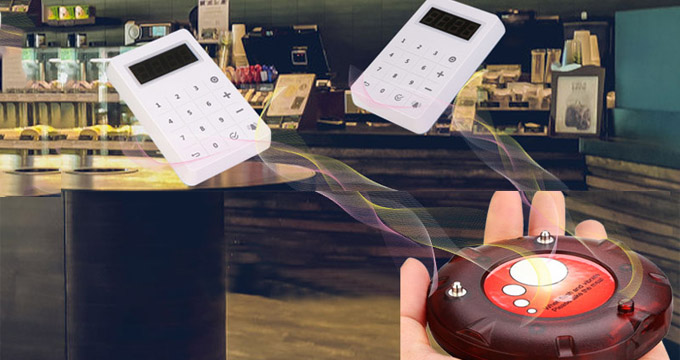 Please fill in your procurement needs and contact information
Specification:
Receiver

Dimension

Φ80.5*15mm

Receiving Sensitivity

-103dB

Standby Time

≈20 hours

Battery

Built-in 3.7V 300mAh rechargeable lithium battery

RX Frequency

433MHz

Reminder Method

Buzzing ,LED Flashing, Vibration

Distance of Transmission

About 300 meters in a wide-open field

Modulation

AM

Transmitting host

Dimension

120*76*20mm

Transmitting Power

240mW

Tx Frequency

433MHz

Power Adapter

Input: AC 100-240V, 50/60Hz
Output: DC 12V, 1A

Keypress Method

Touch type

Modulation

AM
Q: How many pieces pagers can i use in the one guest paging system?
A: There is no limited about the quantity, you can use based on your needs.
Q: What is the working range?
A: It can be 300M in the open area. If in the building, it may shorten.
Q: Can i customize the logo on the pagers?
A: Sure, pls tell me the quantity that you need. We will check the more details for you.
Q: How can i shut down all the pagers?
A: First, you need to put all the pagers on the charging base and then press 0+call.
Q: How many prompt ways does the pager system have?
A: 4 ways: Flash+Vibration, Flash + Beep, Flash + Beep + Vibartion, Flash