Supports 1999 pagers
The keyboard can directly English letters, send a text to the pager, max 209 characters
Support multi-window calls and 10 default text messages setting
The default message can be set for numbers 0-9
Custom reminder mode: any combination of flashing lights/ buzzing/ vibrating
Note: Please use the keypad transmitter on the table which be made of wood, plastic, glass and other materials, and avoid the table top of metal and marble.
Only
5993
left in stock - order soon.
Retekess TD159 Alpha Numeric Pager System for Truck Driver with 10 Pagers
Description:
Retekess TD159 Paging system for truck lorry driver, clinic, food plaza. It will help your business improve the effective. You can guide the customers to which place they need to go. It will aviod choas. It can save a lot of time for you. They can go there one by one in order.
TD159 has the screen, you can press the message to the pager, such as Please go to Number 1.
Feature:
The transmitting host is treated with metal shell paint, which is sturdy and durable, and the keyboard is equipped with silicone sleeve, which can be waterproof and oil-proof.
The working frequency band supports 430m-470MHz, which can be customized by customers (The default frequency is 433.92MHz).
Using FSK modulation technology, the transmission power is 0.5W and the call distance can reach 1000m-1500m in open area.
The meal plate has a built-in 250mAh lithium battery, which can stand by for more than 48 hours.
The charging base has a built-in 250mAh lithium battery, which can turn the disc on, off and reset without power supply.
Custom reminder mode: any combination of flashing lights / buzzing / vibrating.
Pager receipt LED blinks
Pager receipt audible alarm
Pager receipt vibration alarm function
Reminder function every minute after receiving the message
Alarm reminder time setting after receiving the messages in every second
After the message received, the charging base is reset / automatically reset.
LED long flash function on / off setting after receiving the menu (only for charging dock reset use)
Out-of-bounds alarm detection time setting (2-9 minutes), "OUT" will be displayed when the time exceeds
Cross-boundary alarm reminder interval setting (1-9 minutes)
Details TD159 Alpha Text Pager Systems:
Support 1999 pagers
You don't need to worry that the pager is not enough for your business, you can add 1999 pagers in total.
One pager works with mutiple keypads
If you need to use the transmitter in mutiple places, you can do that, pair the pager with all the keypads, the pager can receive all the informations from all the kaypads.
Pager with self-check function
When you take the pager out of the charging case, the pager will notice you by LED, vibration or beep, it depends the mode you set on the pager.So we can make sure no problem with the pager.
Low power notice
If the pager is out of power, it will show LO on the pager, you need to charge the pager.
Distance of the signal
The distance is 1000-1500 meters in open area.
Change pager parameters in batch
Pager system supports to set the parameters of the meal plate in batches, put the pagers on the charging seat, and the parameters can be modified in batches at once.
Support mutiple calls and send message directly to pager
The keyboard can directly enter numbers and English letters, send text to the pager, and support multiple calls if you need to give the pager few mesages.
10 default text messages
You can preset 0-9 10 messages in advance, each number has one message. So you can save time if you use the preset messages.
Call pagers from PC
You can call the pager by computer with text software. Press the message and send out directly.
Support secondary development
If you need the software of your own functions, we can provide serial port protocol so you can use your own software.
Support 3 Languages
It supports Chinese, English and Germany on the software.
The pager system is widely used in food plaza, warehouse, logistics, Clinic etc.
Note: Please use the keypad transmitter on the table which be made of wood, plastic, glass and other materials, and avoid the table top of metal and marble.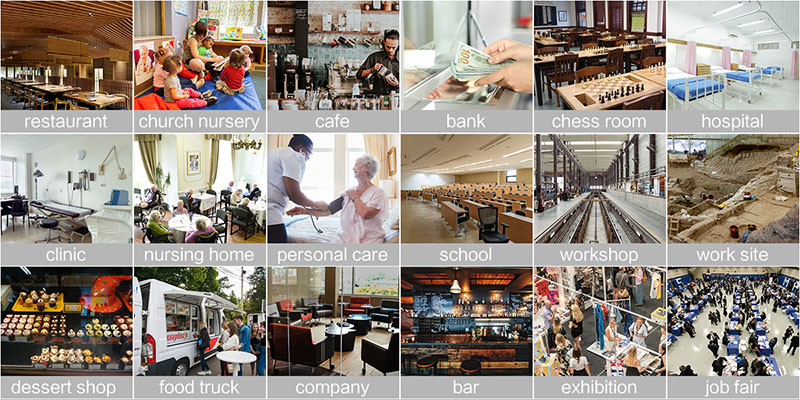 Please fill in your procurement needs and contact information
TD159 Smart Receiver

Dimension

Φ105*16 mm/φ4.13*0.63inch

Material of Housing

ABS

Receiving Sensitivity

-106dB

Standby Time

≈48 hours

Battery

Build-in 3.7V 250mAh rechargeable lithium battery

RX Frequency

433.92MHz

Reminder Method

Buzzing, LED Flashing, Vibration

Distance of Transmission

About 1500 meters in a wide-open field

Modulation

FSK

TD159 Smart Transmitting host

Dimension

170*85*41mm/6.69*3.35*1.61 inch

Material of Housing

metal shell

Transmitting Power

<0.5W

Tx Frequency

433.92MHz

Power Adapter

DC5V3A

Keypress Method

Press

Modulation

FSK
Package:
1 x Transmitting host
1 x Antenna
10 x receivers
2 x Power Adaptor
1 x User manual
1 x Charging base
1 x Serial port line
1 x Serial port to USB line
Q: How many messages can I preset for the TD159 Alphanumeric Pager?
A: You can preset 10 messages from 0-9 number.
Q: How many characters do this screen pager support?
A: You can set up to 64 characters.
Q: What distance do this product have?
A: This calling system can reach 1000-1500 meters in the open area.