Wireless signal transmission, is more convenient
No operation automatic sleep function
Display with detachable bracket, support placed on the desktop or hanging on the wall
Color LED light tips: standby, start, foul, success
Wireless remote control: start, timing, reset
3 kinds of answer modes: normal mode, voice mode, elimination mode
Suitable for knowledge contests, debate contests in schools, companies
Only
8149
left in stock - order soon.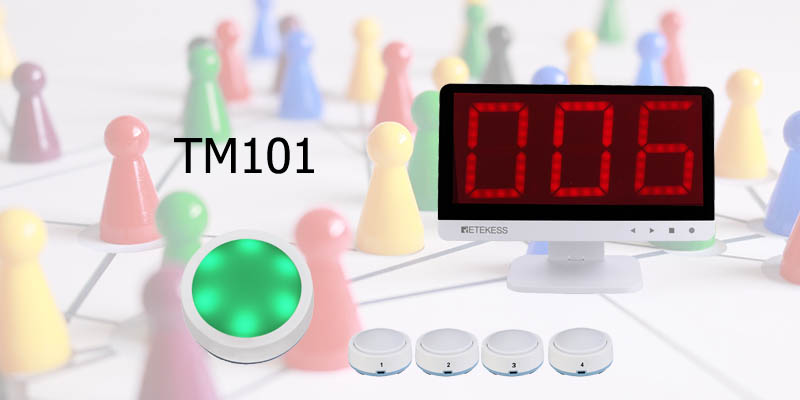 Retekess TM101 Game Answer Buzzer Alarm for Party Contest
Retekess TM101 is a game asnwer buzzer and count down timer for party, classroom or contest. It is very eary to operate, you will have fun with it.
It adopts 2.4G wireless technology, oo limited in the whole world, and long distance.
It can reach up to 80M.
Characters:
1. The original set is one display, one control and 4 buttons.
2. More details of the display, each set can add 32 groups. You can contact us to buy other call buttons.
3. Each call button using battery, and has the power on switch, If no command within 30 mins, Call button will rest to save power.
4. Every color of it means differen results: The winner is a green light, the fouler is a red light, and the loser does not light.

Applicaions:
School Competition, Party Game, Knowledge Contest, Classroom Q&A

Please fill in your procurement needs and contact information
Specification:
Display power supply: input: AC100-240V, output: DC 9V/1A
Display size: 266*150*20mm
Display weight: 404g
Button size: 100*100*30mm
Button weight: 84g
Button power supply: 2 x AA battery (not included)
Working distance: about 15m
Remote control size: 105*42*28mm
Remote weight: 62g
Remote power supply: 2 x 12V/23A battery(included)
Q: How many call button can I use?
A: support Max 32 call buttons, if you need others, pls contact us to get the best price for you.
Q: I live in Europe/US, can I use this sets?
A: Yes, it adopts 2.4G wireless technology, it is free in the whole world.
Q: When do I know the call button need to be changed battery?
A: There will be low-power reminder, it will flash red light.