Long-range FM transmitter up to large 1 km/3280 ft.
Professional PLL modulation system to make the transmitter work stably.
TR509 transmitter supports simultaneous microphone and AUX input.
Digital FM radio with advanced DSP technology, stable signal, and clear sound quality.
Pocket FM radio receiver works with FM transmitter, unlimited number of receivers can be connected to the transmitter.
Only
3000
left in stock - order soon.
Experience crystal clear sound quality, long transmission range, and the flexibility of connecting to a variety of audio sources with our wireless FM transmitter and radio receiver kit. Reliable performance and user-friendly design make them perfect for conferences, churches and interpreters.
Easy to use
Set the transmitter frequency first, then adjust the radio receiver to the same frequency for successful pairing, and then the audience can listen to the broadcast from the TR509 transmitter through the headset connected to the PR13.
Flexible expansion
The FM transmitter can be connected to numerous FM radio receivers, so if your group grows in size, simply add more radio receivers. Click to buy more PR13 radio receivers.
Line level stereo input
The transmitter's line level stereo input allows the connection of a variety of audio sources such as mixers, microphones, or audio playback devices. This feature ensures compatibility with different audio setups and enables seamless integration with existing sound systems. For church sermons, this feature allows easy integration with existing audio systems so that pre-recorded worship songs can be transmitted clearly to the congregation.
AUX/MIC inputs
The TR509 supports AUX/MIC inputs, which allow you to convert audio signals from a variety of portable audio and video players (e.g. Discman, MD, MP3 (including Apple iPod)) into a high-fidelity wireless FM stereo signal and listen to it using the PR13 radio as the receiver. The transmitter can also be connected to an external microphone for conference presentations, etc. We offer compatibility options, click to view the TT123 Wireless Microphone.
PLL technology
TR509 motherboard adopts the next generation integrated NC FM stereo radio transmitter chip BH1415 of Japan ROHM company, built-in PLL frequency PLL, audio pre-emphasis, limiter, and low-pass filter circuit to achieve. Fidelity, high stability signal transmission.
Long range transmission
The FM transmitter has a transmission range of up to 1km (3280 feet), making it ideal for conferences held in large venues. This feature allows the speaker to move freely, eliminating the need for the speaker or interpreter to have to be close to the receiver unit while maintaining clear audio transmission to all attendees.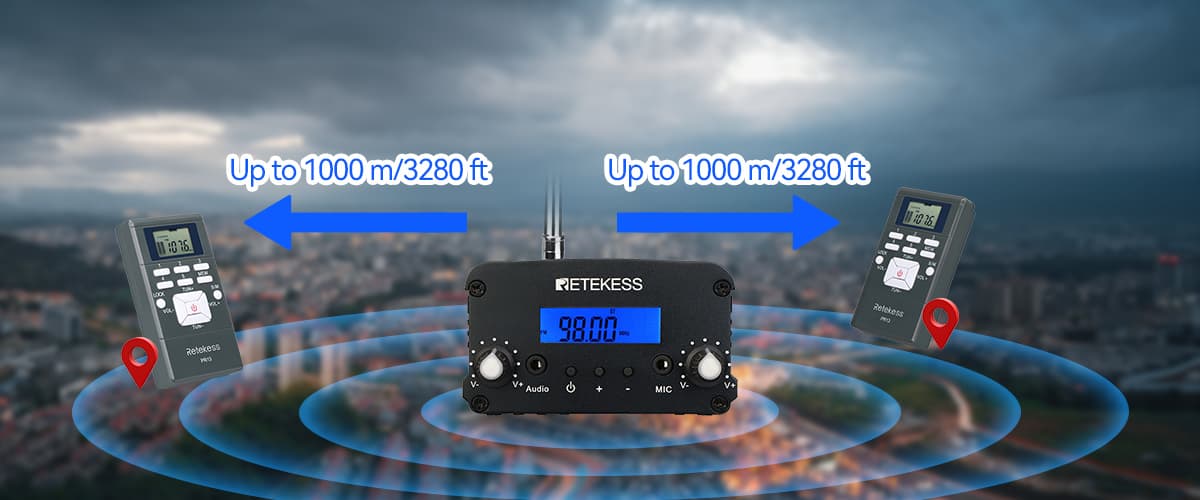 Detachable antenna
The transmitter's detachable antenna can be flexibly replaced with a remote antenna. This feature enhances broadcasting by improving transmission quality and range and optimizing signal reception. When replaced with an external antenna, the transmission range is up to 1.8 kilometers.
Other features of the Mini FM TR509 Transmitter
The chassis is made of high-quality aluminum alloy material, durable, and with good heat dissipation performance.
Parameters used by the transmitter will be saved automatically after turning off and read automatically the next time turns on, no need to reset.
The high-definition LCD interface makes it easy to read the operating parameters, and the soft blue eye protection light protects your eyes from irritation.
Features of the PR13 radio receiver
Radio receiver with lock button to prevent accidental operation.
5 frequently used radio stations can be preset for quick and easy tuning.
Powered by 2 AAA batteries, supports recharging if your AAA batteries are rechargeable
Headphones are included with each radio. You can use your own 3.5 mm universal headset to connect the radio.
The portable PR13 FM receiver measures 3.6 x 2.1 x 0.6 inches and weighs 0.09 pounds. It fits easily in your pocket. Or you can hang it around your neck with the included lanyard to free your hands.
The radio supports a 24-hour clock in international time, so you can use it as a small portable clock.
Please fill in your procurement needs and contact information
TR509 FM Broadcast Transmitter Specification:
Working voltage: 11~13V DC(Rated voltage 12 v)
Working current: 1.67A
Frequency stability: ±10PPM
Stepped frequency: 100KHz
The operating temperature of the environment: -10℃~50℃
Output impedance: 50Ω
Harmonic and noise radiation: ≤-60dB
1Audio distortion: <0.30%
Frequency response: 50HZ~15000HZ
Preemphasis delay: 75us
Degree of separation: ≥35 dB
Input level: ≤15 dBV
Modulation frequency deviation: ±75KHZ
SNR(Signal to Noise Ratio): ≥60 dB
Item Dimensions: 128 (L) x 95 (W) x 55 (H) mm
Weight: body 479g(include antenna)
PR13 FM Radio Receiver Specification:
Sensitivity:<3.5uV
Signal to noise ratio: 45db
Stereo separation: 32dB
Power supply: 2 x AAA batteries (not included)
Earphone jack: 3.5mm
Tuning increase: 0.1MHz
Built-in speaker: No
Dimension:3.6 x 2.1x 0.6in
Weight: 40g / 0.09lb
Package Includes
Package
Package Includes
1TX+10RX
1 x TR509 Transmitter
1 x TNC Antenna
1 x 3.5mm Audio Cable
1 x Power Adapter (US, EU, UK standard options)
10 x PR13 FM Radio
10 x In-ear Stereo Earphones
10 x Lanyards for FM Radio
1 x User Manual
1TX+20RX
1 x TR509 Transmitter
1 x TNC Antenna
1 x 3.5mm Audio Cable
1 x Power Adapter (US, EU, UK standard options)
20 x PR13 FM Radio
20 x In-ear Stereo Earphones
20 x Lanyards for FM Radio
1 x User Manual
1TX+30RX
1 x TR509 Transmitter
1 x TNC Antenna
1 x 3.5mm Audio Cable
1 x Power Adapter (US, EU, UK standard options)
30 x PR13 FM Radio
30 x In-ear Stereo Earphones
30 x Lanyards for FM Radio
1 x User Manual
Can I use the TR509 FM broadcast transmitter kit indoors?
Yes, but the signal transmission distance will be shortened due to walls and obstacles indoors.
How do I set up the FM radio broadcast transmitter?
Setting up the FM transmitter is simple. First, connect an audio source (e.g. smartphone, MP3 player) to the transmitter, or use an external microphone to connect to the transmitter. Then, select an available FM frequency that is not being used by a nearby radio station. Finally, tune the FM radio receiver to the selected frequency and you will hear the transmitted audio.