Retekess TR606 Cassette Player AM FM Portable Radio 2 power supply methods
Only
992
left in stock - order soon.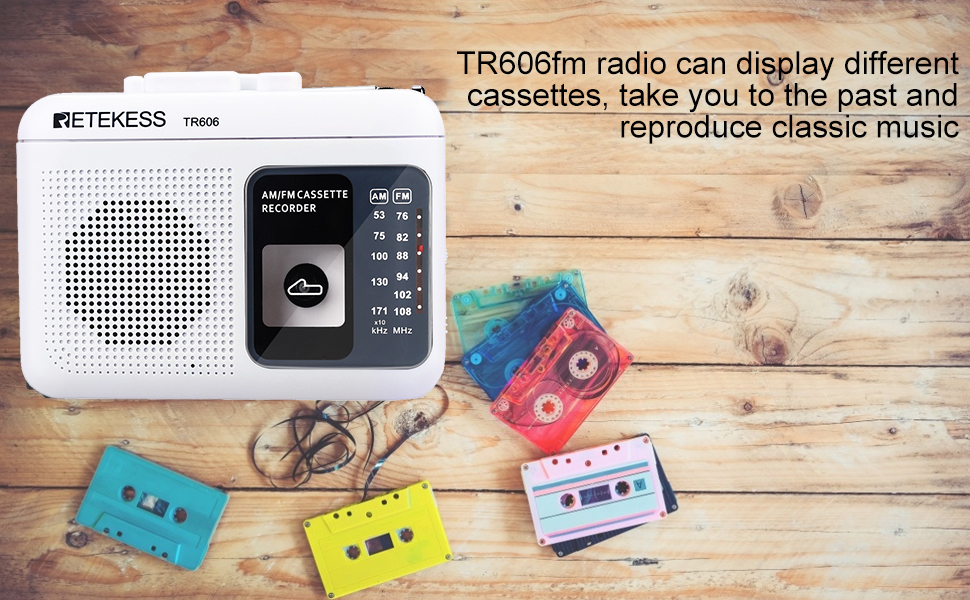 If you are finding a cassette player to record your life anytime and anywhere?
If you need a cassette player to find the soundtrack of past memories?
If you need to prepare a gift for your parents?
Retekess TR606 cassette player helps you make your dream comes true!
Cassette playback function
Supports fast forward and rewind functions; Tapes play smoothly; The speaker offers exceptional clarity for voice; easy to operate; no cassette


Recorder function
Support built-in microphone recording and external microphone recording; whether you are ready to dust off those old cassettes and start enjoying them
again or you're looking for an audio recorder to make notes or record radio programs

Portable AM FM radio
FM: 76-108MHz
AM: 530-1710KHz
Portable am fm radio receiver with 48cm telescopic swivel antenna. Please extend the antenna to get better radio reception.
3.5mm earphone jack
TR606 cassette player supports any 3.5mm earphones or headphones.
You can enjoy the radio or music from the cassette quietly, don't disturb others.
2 power supply methods
AC charging: TR606 AM FM radio with a charging cable, you can charge the radio by DC4.5V input.
2 AA batteries(not included): TR606 portable radio as an emergency radio, you can use the radio in case of power off.
work with A 5V 1A power adapter (not included)
Telescopic long antenna
Portable TR606 radio with 48cm telescopic swivel antenna to get the better reception
Cassette player with small size
4.72 X 3.58 X 1.65-inch size; 0.55lb weight; Compact and easily portable; Easy to carry and put in your pocket
Retekess TR606 radio designed with small compact size with useful features makes this the perfect portable radio or some enjoyable time at
home, the park or take a bus

Please fill in your procurement needs and contact information
Specification:
Frequency: FM: 76-108MHz, AM: 530-1710KHz
Speaker: 8Ω 0.5W
Output power: Max 0.6W
Power supply: DC4.5V input or 2 x AA battery
Size: 120 x 91 x 42mm
Weight: 250g
Package Includes:
1 x TR606 radio
1 x USB charging cable
1 x User manual