Wireless Voice Amplifier with FM Radio
Support TF card and USB disk
5W speaker
1500mAh rechargeable battery
Only
493
left in stock - order soon.
Retekess TR619 wireless voice amplifier portable speaker and microphone is a really great aid for teachers or doing presentations or running meetings, smallish groups where the leader must be heard, particularly if one is having trouble with one's own vocal volume. It is also a small and compact personal amplifier speaker.
Key Features:
Large Volume: 2W output power and 5W speaker make it has a large volume
Multi Audio Input ways: the personal amplifier can play music from TF card (max 32GB), USB flash drive (max 64GB) and audio line through phone or MP3. MP3 and WMA formats are accepted. This is a great addition which makes it infinite possibilities of listening from own collection.
Adjustable Headset Microphone: This speaker with a microphone headset can be positioned near your mouth with its flexible goose-neck design. The headset mic sits on top of the head so it is stable and won't fall off
Rechargeable personal speaker: The 1500mAh lithium-ion battery is always charged in the most optimal way, ensuring reliability and safety. Also no need to worry about buying batteries
FM Radio function: The frequency range of 87.5MHz to 108MHz, enjoy the desired radio station on the go.
Easy to operate and with display: All the buttons and operations are easy to understanding, no worry about taking a long time on the settings.
It comes with a belt strap that can attach with clips to the amplifier and then can be worn around the neck or through belt loops.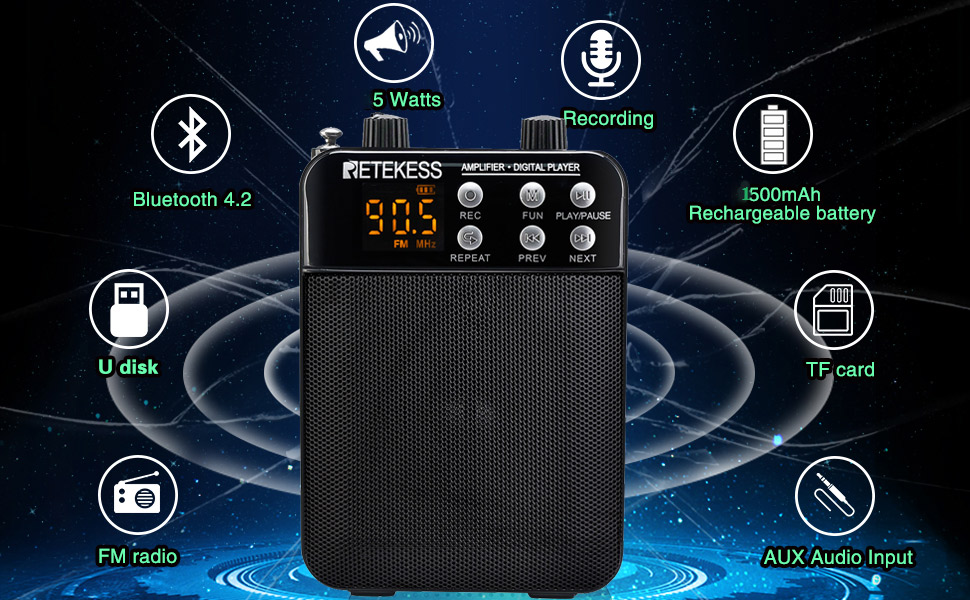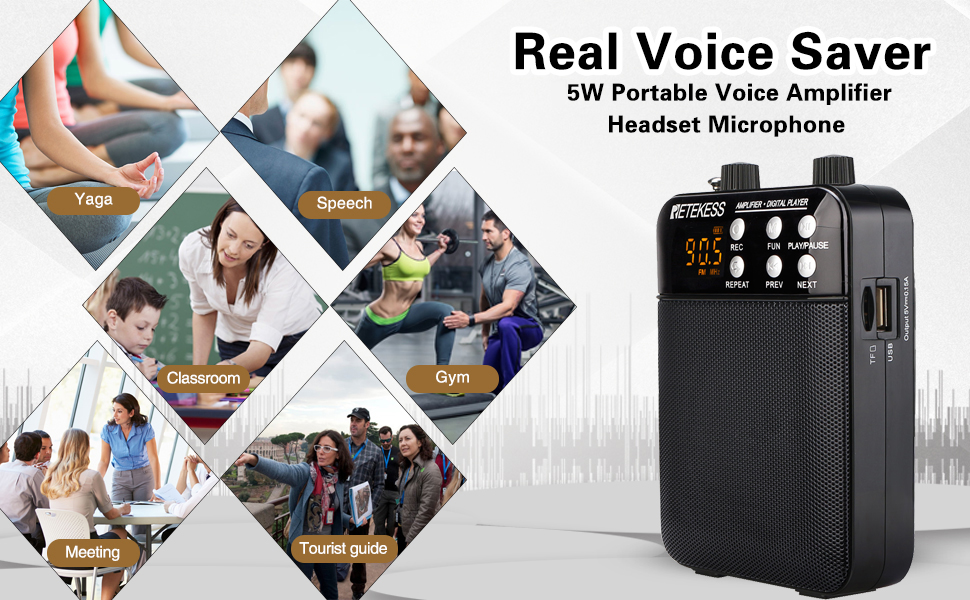 Please fill in your procurement needs and contact information
Voice Amplifier Specifications:
Power: 5V-0.6A
Frequency Range: FM:87.5-108MHz
Antenna: Telescopic antenna
Antenna length: 395mm
Speaker: 2Ω 5W
USB output: 5V-0.15A
TF /USB: USB supports up to 64G, TF card supports up to 32G
Dimensions: 87x129x46mm
Weight: 221.7g
Battery capacity: 1500mAh
Package Includes:
1 x TR619 Amplifier Digital Player
1 x AUX audio cable
1 x Headset microphone
1 x 1.2m strap
1 x Back buckle
1 x USB power cable
1 x User Manual
Q: Does it come with headphones?
A: Yes, a wired microphone headset is included in the package
Q: Can this voice amplifier be used with a lavalier mic?
A: Yes, you can. You need to buy the extra 3.5mm lavalier/lapel microphone to go with it.
Q: Is there a place to plug in a headphone?
A: Sorry, no.