2.4GHz, worldwide free license
Work with unlimited receivers
150 meters communication distance in the open air
TT105 support two transmitters talk with each other
One-key Receivers channel synchronization function
50 channels to choose, up to 50 groups tour at the same location
Only
4867
left in stock - order soon.
Retekess TT105 2.4G tour guide audio system for Hajj and Umrah with landyard
Retekess TT105 tour guide system has 50 channels. If you have few groups use same model in one place, just change to the different channels, they won't interference each other. Portable Transmitter with headset speaker mic, receiver with separate earpiece, each one has the USB charging cable. It has lanyard, you can hang on the neck, you don't need to worry about lost. It supports two transmitters in one group and the two transmitters can talk with each other. The vice transmitter can't be used separately. We have variety headset can fit this model, and 16 ports charging base, 32, 40, 60 slots charging cases for you. You can choose the correct one which fit for you.
Usage:
TT105 tour guide audio system transmitter and receiver can use for tourism, church, translation, interpretation, horse trainning, factory, Hajj and Umrah etc.. You can hang on the neck, free your hands.
Features:
The microphone jack of the transmitter can be used to connect audio devices with 3.5mm audio cable
150 meters communication distance in the open air
Built-in rechargeable lithium battery, long battery life

Two transmitters in one group
One-key Receivers channel synchronization function saves much time
50 channels to choose, up to 50 groups tour at the same location
2.4GHz signal transmission with stable audio quality
Pocket size and light weight, easy to use
Advantages:
Long Range
It can reach 150 meters in the open area.
Support 50 groups at one place
It has 50 channels, so if you have few groups in the same area, they can work separately, just use the different channels.
Support one key pair automatically

It is very convenient for using, you can pair the receivers by one key

Volume
The transmitter has 5 levels. The receiver has 9 levels. You can adjust it freely.
Working time
The transmitter can work 8h after fully charged, the receiver can work 12h after fully charged. It takes 2-3 hours to be fully charged.
Tour guide system applications
Tour guide systems are widely used in tourism, factory tour, church translation, education, training, museum,Hajj and Umrah etc.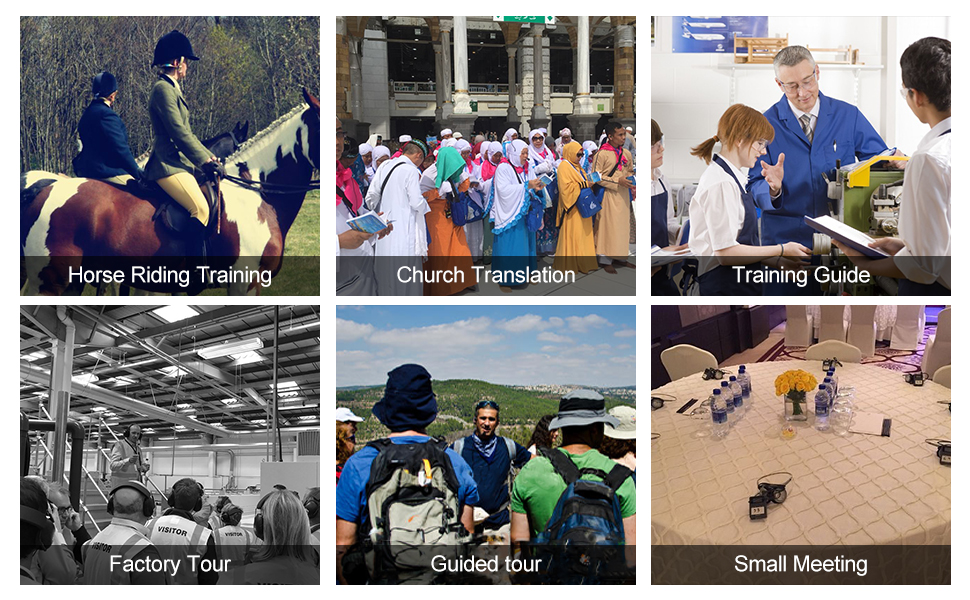 Please fill in your procurement needs and contact information
Specification:
Transmitter

Frequency range

2400-2480MHz

Channel

50 channels

Output power

10mW

Power supply

Built-in 1500mAh lithium battery

Working time

About 8 hours

Working distance

150 meters (open air)

Size

86 x 50 x 19mm

Weight

60g

Receiver

Frequency range

2400-2480MHz

Channel

50 channels

Power supply

Built-in 1000mAh lithium battery

Working time

About 12 hours

Size

86 x 50 x 19mm

Weight

51g
Package Includes:
2 x transmitter
10 x receiver
2 x Microphone
10 x earpiece
12 x Charging cable
12 x Lanyard