Retekess TT106 Tourist Guide System with Portable Carry Bag
SKU:
F9469A-F9469B-F9468F
TT106 Tourist guide system supports two guides working together in the same group
Up to 25 hours of use for the transmitter and 23 hours for the receiver
Working range up to 150 m/492 ft
48-port carry bag holds 48 units and all accessories
2.4GHz signal transmission, available worldwide
Auxiliary audio transmission supported with AUX jack
OverView
2.4GHz, worldwide available
TT106 wireless tour guide audio equipment has a 2.4GHz globally available signal, stable transmission, anti-crosstalk, anti-interference, anti-eavesdropping, high security, and privacy.
Support two transmitters
TT106 tourist guide system supports two transmitters working in a group at the same time, it allows two people to speak at the same time or take turns to speak and all listeners can hear both of them. (Note: only 1 transmitter is included in our package, if two transmitters are required, please buy extra)
Long standby time
The transmitter has a built-in 1300mAh rechargeable lithium battery, which takes 3H to fully charge and can be used continuously for 25H; the receiver has a built-in 380mAh rechargeable lithium battery that takes 2H to fully charge and can be used continuously for 23H, avoiding the tediousness of frequent charging.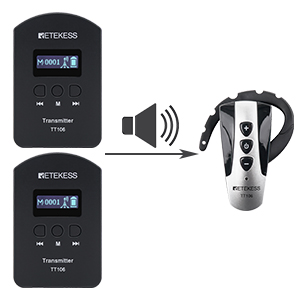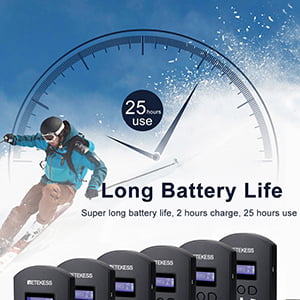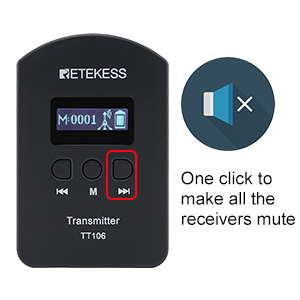 Transmitter mute function
The tour guide transmitter has a mute function, so if a tour guide sometimes doesn't want visitors to hear him, he can press the mute button and listeners won't hear any of the sounds he makes.
One-button operation
This wireless radio system supports one-button shutdown of all receivers and one-button auto-pairing. Before the tour starts, the tour guide can realize the automatic pairing of transmitters and all receivers within 5 seconds; after the tour ends, the tour guide can also shut down all receivers with one button, saving time and improving efficiency.
Auxiliary Audio Inputs
The transmitter supports external audio input, you can connect the transmitter to your computer, cell phone, MP3, or radio with a 3.5mm audio cable, you can use your audio device to play the sound you need for all your guests.
Add receivers
The wireless transmitter can work with any number of receivers, if your group size increases you can add as many receivers as you need, we have TT106 receivers sold separately, click here to check them.
Durable portable carry bag
The carry bag has a reinforced design all around and soft foam inside that is dropped and impact-resistant. It can hold up to 48 devices and all the accessories for these devices, which not only makes it easier for you to carry the kit but also better protects the devices.
Spec
Specification:
TT106 Wireless Transmitter
TT106 Wireless Receiver
Frequency Range
2400~2483MHz
Frequency Range
2400~2483MHz
ID Number
9999
ID Number
9999
Supply Voltage
DC3.7V
Supply Voltage
DC3.7V
Transmitting power
<=50mW
TIS
-90dBm
Frequency stability
±0.001
Frequency stability
±0.001
SNR
80dB
SNR
80dB
Size
97*63*18mm
Size
65*58*11mm
Weight
70g
Weight
18g
Charge time
3H
Charge time
2H
Working time
25H
Working time
23H
Battery specification
3.7V/1300mA
Battery Specification
3.7V/380mA
Charge Jack
MINI USB
Charge Jack
MINI USB
Modulation frequency deviation
±320KHz
Modulation frequency deviation
±320KHz
Working current
62mA
Working current
15mA
Communication range
150m (open air)
Standby current
1mA
Charging voltage
DC5V
Charging current
320mA
Communication range
150m (open air)
Charging voltage
DC5V
Nylon cloth wrapped with EVA
370*340*110mm/14.56*13.38*4.33 inch
1890g
Package includes
1 / 2 x transmitter
20 / 30 / 48 x receiver
1 / 2 x Microphone
21 / 32 / 50 x Charging cable
21 / 32 / 50 x Lanyard
1 x carry case
FAQ
Q: Each receiver comes with a lanyard, how should they be used?
A: There is a hole at the end of the headset, the location can be used to fix the lanyard, while using the receiver, hang the lanyard around the neck to prevent the receiver from falling down and breaking.
Q: Does this transmitter work with a headset microphone? If so, does the company offer a compatible option?
A: Yes, it can be used with a headset microphone and we offer a compatibility option, click here to check it.
Q: What is the warranty policy?
A: We provide 2 years warranty for this product, if you have any questions, please email us to support@retekess.com, we are always at your service.
Q: How do I temporarily mute the transmitter without unplugging the microphone?
A: When the transmitter is working, click "right" to mute (the antenna icon on the display will change to a mute icon) and click "right" again to resume sound transmission (the mute icon will change to an antenna icon).
Inquiry
Please fill in your procurement needs and contact information