Enter coupon code "tt116sale" when "PlaceOrder", and click "Apply Coupon" to save $50
UHF transmission and noise reduction technology
Replaceable rechargeable battery and easy to change
No operation within 30 seconds, the keys will be automatically locked
30-slot charging case for bulk charging of 32 devices
This plant tour headset kit includes:
- 2 transmitter (with mic)
- 28 receivers (with headset)
- 1 30-slot charging case
Only
2000
left in stock - order soon.
TT116 plant tour headsets are a wireless communication tool designed for factory visits and industrial tours.
- Noise-cancelling technology
Industrial tour headsets use advanced noise reduction technology to effectively filter out background noise, ensuring that participants hear only the audio they need and eliminating distractions from the surrounding environment. This feature enhances the overall communication experience during the factory tour, allowing participants to focus entirely on the information provided.
- Replaceable batteries
For convenience and uninterrupted use, the tour guide system for factories is equipped with rechargeable batteries that can be easily replaced. This means that even if the battery runs out during the tour, it can be quickly replaced so that it can continue to be used without interruption.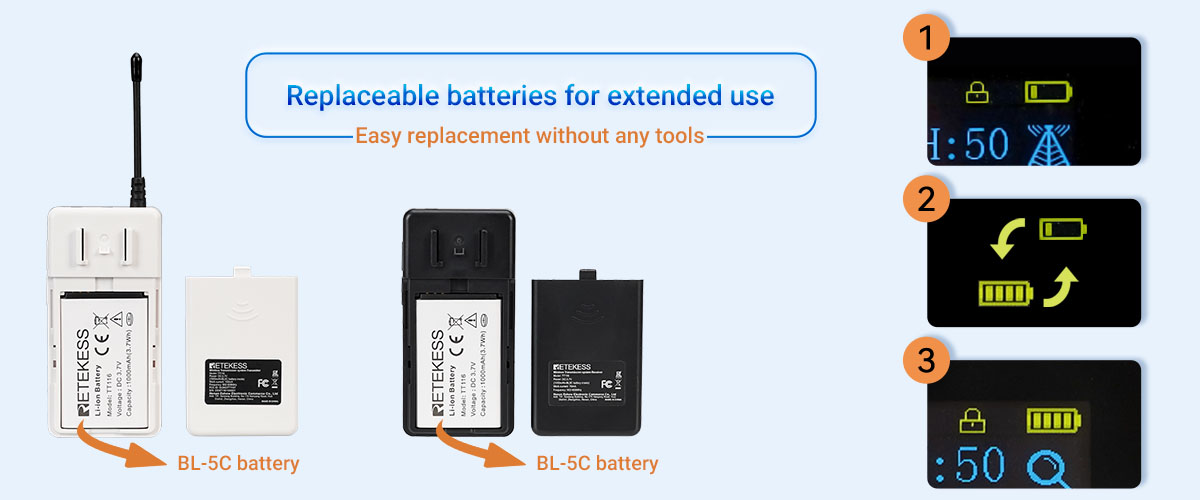 - UHF frequency
The TT116 plant tour headsets operate in the UHF band, which is highly resistant to interference and ensures reliable, interference-free signal transmission. This allows for clear sound quality and high wall penetration, enabling visitors to clearly hear the demonstrator's instructions or explanations even in indoor factory environments.
- Location with advertising stickers
To enhance branding opportunities and display important messages, the factory tour guide system has a dedicated spot for advertising stickers. This allows the factory to display its logo, slogan, or any other relevant information, providing a professional and bespoke feel to the tour.
- Portable 30-slot Charge Case
The charging case is made of aluminum alloy, durable, and fireproof. It can charge up to 30 TT116 transmitters and receivers at the same time, avoiding tangled wires and making charging safer and more convenient. In addition, the charging case with a "PAIR" button, supports one click to pair the transmitter and receiver.
- Working range
The factory tour system has a working range of 200m, providing visitors with freedom of movement and allowing them to explore the factory grounds while maintaining contact with the team guide.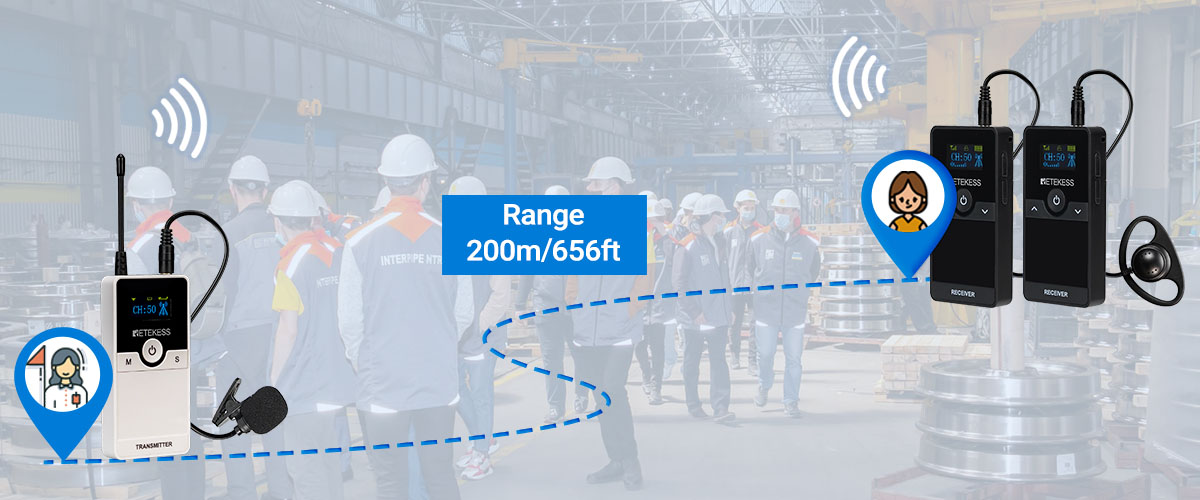 - Running time of headsets for factories
The transmitter can operate for 10 hours on a single charge and the receiver can operate for up to 13 hours. This ensures that factory tour guides and visitors can use the plant tour headsets throughout the day without the need for frequent recharging.
- Automatic locking
No operation within 30 seconds, the button will automatically lock and the "🔒" icon will be displayed on the screen. The auto-locking feature of the TT116 factory tour headsets prevents accidental touches and avoids misoperation by users ensuring that the selected settings remain unchanged throughout the plant tour.
- One-touch mute transmitter
In addition, the transmitter supports a one-touch mute function, providing a quick and easy way for the presenter to temporarily disable the audio transmission. A short press on the transmitter's power button suspends the sound transmission, at which point visitors wearing the headset will not hear anything from the transmitter.
- Automatically sync channels
Plant tour communication systems also support one-touch quick pairing, making it easy and efficient to connect the transmitter to the receiver, saving time during the set-up process. What's more, the devices have a channel memory function so that the channels don't change when they are paired and turned on again, eliminating the need to pair them each time they are used.
- Turn off all receivers with one click
TT116 Headsets for factory tours make it easy to manage receivers on the same channel, simply press and hold the transmitter "S" button for 4 seconds to switch off all receivers on the same channel as the transmitter at the same time, simplifying the cleaning process after factory visit.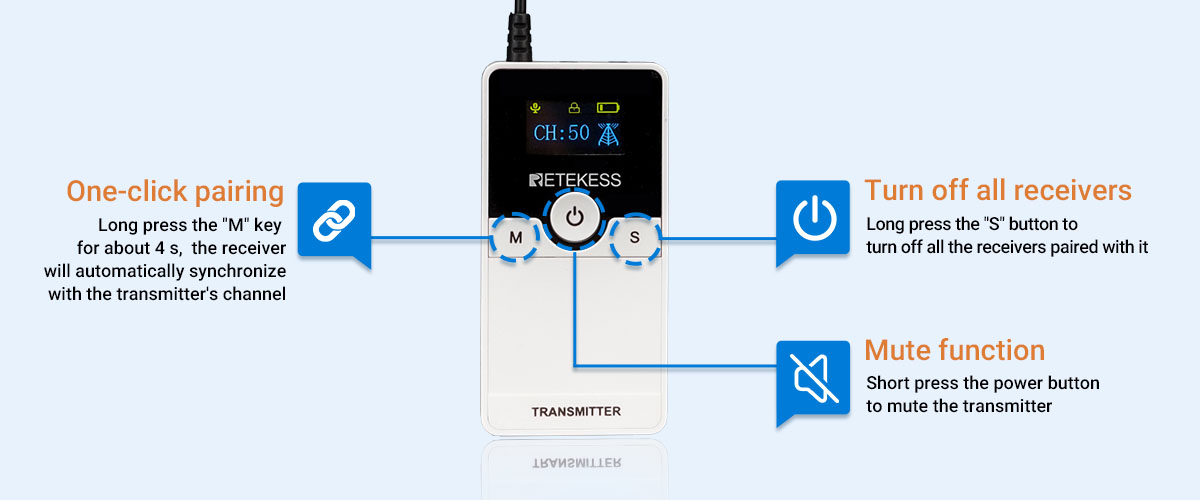 - 50 channel IDs
With 50 available channel IDs, the tour guide systems for factory tours can accommodate multiple tours or groups within the same factory without any interference between the 50 groups. This ensures that each group on the same factory tour has its own dedicated channel, preventing any confusion or overlap of audio signals.
- Simultaneous use of microphone and AUX inputs
TT116 transmitter can use the microphone input and the AUX input at the same time, giving the guide the flexibility to incorporate other audio sources (such as pre-recorded content) into the factory tour. This enhances the overall tour experience.
○The US version and EU version are only different in the frequency range, and their product appearance and function are the same.
Please fill in your procurement needs and contact information
Specifications of TT116 Plant Tour Headsets:
TT116 Transmitter

TT116 Receiver

Frequency range

902-928mhz (US version)

823-832mhz&863-865mhz (European version)

Frequency range

902-928mhz (US version)

823-832mhz&863-865mhz (European version)

Channel

50 channels

Channel

50 channels

Working current

70mA

Working current

70mA

Operating voltage

DC 3.7V

Operating voltage

DC 3.7V

Transmitted output power

25-30dBm

Audio frequency output

3.5mm earphones

Audio frequency input

3.5mm line /Microphone input

Received power

-106dbm

Degree of distortion

<5%

Degree of distortion

<5%

Effective working area

200m (empty)

Effective working area

200m (empty)

Capacity of battery

1000mAh

Capacity of battery

1000mAh

Working hours

About 10 hours

Working hours

About 13 hours

Size

114.8x54.8x20.6mm

Size

114.8x54.8x20.6mm

Weight

65g

Weight

56g
Specifications of TT020 30-Slot Charging Case:
| | |
| --- | --- |
| Input | AC110-220V, 50/60Hz 5V10A |
| Output | DC 5V, 300mA |
| Size | 343*166*314mm |
| Weight | 3202g |
Package Includes:
2 x TT116 transmitter
28 x TT116 receiver
2 x Lavalier microphone
28 x Single ear headphones
30 x Lanyard
30 x Charging cable
1 x 30-slot charging case
Q: How many receivers can the transmitter be connected to and used together?
A: The transmitter can be connected to any number of receivers, and if your team needs to expand, simply add additional receivers.
I have been using the tour headset for a few months now and I am satisfied with them, easy to set up and use, lightweight, and the sound quality is exceptional. The website's customer service was also very helpful in answering my questions.
This product has been great for tours in my manufacturing facility. It makes it so much easier to share information with our new hires and guests.