UHF transmission and noise reduction technology ensure smooth and clear audio
Replaceable rechargeable batteries provide convenience and flexibility for extended use
With advertising sticker space
Working range 200 m/656ft
Transmitter works for 10 hours, receiver works for 13 hours
Transmitter supports the simultaneous use of microphone and AUX inputs
50 channel IDs
Only
3000
left in stock - order soon.
○The US version and EU version are only different in the frequency range, and their product appearance and function are the same.
Translation device for church serves as a tool for providing clear and effective communication during services or events.
⚪ Replaceable rechargeable batteries
The batteries in the TT116 church translation device are easily replaceable, ensuring that the translation kit stays operational even during long church services or events. If the batteries run low, you can quickly replace them with fully charged batteries so they can continue to provide translation services without downtime. This is especially useful in situations where charging time is limited between services or events.
In addition, having replaceable rechargeable batteries makes it easy to maintain church translation devices and extend their life. Over time, rechargeable batteries can lose their ability to hold a charge effectively. With replaceable batteries, you can simply replace your old batteries with new ones, eliminating the need to replace your entire translation suite and ensuring that they operate at their best.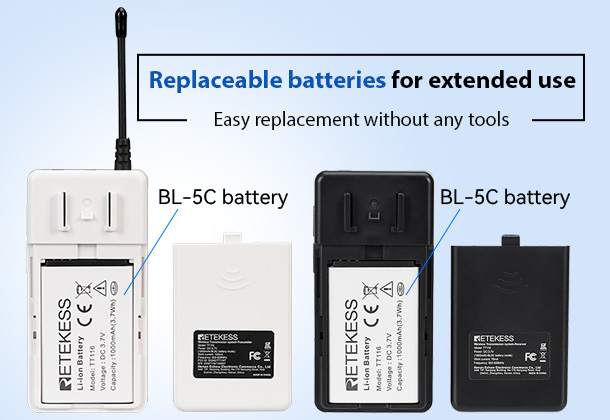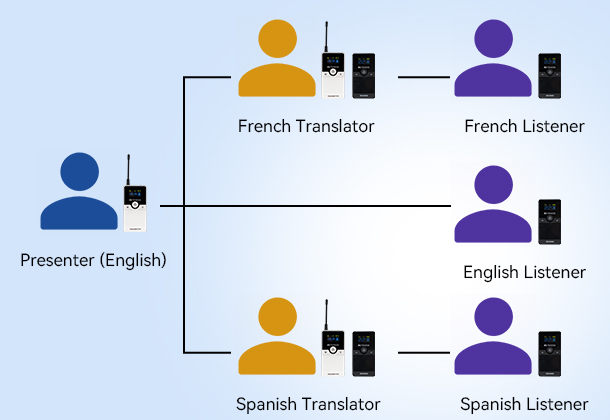 ⚪Noise-canceling technology
Translation device for churches is equipped with noise-reduction technology that helps filter out background noise and unwanted audio interference. This feature ensures that the translated message remains clear and understandable, even in noisy environments such as crowded church congregations.
⚪UHF frequency transmission
TT116 translation equipment uses UHF frequencies to ensure a smooth audio experience that is less susceptible to interference and provides a stable, high-quality audio signal. It helps minimize interference and ensures that the congregation can hear the translated message clearly.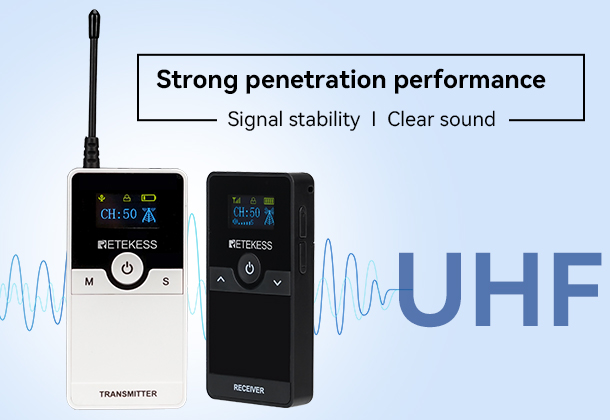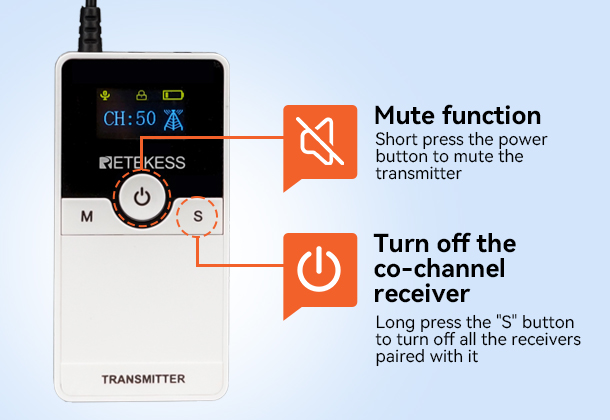 ⚪One-touch mute transmitter
TT116 translation tools provide a transmitter one-touch mute function. This allows the interpreter to quickly mute the microphone when they are not speaking or when they are having a private conversation, thus reducing background noise and disturbance to the congregation.
⚪One-touch shutdown of same-channel receivers
Press and hold the transmitter's "S" button for about 4 seconds to turn off the receiver on the same channel as the transmitter. This is very useful when a service or event is over, as it provides a convenient way to turn off all receivers at the same time.
⚪200m working range
Church translation equipment offers a wide working range of 200 meters, which allows translators to move around the church or event space while still maintaining a reliable connection with the receiver. It ensures that individuals sitting at different locations within the venue can receive the translated message.
⚪Auto-lock feature
The TT116portable translation equipment has an auto-lock function that automatically locks the keys after 30 seconds of inactivity, helping to prevent accidental changes to settings or channels. This ensures that the translation system remains stable and consistent throughout the service or event.
⚪Automatic pairing
The translation set supports one-button pairing of transmitter and receiver, simplifying the process of connecting the transmitter to the receiver without complicated pairing steps. It saves operating time and ensures a hassle-free experience.
⚪50 channel IDs
The language interpretation devices provide 50 channel IDs that can be used to differentiate and assign specific channels to different translators or language groups. This feature ensures that translation services for multiple languages can be performed simultaneously without interfering with or confusing each other.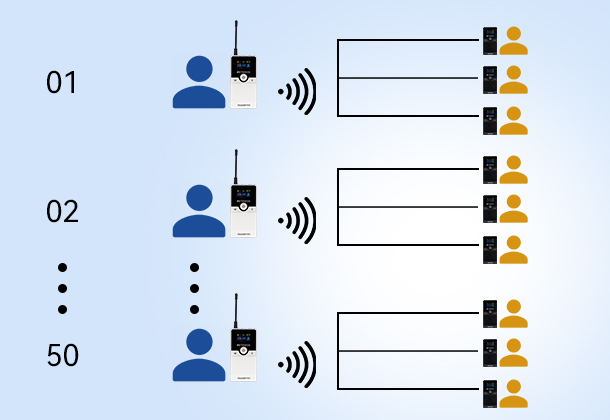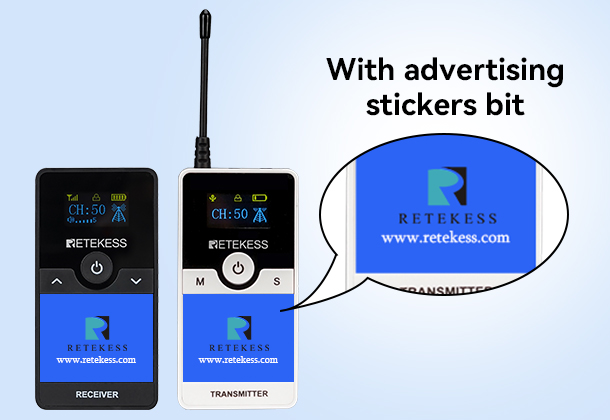 ⚪With advertising spaces
The church translation device has a dedicated advertising space that can be used to display relevant information or advertisements during breaks or intervals. This feature allows churches to use the translation system to share important announcements or publicize upcoming events to attendees.
⚪Working time
With a fully charged battery life of up to 10 hours for the transmitter and 13 hours for the receiver, the translation tools can easily last a full day of service or event without frequent recharging.
⚪48-slot lightweight carry case
Comes with TT016 carrying case that holds up to 48 devices along with their charging cables, mic, and earphones. The outer shell of the bag is reinforced, and the inside is a soft sponge, which can prevent drops and collisions to a certain extent.
Please fill in your procurement needs and contact information
TT116 Transmitter

TT116 Receiver
Frequency range

902-928mhz

Frequency range

902-928mhz

Channel
50 channels
Channel
50 channels
Working current
70mA
Working current
70mA
Operating voltage
DC 3.7V
Operating voltage
DC 3.7V
Transmitted output power
25-30dBm
Audio frequency output
3.5mm earphones
Audio frequency input
3.5mm line /Microphone input
Received power
-106dbm
Degree of distortion
<5%
Degree of distortion
<5%
Effective working area
200m (empty)
Effective working area
200m (empty)
Capacity of battery
1000mAh
Capacity of battery
1000mAh
Working hours
About 10 hours
Working hours
About 13 hours
Size
114.8x54.8x20.6mm
Size
114.8x54.8x20.6mm
Weight
65g
Weight
56g
Package Includes:
Classification of packages
package includes
1TX-20RX-1 BAG

1x TT116 transmitter

20x TT116 receiver
1x TT016 48-slot carry bag

1xLavalier microphone

20xsingle ear headphones

21x charging cable

21 x Lanyard

1x User manual
2TX-30RX-1 BAG

2x TT116 transmitter

30x TT116 receiver
1x TT016 48-slot carry bag

2xLavalier microphone

30xsingle ear headphones

31x charging cable

31 x Lanyard

1x User manual
2TX-48RX-1 BAG

2x TT116 transmitter

48x TT116 receiver
1x TT016 48-slot carry bag

2xLavalier microphone

48xsingle ear headphones

49x charging cable

49 x Lanyard

1x User manual