TT116 transmitter can only be used with TT116 receivers, and one transmitter can be connected to any number of receivers.
Adopt UHF transmission and noise reduction technology
Provides space to customize pictures or messages
Transmitter working time 10 h
Working range up to 200 m/656ft
Support both AUX and MIC at the same time
Automatic locking keys to prevent accidental touch
Only
4000
left in stock - order soon.
Note: The US version and EU version are only different in the frequency range, and their product appearance and function are the same.
UHF frequency: The TT116 transmitter operates on the UHF frequency, which is known to be less susceptible to interference. This ensures a stable and uninterrupted signal transmission, preventing any interruptions during presentations.
Removable battery: The transmitter has a built-in removable rechargeable battery so you can carry a spare and easily replace it when needed. This ensures uninterrupted operation during long trips, eliminating the worry of running out of power and having to wait for the transmitter to recharge.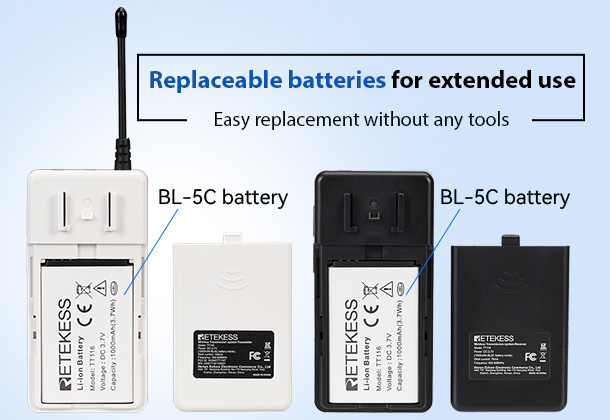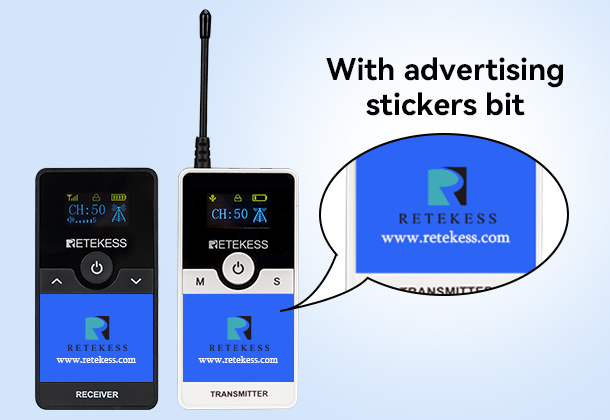 Provides space for customization: The TT116 transmitter provides space for customizing photos or messages, allowing you to display relevant corporate information, contact details, or other important information.
Supports AUX and MIC inputs: this versatility allows the tour guide to connect external devices such as smartphones or MP3 players for audio playback, as well as utilize the microphone for live narration. It provides the flexibility to deliver different types of content during a presentation.
Noise reduction technology: The TT116 transmitter's noise reduction technology ensures clear sound transmission, allowing guides to effectively deliver their message even in noisy environments such as crowded tourist attractions or city streets.
Operating time: The TT116 transmitter has an operating time of up to 10 hours, ensuring that tour guides can rely on it throughout the day without having to worry about changing or recharging batteries frequently.
Operating range: The transmitter has an operating range of up to 200 m/656ft. This allows presenters to maintain sufficient distance from visitors while ensuring clear, uninterrupted communication. It allows for flexibility when traveling outdoors or in situations where body distance needs to be maintained.
Auto-lock buttons: Accidental touching or pressing of buttons can disrupt the tour or lead to unintended operation. The TT116 transmitter has an auto-lock button feature that prevents such accidental touches and ensures that the settings remain intact during the tour.
Sync channels automatically: The TT116 transmitter automatically synchronizes channels with the receiver. This simplifies the setup process and saves the tour guides time and effort. They can quickly establish a reliable connection with the receiver without having to manually make channel adjustments.
One-touch mute function: the transmitter has a convenient one-touch mute function. This allows guides to temporarily suspend sound transmission when necessary, such as during breaks or private conversations.
One-touch shutdown: The TT116 transmitter features a one-touch shutdown function that allows the tour guide to turn off all connected receivers at the same time when the event is over. It saves time and ensures that all devices are effectively turned off.
Please fill in your procurement needs and contact information
TT116 Transmitter

Frequency range

902-928mhz (US frequency )

823-832mhz&863-865mhz (European frequency )

Channel
50 channels
Working current
70mA
Operating voltage
DC 3.7V
Transmitted output power
25-30dBm
Audio frequency input
3.5mm line /Microphone input
Degree of distortion
<5%
Effective working area
200m (empty)
Capacity of battery
1000mAh
Working hours
About 10 hours
Size
114.8x54.8x20.6mm
Weight
65g
Package Includes:
1x TT116 transmitter
1x Lavalier microphone
1x Charging cable
1x Lanyard