The TT117 transmitter will broadcast a speaker's voice on one of seventeen available channels, 72-76 MHz, to listeners using a TT118 receiver.
- Translation device supports stereo mode transmission
- One-touch mute transmitter
- One-touch lock prevents accidental contact
- Powered by 2 AA batteries
Only
40000
left in stock - order soon.
Tour guide translation system enables interpreters to provide accurate and seamless conference interpretation services.
- Stereo transmission
The conference interpreting equipment supports the transmission of audio signals in stereo, allowing listeners to experience the translated content in high sound quality, creating an immersive meeting experience.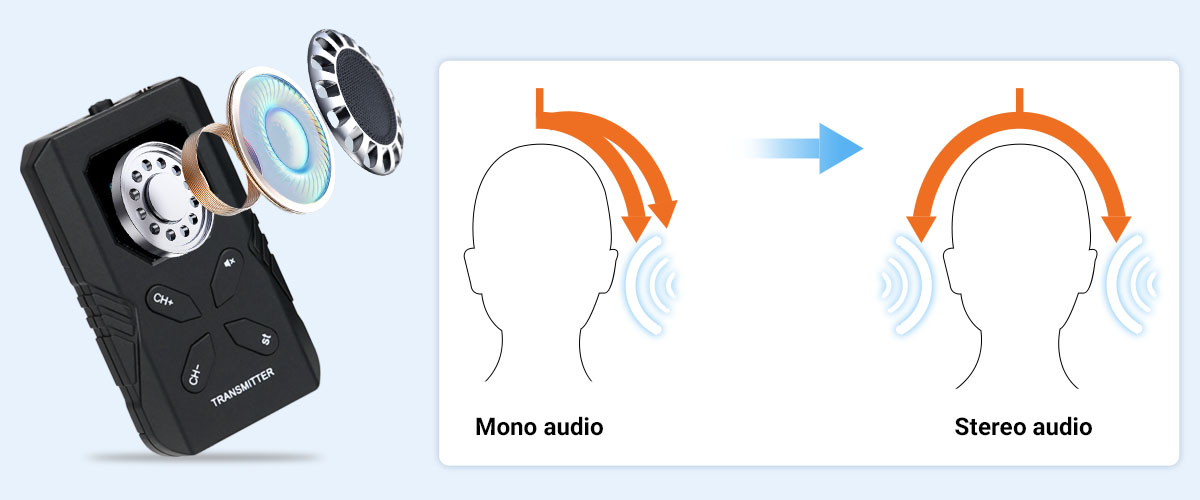 - One-touch mute transmitter
Translators can mute the transmitter immediately by pressing the mute button, while the screen displays the mute icon, and pressing the mute button again to release the mute. This function can temporarily suspend sound transmission when there is background noise or when the translator needs a moment of silence during translation.
- AA battery powered
Language translation devices require 2 AA batteries for power. This makes it easy to replace the batteries and ensures that the device can be used for long periods of time without frequent recharging. This battery-powered design also enhances the portability and flexibility of the device.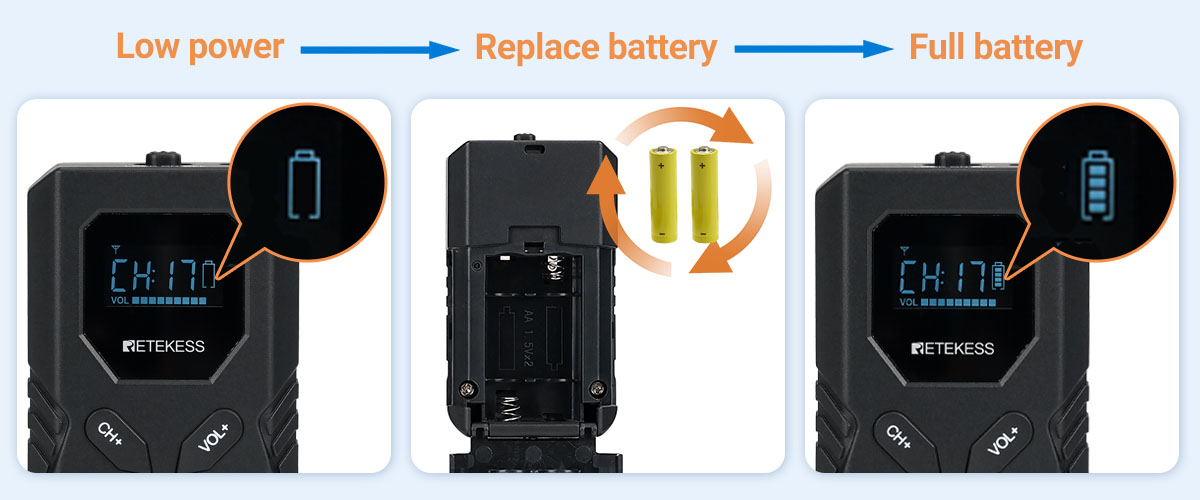 - Flexible expansion
The transmitter can be used with any number of receiver devices. This allows for easy scalability and adaptability, as the number of translators and their corresponding receivers can be adjusted to meet the needs of the meeting. This also ensures that the translation equipment can accommodate any number of languages or participants.
- 17 channels available
The tour guide translation system has 17 channels, allowing up to 8 groups of interpreters to operate simultaneously from the same location, without interference. This is critical for conference environments where multiple languages are spoken and translated simultaneously. The ability to operate 8 groups simultaneously also ensures efficient and smooth translation services.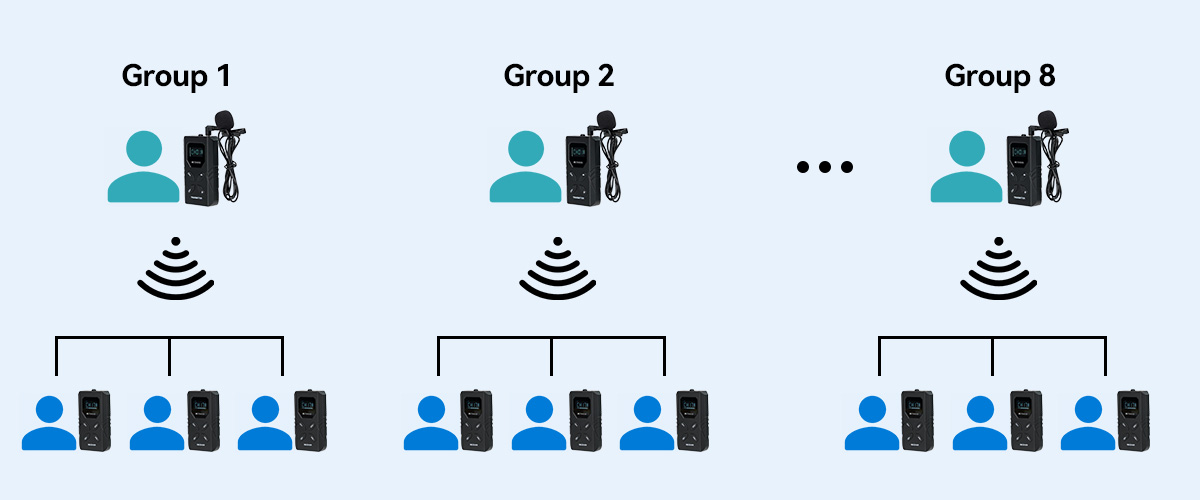 - One-touch lockout
The translation device is equipped with a lock button. Toggling the "power switch" to the "lock" position locks the key to prevent accidental changes during a meeting. This ensures stability and consistency in the translation process. The volume adjustment buttons are not locked and can still be adjusted.
- Easy to use
9 levels of adjustable hearing ensure that users with different hearing abilities or preferences can listen comfortably.
TT117 transmitter and TT118 receiver are pocket-sized and lightweight, making them easy to carry and transport.
The translation system's LCD backlit display shows information such as channel, battery level, and volume.
The battery level display allows users to monitor the power status of the device, ensuring that the battery is not drained during critical translation tasks.
The easy-to-operate interface and controls make it user-friendly and do not require experience or skill to use.
- Communication range
Conference interpreting equipment has an operating range of approximately 80 meters (262 feet). This ensures that even in large conference venues, the translation signal can reach the receiver(audience) without loss of quality or interruption. This extensive coverage allows translators to work from all parts of the venue, providing greater convenience and flexibility.
- MIC input and AUX input
The Translator Transmitter is equipped with a 3.5mm connector that supports microphone (MIC) input and auxiliary (AUX) input. This allows translators to connect a microphone to the transmitter for direct voice translation. In addition, the AUX input can be used to connect an external audio source, such as a computer, cell phone, or other audio player, for playing back pre-recorded translations or other audio content.
How the TT117 TT118 language interpretation system works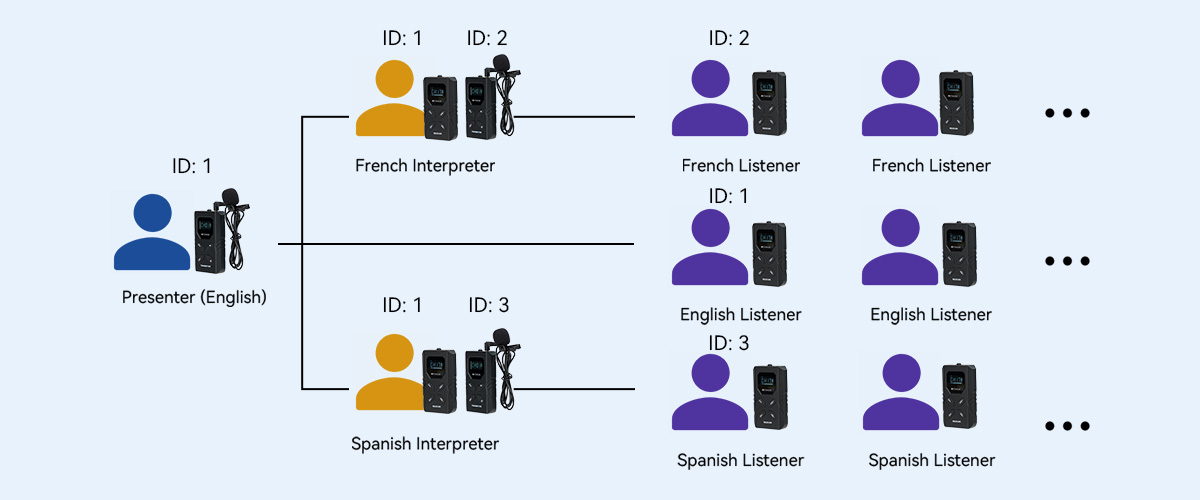 Please fill in your procurement needs and contact information
Specification of TT117 TT118 Translation Equipment
| | | |
| --- | --- | --- |
| | TT117 Transmitter | TT118 Receiver |
| Frequency range | 72-76MHz | 72-76MHz |
| Channel | 17 channels | 17 channels |
| Power supply | 2 AA batteries | 2 AA batteries |
| Working hours | 8 hours | 10 hours |
| working voltage | 3V | 3V |
| Working range | 80 meters | 80 meters |
| Size | 53*93.5*20mm | 53*93.5*20mm |
| Weight | 90g | 90g |
Package List
Package

Package Include

1TX+6 RX

1x transmitter

6x receiver

1x lavalier microphone

6x single-ear headphones

7x lanyard

1x user manual

1TX+10 RX

1x transmitter

10x receiver

1x lavalier microphone

10x single-ear headphones

11x lanyard

1x user manual

1TX+15 RX

1x transmitter

15x receiver

1x lavalier microphone

15x single-ear headphones

16x lanyard

1x user manual

1TX+20 RX

1x transmitter

20x receiver

1x lavalier microphone

20x single-ear headphones

21x lanyard

1x user manual
Q: What is the warranty policy for this TT117 TT118 tour guide translation system?
A: Retekess tour guide systems support 30-day no-reason returns and a two-year warranty.